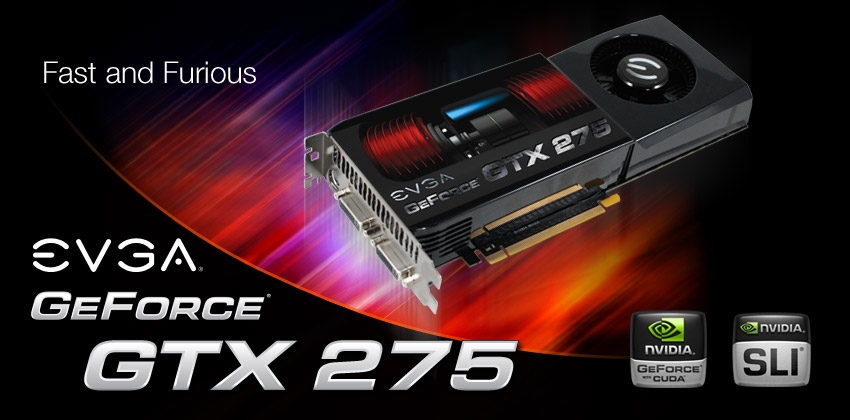 EVGA GTX 275 - Fast and Furious
The EVGA GTX 275 Graphics Card delivers best-in-class graphics performance in the hottest games such as Warhammer 40,000: Dawn of War II and Far Cry 2. And with full GPU-acceleration for NVIDIA PhysX™ technology, EVGA GTX 275 will change your 3D gaming with insane PhysX gaming effects by bringing dynamic forces of nature and massively destructible environments to games such as Sacred 2 and Mirror's Edge. With up to 1792MB of super fast DDR3 memory, you get enough memory to handle the highest of resolutions and texture quality.
A graphics card that does just graphics isn't enough anymore, the EVGA GTX 275 with NVIDIA CUDA technology delivers Graphics Plus. Go beyond traditional graphics with Graphics Plus and experience Stereoscopic 3D gaming, video processing for transcoding HD videos in minutes to your portable video player, and lightning-fast image processing using Adobe CS4.


Features
Full DX10 support - Full Direct X 10 and Shader Model 4.0 support delivers unparalleled levels of graphics realism and film-quality effects.
Unified Shader Architecture - Combines vertex, pixel and geometry shaders for an overall more efficient architecture.
Second Generation Purevideo HD - High-definition video decoder and post-processor delivers unprecedented picture clarity, smooth video and accurate color for movies and video.
3-way SLI Technology - Industry leading 3-way NVIDIA SLI technology offers amazing performance scaling by implementing AFR.
128-bit HDR with FSAA - Realistic High Dynamic Range lighting, now with support for anti-aliasing!
NVIDIA® CUDA™ - Uses the GPU to quickly process ™ based applications taking your graphics card beyond gaming.
NVIDIA® PhysX™ - GeForce GPU support for NVIDIA PhysX technology, enabling a totally new class of physical gaming interaction for a more dynamic and realistic experience with GeForce.

© 2008 NVIDIA Corporation. NVIDIA, the NVIDIA logo, GeForce, and The way it's meant to be played are trademarks and/or registered trademarks of NVIDIA Corporation. All other trademarks are the property of their respective owners.
Article Viewed: 130676 times since 4/1/2009 9:00:00 PM