Introducing EVGA Precision X1ᐪᔿ. With a brand new layout, completely new codebase, new features and more, the new EVGA Precision X1ᐪᔿ software is faster, easier and better than ever. When paired with an NVIDIA Turing graphics card, the new EVGA Precision X1ᐪᔿ will unleash its full potential with a built in overclock scanner, adjustable frequency curve and RGB LED control.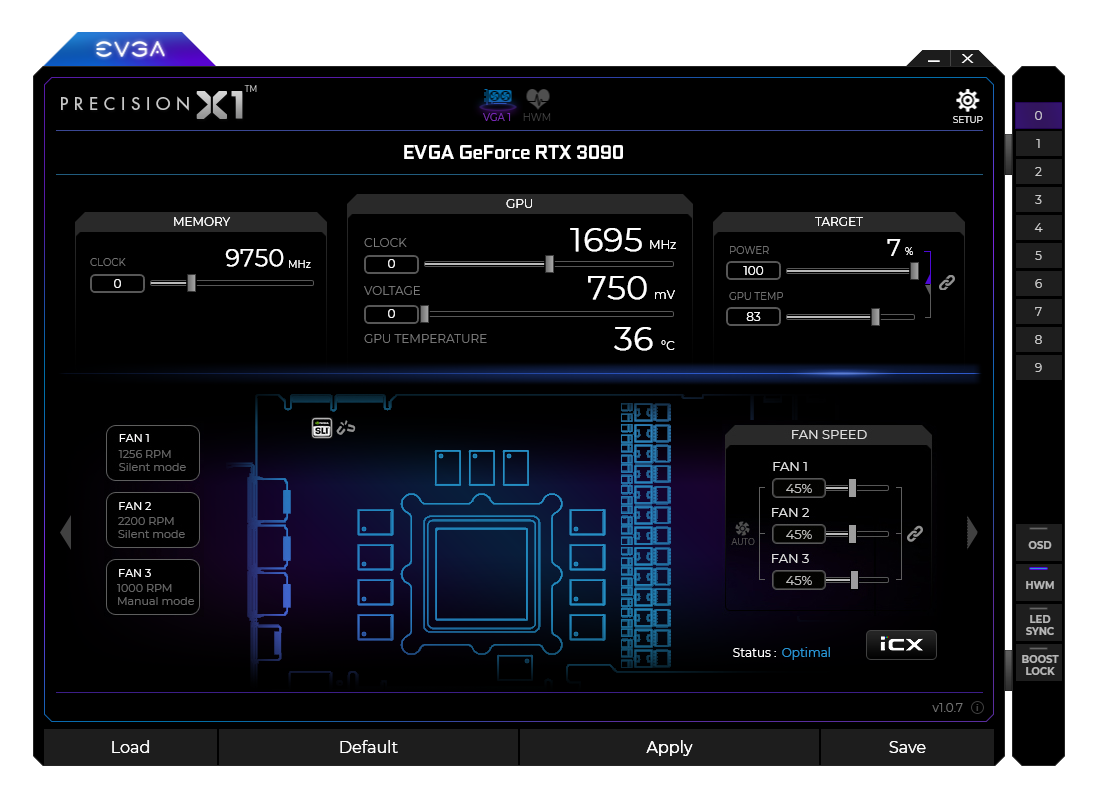 Multi-GPU Fan Control
Adjust the fan speed, fan curve, or simply set a profile. Adjust the fans on each of your graphics cards using a more simplified interface.*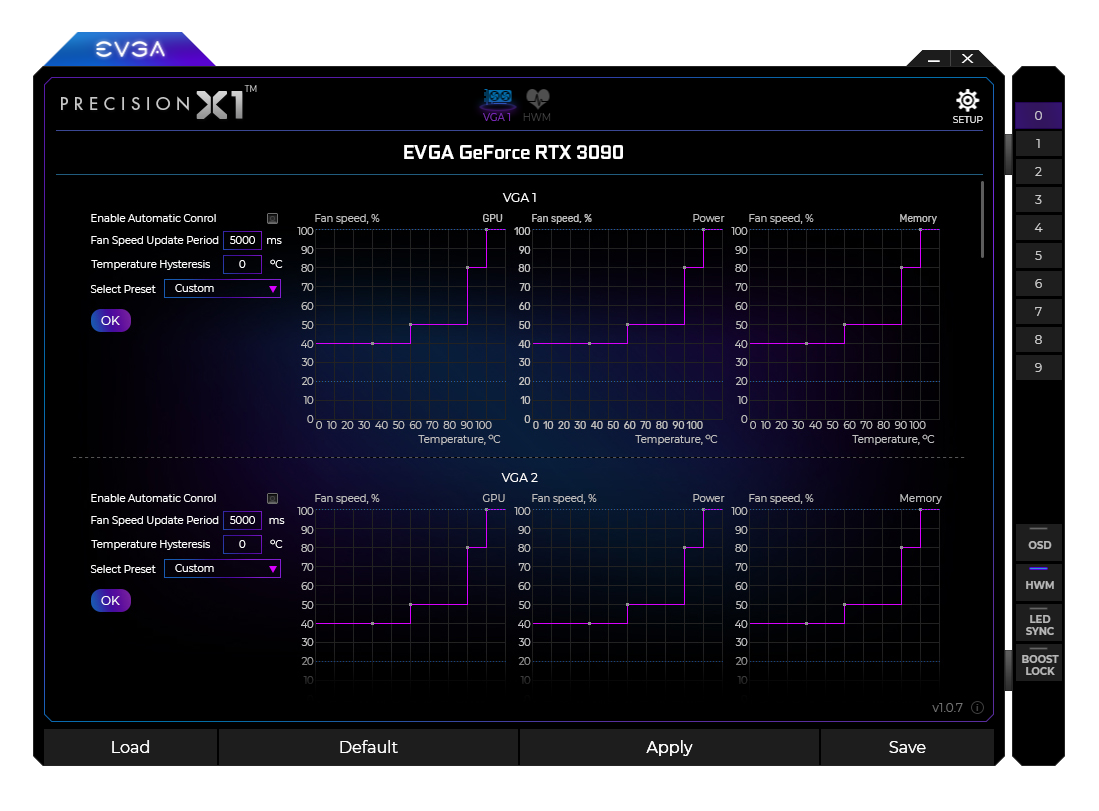 *Fan options may vary depending on the graphics card.
Brand new GUI that is faster and easier to use.
Real-Time wattage monitoring (on supported EVGA graphics cards).
Full support for GeForce RTX and GTX graphics cards.
RGB LED Control supporting graphics cards and/or NVLink Bridge.
LED Sync that syncs with other EVGA RGB components.
Dynamically set independent voltage/frequency points for ultimate control.
New OC Scanner for finding the best stable overclock.
On-Screen-Display (OSD) shows your system vitals at a glance.
GPU Clock, Memory Clock and Voltage Control.
Custom fan control and fan curve.
Profiling system allowing up to 10 profiles with hotkey.
In game screenshot function.
+ More!
Supports GeForce RTX, Geforce GTX 16 Series, and GeForce GTX 10 Series Graphics Cards
Windows 11
Windows 10 64-Bit
Windows 8 64-Bit
EVGA Precision X1ᐪᔿ Version History
Version 1.3.7.0
Version 1.3.6.0
Version 1.3.5.0
Version 1.3.4.0
Version 1.3.3.0
Version 1.3.2.0
Version 1.3.1.0
Version 1.3.0.0
Version 1.2.9.0
Version 1.2.8.0
Version 1.2.7.0
Version 1.2.6.0
Version 1.2.5.0
Version 1.2.4.0
Version 1.2.3.0
Version 1.2.2.0
Version 1.2.1.0
Version 1.2.0.0
Version 1.1.9.0
Version 1.1.8.0
Version 1.1.7.0
Version 1.1.6.0
Version 1.1.5.0
Version 1.1.4
Version 1.1.3
Version 1.1.2.0
Version 1.1.1
Version 1.1.0.11
Version 1.1.0.9 for 30 Series ONLY
Version 1.1.0.2 for 30 Series ONLY
Version 1.1.0 for 30 Series ONLY
Version 1.0.7
Version 1.0.6
Version 1.0.4.0
Version 1.0.3.0
Version 1.0.2.0
Version 1.0.1.0
Version 1.0.0.0
Version 0.4.9.0
Version 0.4.8.0
Version 0.4.4.0
Version 0.3.19.0
Version 0.3.17.0 BETA
Version 0.3.16.0 BETA
Version 0.3.15.0 BETA
Version 0.3.14.0 BETA
Version 0.3.13.1 BETA
Version 0.3.12 BETA
Version 0.3.11 BETA
Version 0.3.10 BETA
Version 0.3.9 BETA
Version 0.3.7 BETA
Version 0.3.6 BETA
Version 0.3.5.1 BETA
Version 0.3.4 BETA
Version 0.3.3 BETA
Version 0.3.2 BETA
Version 0.3.1 BETA
Version 0.2.9 BETA
Version 0.2.8 BETA
Version 0.2.6 BETA
Version 0.2.5 BETA