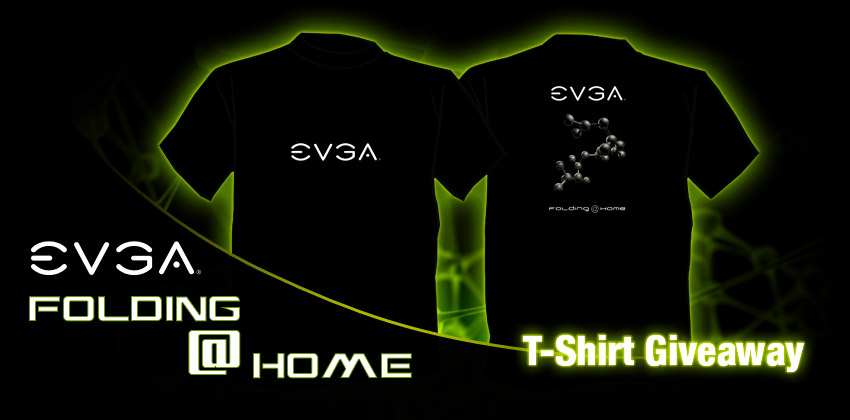 EVGA Folding T-Shirt giveaway!
EVGA is proud of our Folding team and we want everyone to have the opportunity to show off and spread the word about Folding@Home while they're at it. If you want a chance to win a free Folding@EVGA T-shirt, sign up below to join into a random drawing. Being on the Folding@EVGA team and owning an EVGA product are not necessary for this promotion. We will draw 50 random names from those that sign up before 4/15/09 11:59PM PST.
Terms: T-Shirt giveaway is for North America and Europe only.
For those that are not selected, we will make a limited number of shirts available for purchase early the week of April 13th - stay tuned for that.
T-Shirt Winners
Congratulations to our T-Shirt winners! We will be shipping these out soon!
AbbadoN
ablatman
AKASnowpimp
andrewbaggins
arhiman121
ariakus
Arioth
Audiological
aznmonkguy
bigjoe1655
bigmikejw
boone6978
Capple
countcristo
dredb
Dregato
DrNeilA
Folding@EVGA
FreeJet
gigas
Glennis
importmike
Jayrock
Josh.
k31v1n
kickasskev
kzk-5555
Mikek1024
miska_man
MSim
naelr
nate_adam
nausicaan
NealWolfwood
Nicky_Lee
OLD-SLO-GAMER
Parelem
RickC
Rkis
Silvertrance
SirMango
Skydive
Stefano
strudinox
Team Discovery
The_Pyromancer
ThePhoenixBird
warthorn
xenbast
Zenphic