When do I need to upload a copy of my invoice or receipt?
When submitting an RMA for a Limited Lifetime warranty product registered within 30 days of purchase
When submitting an Advanced RMA
When participating in the EVGA Step-Up Program
When your card is no longer eligible for EVGA Transferable warranty (check here: EVGA Guest RMA)
Products Eligible for EVGA's Standard Warranty do not require an invoice. EVGA Warranty begins from the date that the product was originally shipped from the EVGA warehouse. For the original owner of a product, a valid invoice that can be verified from an approved reseller may be uploaded to receive warranty from the date of purchase instead. Please see the EVGA Warranty page for more details.
Uploading Your Invoice is Easy! For instructions on obtaining an Amazon or Newegg invoice, please see our FAQs:
How to upload your Amazon.com invoice
How to upload your Newegg.com invoice
There are three types of files you can upload: XPS, JPG and PDF. Here are three methods of making and uploading these files to EVGA.
How to Upload a PDF file!
(Recommended)
In you have a PC or MAC, you can save your document to PDF or Print to an installed PDF printer.

Note: In most modern browsers, this is natively supported. You can simply change the print destination to "Save as PDF"


For an example, see the Amazon and Newegg FAQs
Select the product you are uploading an invoice for from the pulldown menu, then click continue

Click Browse, and navigate to where you saved your invoice and double click on the file. A path will appear in the box, and click Upload.

You will recieve a confirmation at the next screen, as well as one to your registered email.
Below is a sample of the email you will recieve.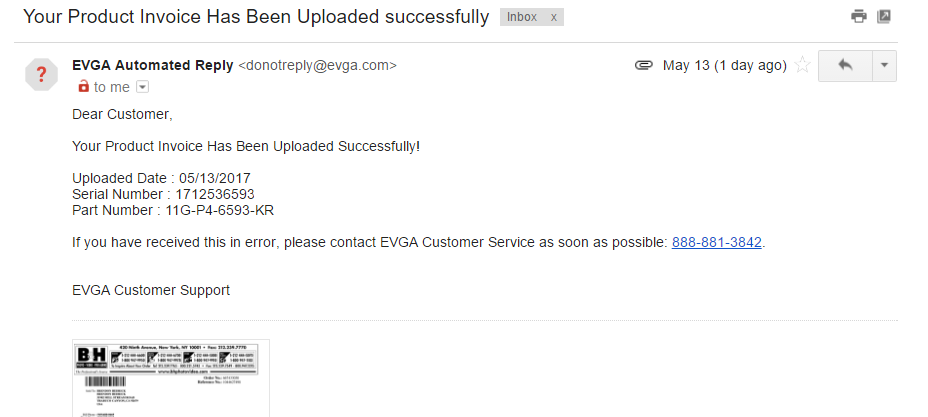 How to Make and Upload a XPS file:
To use this method you will need to have one of the following installed on your computer: Microsoft Office 2003 - 2010; Windows Vista or Windows 7
Verify that you have the XPS printer, "Microsoft XPS Document Writer", installed. (you can view this in your windows control panel under printers)
Second go to the "printer friendly" version of the reciept from the place of purchase. Usually under the order history there will be a option to pull up each order and then on the following page, there will normally be a option to print the invoice.
when you click print select the "Microsoft XPS Document Writer" as the printer to print to, then select OK.
After you hit "ok" to start the print you will get a save as dialog box. please specify BOTH the title of the document, and the location to save the file to.
Follow steps 2 - 5 in the PDF section above.
How to use Windows 7/8.1/10's Snipping Tool to take a Screenshot:
https://support.microsoft.com/en-us/help/13776/windows-use-snipping-tool-to-capture-screenshots
Once you have the invoice captured. Go to File then Save As and name your file in a Jpeg format

Next in order to upload the invoice to EVGA please follow steps 2 - 5 in the PDF section above.
How to Take and Upload a Screenshot using Print Screen:
Bring the Window you wish to take a screenshot of in focus and in the forefront.

Hold the Alt key while pressing the Print Screen key. This will take a snapshot of the current selected window in focus.

Open MS Paint via Start Menu -> Programs -> Accessories -> Paint.
Go to Edit, and select Paste. This will copy your snapshot to MS Paint.

Go to File, and select Save As. Select a directory to save it, name your file, and be sure to select File Type: .jpg.

Next in order to upload the invoice to EVGA please follow steps 2 - 5 in the PDF section above.