EVGA X79 Dark – The Answer
The EVGA X79 Dark is a reimagined EVGA X79 platform. Rebuilt from the ground up, this motherboard has a number of firsts, creating a landmark platform for PC enthusiasts everywhere.
It starts with a full 12 Layer PCB, improving overall overclock stability and PCB cooling. The memory trace layout is optimized for compatibility, improved overclocking and full 8 DIMM memory support. The CPU VRM is redesigned, using the best industry IR power stages, for efficient power to your CPU. The PCI-E layout is improved, better lane distribution for better performance + PCI-E 3.0 compatibility, and 4-Way SLI support in E-ATX form factor. A slew of great onboard devices including additional 4 Port SATA 6G controller for a total of 6 SATA 6G ports, Dual Intel Gigabit LAN's and a USB 3.0 controller for a total of 6 USB 3.0 devices.
The GUI BIOS has been completely redesigned. This brand new GUI BIOS from EVGA was focused on functionality so you can get in, and get out. No splash screens to click through, no enormous menus to scroll through, no steep learning curve. The way a modern BIOS should be.
Now Shipping.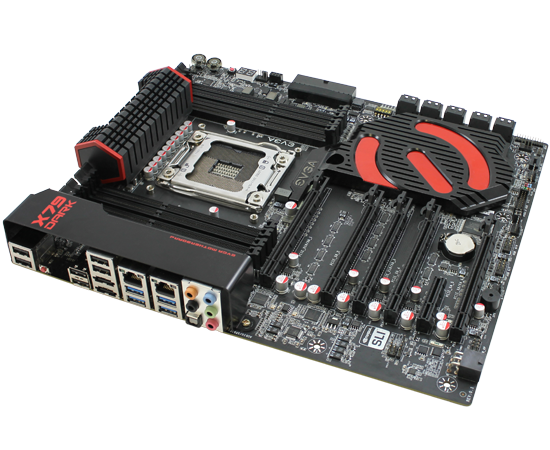 EVGA X79 Dark Motherboard
150-SE-E789-K2
Chipset – Intel X79
SLI – 4-Way
SATA – 6 SATA 6G / 4 SATA 3G
USB – 6 USB 3.0 / 10 USB 2.0
Memory Support – 8 DIMM Quad-Channel DDR3 2400MHz+ (up to 64GB)
Capacitors – POSCAP/Solid State
Form Factor – EATX
Ethernet – 2x Intel Gigabit NIC
PCB – 12 Layers
Features
12 Phase PWM
Onboard Power, Reset and Clear CMOS
PCI-E Disable Switches
E-LEET X Tuning Utility
Triple BIOS Support
Onboard CPU Temp Monitor
300% More Gold Content
POSCAP Capacitors
EZ Voltage Read Points
8+8 PIN CPU Power
External I/O
4x Rear Panel USB 3.0 Ports
6x Rear Panel USB 2.0 Ports
8 Channel HD Audio + Optical
2x E-SATA
2x Intel Gigabit Ethernet
Internal I/O
2x USB 3.0 Headers
4x USB 2.0 Headers
6x SATA 6G Ports
6x SATA 3G Ports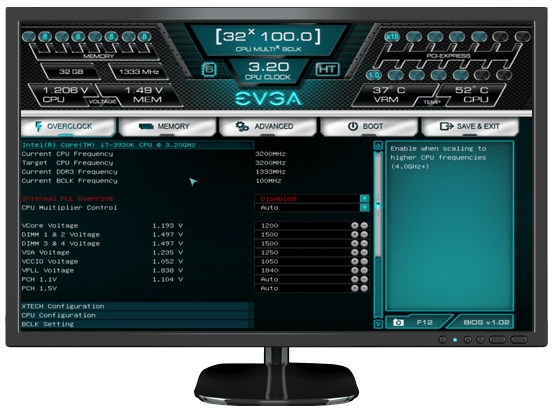 EVGA X79 Dark New GUI BIOS
Nobody understands the enthusiast more than EVGA. The brand new GUI BIOS from EVGA is focused on functionality so you can get in, and get out. No splash screens to click through, no enormous menus to scroll through, no steep learning curve. The way a modern BIOS should be. Learn more about the new EVGA GUI BIOS here.
Familiar
A modern BIOS should use a mouse as a complement, not a requirement. The new EVGA GUI BIOS can be navigated with a mouse, or keyboard.
Useful HUD
All important information is right at the top of the BIOS, and able to be viewed at all times. Vital temperatures, CPU frequency, memory information and more.
BIOS Screen Capture
Makes it easy to share BIOS images, or take a screenshot and save it for later reference!
Proper Widescreen Aspect
Widescreens monitors have been a standard for years, why not your BIOS? The EVGA GUI BIOS is set to the proper aspect ratio for your Widescreen monitor. No more stretched out images.
Designed for the Enthusiast
Most importantly, it has all the important options that enthusiasts and overclockers crave.
EVGA X79 Dark Academy
Exceptional Layout
A right angled 24pin power connector gives you improved airflow, and optimized cable management. Optimal PCI-E layout gives you perfect airflow no matter what graphics configuration you are running, and an angled 6pin aux PCI-E power connector keeps the motherboard clear of any cables that may block airflow. Also looks awesome!
12 Layer PCB
More PCB layers dramatically improve overclocking, and cooling across the PCB. Absolutely no compromises were made here.
Onboard Features
Onboard power, reset, clear CMOS and Debug LED that shows CPU temperature and diagnostics! Also PCI-E disable switches make troubleshooting a breeze.
Up to 4-Way SLI Support
Full support for the ultimate graphics card configuration. All while done in EATX form factor.
Native SATA 6G Support
2x Native SATA 6G ports. Improved performance, compatibility, reliability and more!
Reimagined VRM
Best industry available integrated power stages support faster regulation.
Reengineered for Overclocking
EVGA and Overclocking go hand in hand. This board was built from the ground up to support overclocking. Absolutely no compromises were made here.
Intel Gigabit LAN
Intel network controllers are well known for reliability, stability and performance. That is why we only use Intel Network controllers on the EVGA X79 Dark.
EVGA Enthusiast Controller
A dedicated hardware controller for real time, accurate measurements of voltage, enthusiast controls and PCI-E performance states.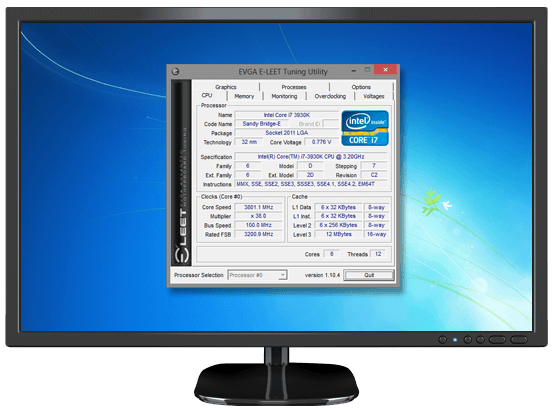 EVGA X79 Dark Software
EVGA E-LEET X Tuning Utility
EVGA now gives you more with the EVGA E-LEET Tuning Utility. This utility allows you to easily set your motherboard QPI and system Voltages from within Windows to get your system running at the highest level of performance possible. EVGA E-LEET also includes a validation feature, allowing you to save a CPU screenshot and generates a unique URL, also a Brink OC feature that automatically saves a screenshot with every clockspeed increase.