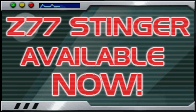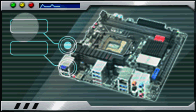 EVGA Z77 and EVGA Z75 Motherboards
The Future of High Performance Computing
Welcome to the future. The EVGA Z77 and Z75 motherboards offer the perfect combination of performance and features, delivering a solution that is designed for the next generation of high performance computing.

Z75


EVGA Z77 FTW Awards









EVGA Z77
FTW
Stinger
EVGA Z75
SLI
Academy
Software

Article viewed: 132109 times since 9/10/2012
© EVGA Corporation. © NVIDIA Corporation.