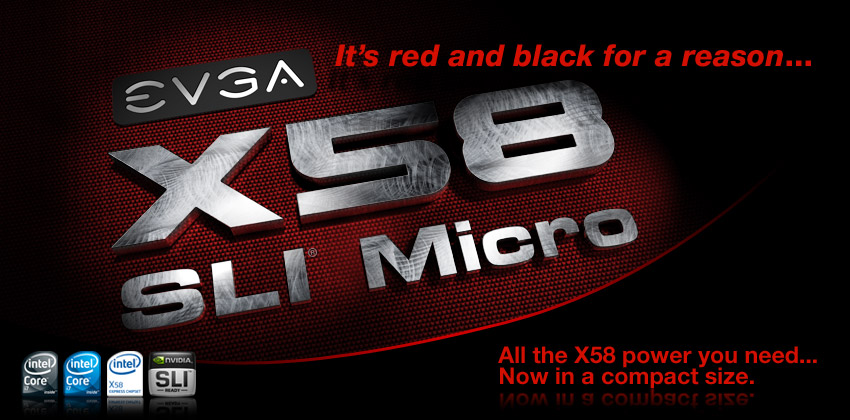 Big Performance, Small Size
Now you can get the power, performance and stability of the EVGA X58 motherboards, in a compact size with the EVGA X58 Micro motherboard! This motherboard is based on the same award winning formula of the EVGA X58 motherboard lineup, but now in a mATX form factor. Perfect for any home theater or Lan Party rig!
In addition to the overclocking features that make EVGA boards unique; the EVGA X58 Micro also offers full support for 2-way SLI, 6 DDR3 memory slots and an onboard temperature monitor meaning you can get the full features and performance of a high end gaming rig, in a small space!
Power: The Intel® X58 Express allows for the fastest platforms on earth. With Hyper –Threading, Turbo Boost, Triple Channel memory support and QuickPath Interconnect Technology the X58 platform will allow you to unlock performance that was never thought possible.
Performance: Being Micro ATX, doesn't mean that you need to sacrifice performance. EVGA gives you full range of overclocking features including: EVGA VDroop Control, EVGA E-LEET support, enthusiast BIOS options and of course SLI.
Stability: EVGA took the already stable and mature X58 platform and made it mATX. With solid state capicators, passive heatsink design, and award winning EVGA support the X58 Micro is the perfect board for anyone looking for Power, Performance and Stability!
Why Intel® Core i7?
Conquer the world of extreme gaming with the Intel® Core™ i7 processor Extreme Edition. With faster, intelligent multicore technology that accelerates performance to match your workload, it delivers an incredible breakthrough in gaming performance. But performance doesn't stop at gaming. You'll multitask faster and unleash super-fast digital media creation. In fact, you'll experience maximum performance for whatever you do, thanks to the combination of Intel® Turbo Boost Technology and Intel® Hyper-Threading Technology, which activates full processing power exactly where and when you need it most.
Hover over to Zoom-in
Product Features:
Supports Intel® Core™ i7 Processors
Intel® X58 Express Chipset with the ICH10R Southbridge
Supports over 6.4 Giga-transfers per second
Supports Intel® Turbo Boost Technology
Supports RAID 0, 1, 5, 10
EVGA VDroop Control
100% Solid State Capacitors
6 DIMM triple-channel DDR3
Enthusiast layout supporting 2-way SLI
6 SATA II 3.0GB/s ports
EVGA E-LEET Tuning Utility Software
EVGA EZ Voltage - points at the top of the motherboard for 100% accurate power testing.


EVGA X58 Micro
Part Number
121-BL-E756-TR
CPU Support
Intel Socket 1366
Chipset
Intel X58
Memory Support
Dual or Triple Channel DDR3
SLI Support
2-Way
SATA Header
6
SATA Type
3GB/sec
USB Ports
12
PCIE Slot
2 x PCIe x4/x8/x16,
1 x PCIe x1, 1 x PCI
Integrated LAN
1 x 10/100/1000
Product Warranty
1+1 Year upon registration

GeForce is a registered trademark of NVIDIA Corporation in the United States and other countries. Intel, Intel Core and the Intel logo are trademarks of Intel Corporation in the United States and other countries. All brands, products and companies are trademarks or registered trademarks of their respective companies. All rights reserved.
Article Viewed: 141725 times since 7/1/2009