EVGA along with k|ngp|n and Shamino set new World Records!
EVGA has once again raised the bar for enthusiasts everywhere with not one, but four 3DMark World Records! With legendary overclockers; Peter "Shamino" Tan and Vince "k|ngp|n" Lucido, EVGA hardware was able to set new industry standards for high performance!
Shamino and k|ngp|n used an upcoming EVGA Platform to score these new World Records:
3DMark Vantage Entry World Record - 75,134
3DMark Vantage Performance World Record -

42,442

42,968
3DMark Vantage High World Record -

34,954

36,188
3DMark Vantage Enthusiast World Record -

26,371

28,371
Futuremark Hall of Fame: http://www.futuremark.com/community/halloffame/
This is only the start - they will be pushing these numbers higher as the days pass. Check back here for updates!
Although some of the components have been blurred out, rest assured that EVGA will have more details soon, and you will be able to get your hands on this world class setup in short time! Please stay tuned to this page for further updates on the "Fastest System on Planet Earth."
Part One:
Click to enlarge: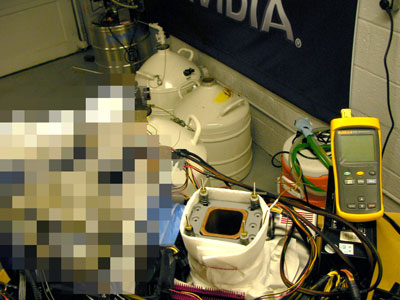 ---
Part Two:
Click to enlarge: