EVGA Product Registration
To register your EVGA product you will need: your EVGA serial number which is located on the product and on the box as well as the place and date of purchase. If you have any questions or problems with this page please contact the webmaster.
Check below for examples of what the serial number looks like. The sticker is on the box as well as the product itself.
Current Sticker: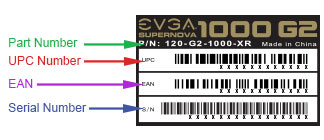 Previous Sticker:

Old Motherboard Sticker:

Old Video Card Sticker:

Special Independence Day Holiday Notice:

The EVGA U.S. Offices, Warehouses, and Customer Service will be closed in observance of the Independence Day Holiday on Monday July 4th. Our office, warehouse and customer service will resume operation on Tuesday, July 5th at 9am PDT.

Orders placed on our shopping cart will resume shipping on Tuesday, July 5th.

EVGA would like to wish all of our customers a happy and safe 4th of July weekend!