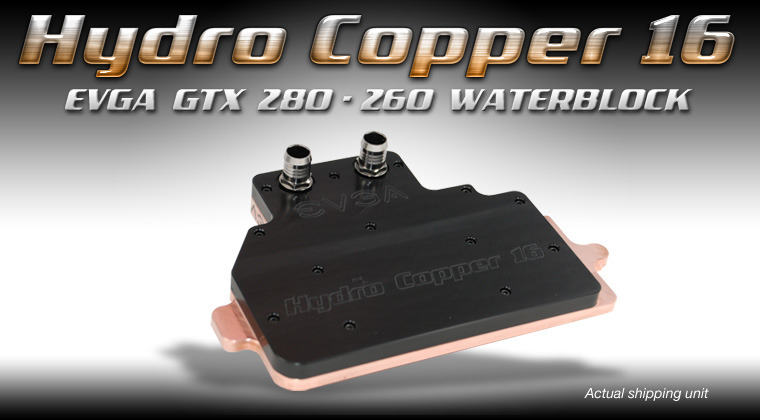 EVGA Introduces the Hydro Copper 16 Waterblock!
From the EVGA Engineering and Development labs, the EVGA Hydro Copper Waterblock Series was born. EVGA continues to intelligently innovate with the introduction of the next legend within the Hydro Copper Waterblock series: The EVGA Hydro Copper 16 Waterblock, for the GTX 280 and GTX 260 graphics cards.
Featuring a sleek-modern look and a full copper design, EVGA continues to incorporate only the best attributes that make up the Hydro Copper Waterblock Series. An extreme high flow path design with a unique, integrated pressure point allows the Hydro Copper 16 Waterblock to keep your GTX 280 or GTX 260 as cool as can be while under even the heaviest of graphical loads.
Exclusive only to EVGA, patent pending

-flow technology aids in dispersing heat from GTX 280 and GTX 260 graphics processing unit (GPU). EVGA also provides full coverage with the addition of a heat-piped back plate that links with the Hydro Copper 16 Waterblock using patent pending "Co-op technology."


EVGA Hydro Copper 16 Waterblock Features:
Supports 2-Way and 3-Way SLI (3-Way SLI kit will be included with every purchase of 3 cards/waterblocks)
EVGA Exclusive - flow design maximizes surface area and dramatically reduces temps
Patent Pending "Co-op Technology" transfers heat away from critical areas
Compatible with both the GTX 280 and GTX 260 graphics cards
Extra High-flow designed internals and barbs give the minimum flow restriction, allowing lowest temps possible
Cool's GPU, VREG, I/O Chip and Memory
Includes both high quality 1/2'' and 3/8'' High Flow fittings
Heat-piped back plate for GTX 280 and GTX 260 underside
Flexible barb design allows 4 different fitting configurations, giving maximum flexibility for water cooling placement accessories
Reduces temperatures by as much as 50°C during maximum load
Waterblocks Manufactured at EVGA Corp. in Brea, California
Multiple Patents Pending

GeForce is a registered trademark of NVIDIA Corporation in the United States and other countries.