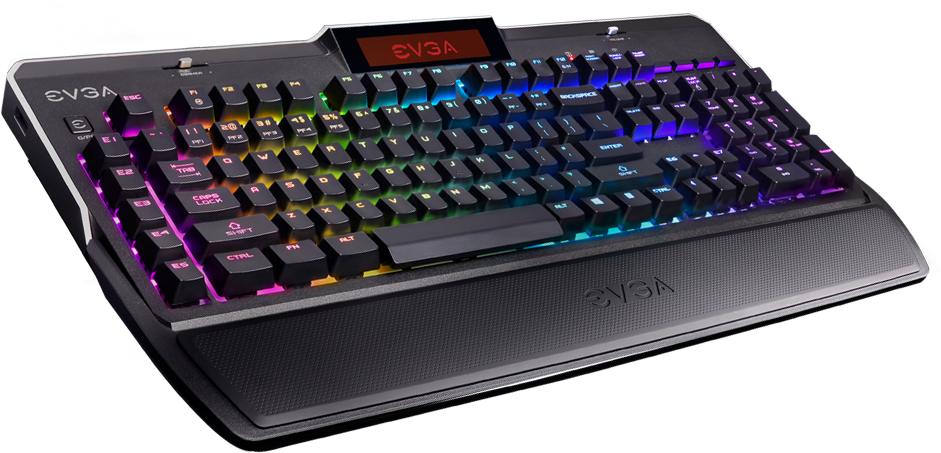 EVGA Z10 RGB Mechanical Gaming Keyboard
The Z10 RGB keyboard was built with enthusiasts in mind. Built from the ground up, this mechanical keyboard is designed to give gamers, creators, and overclockers the tools they need to excel at any task. With the addition of a full RGB backlit key layout with *per-key* customization you can tailor your Z10 RGB Mechanical Gaming keyboard to your own personal style!
Illuminate. Deluminate.
The EVGA Z10 RGB keyboard brilliantly out shines the completion with fully-customizable RGB LED backlit key layout with *per-key* customization to enhance any experience, whether typing or hunting down that last enemy. The Z10 RGB LED backlighting can be configured via the EVGA Unleash RGB software, and instantly dimmed or brightened via the LED brightness switch on the keyboard.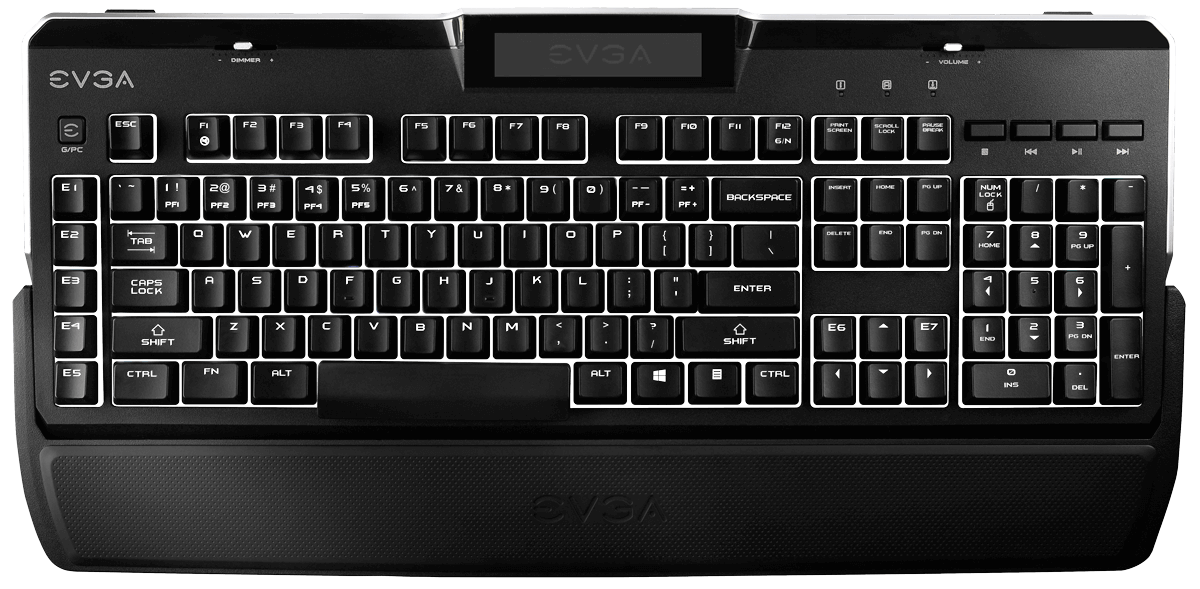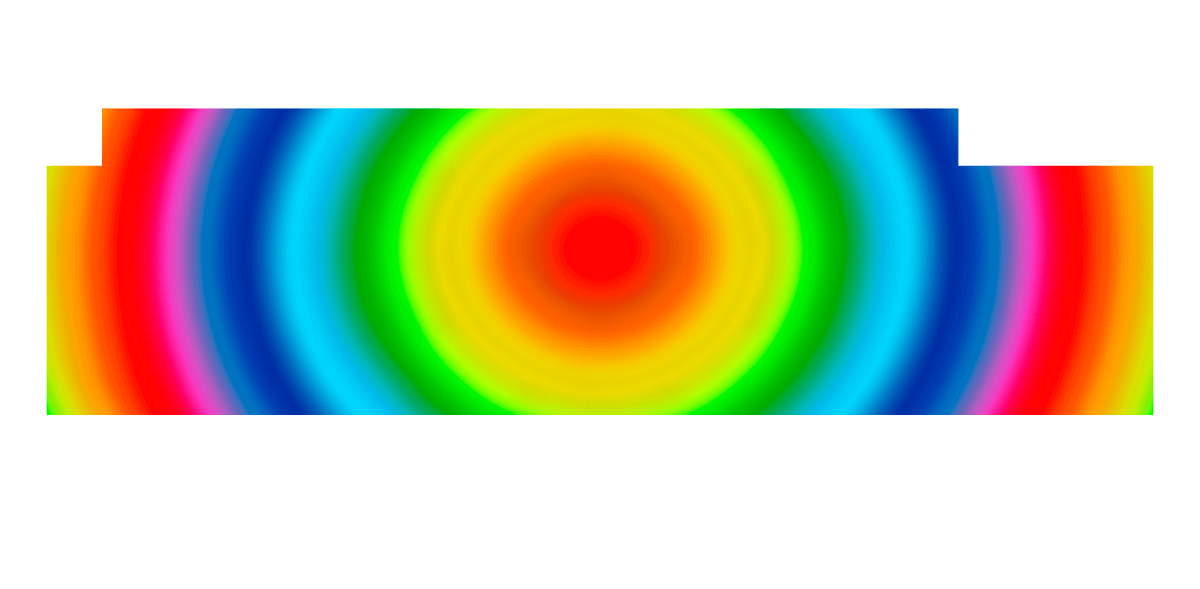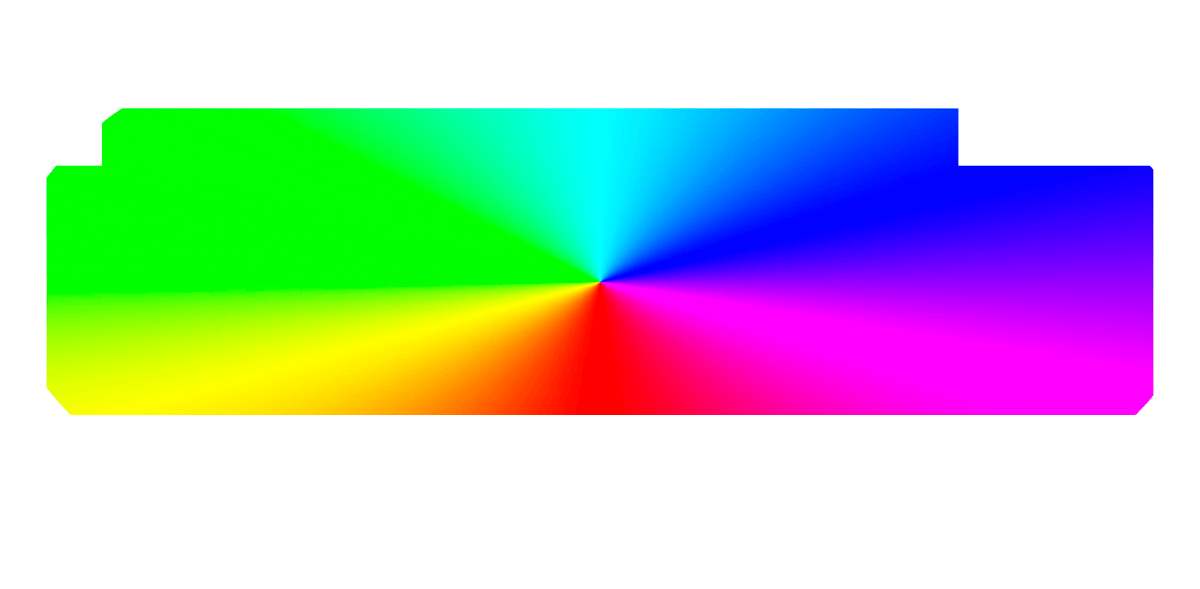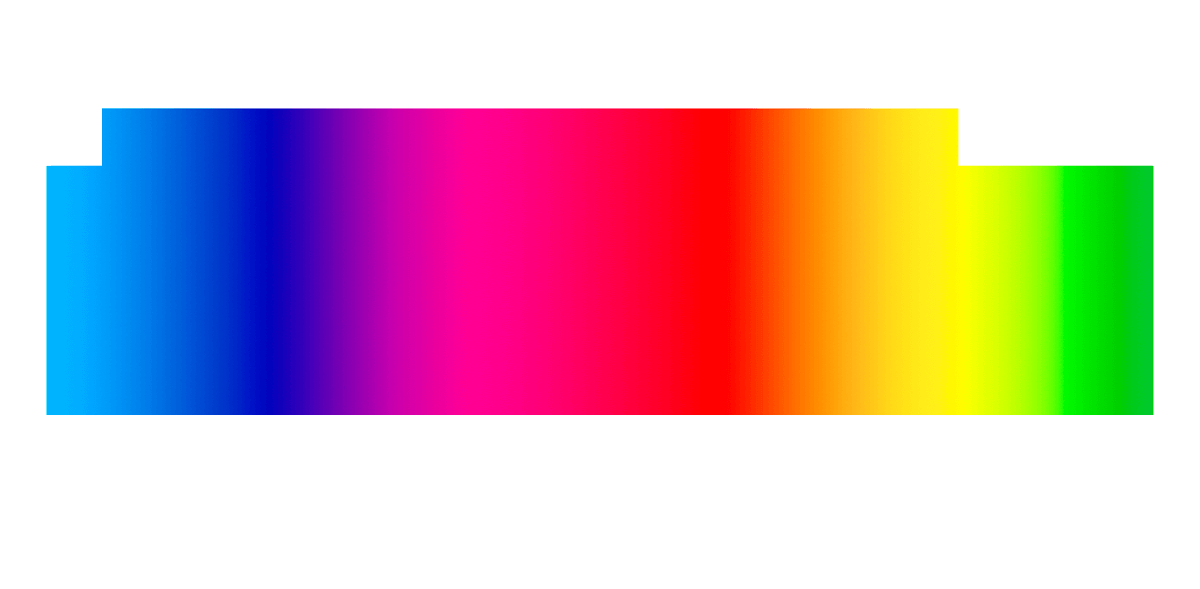 Static

Breath

Pulse

Star Shine

Spiral

Wave

Trigger
Next Level Features at Your Fingertips
Multimedia Keys - Responsive controls let you stop, skip, play and pause gives the EVGA Z10 RGB the performance and convenience no further than the tips of your fingers.
LED Dimmer and Volume Control Sliders - Quickly turn LEDs on and off, adjust the brightness, the frequency of effects, and pick and choose which keys will illuminate your gaming style. Quickly lower or raise your volume to your desired settings during any task without the need to go to your desktop.
Wrist Rest - Comfort tailored to you with a 3 position magnetically-attached customizable wrist rest and spring-loaded feet, giving you the best height and position for any task.
Customizable LCD Screen - A customizable LCD screen accommodates any needs for gaming, overclocking, or anything else you can think of! Choose to monitor your Precision X1 or E-LEET X statistic, custom game timers and several other functions.
Macro Keys - Seven dedicated and programmable Macro E keys to control via the Unleashed RGB software. A full column of 5 keys on the left side and two additional keys above the arrow directional keys on the right of your keyboard.
E- Key - Quickly enable/disable features with the touch of a button. Under General Settings and Game mode Section of the Unleash RGB software.
---
Select Your Switch
The Z10 RBG keyboard features your choice of blue or brown Kailh® mechanical switches with N-key rollover to ensure that you get exactly the type of feedback and experience you want. Select Kailh Blue switches to hear that tactile click of the keys without missing a beat. Select the Kailh Brown switches for stealth mode, giving you a linear press of the key with minimal sound.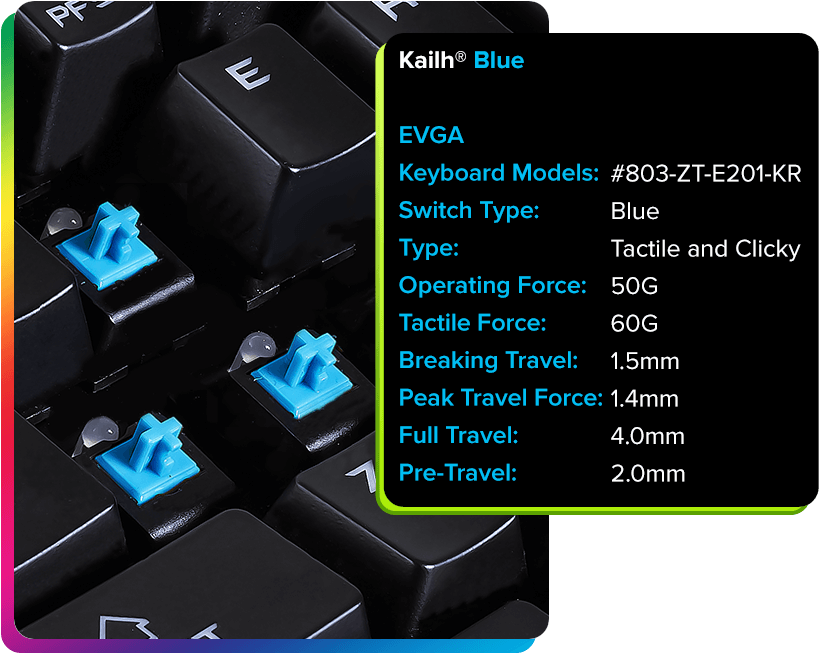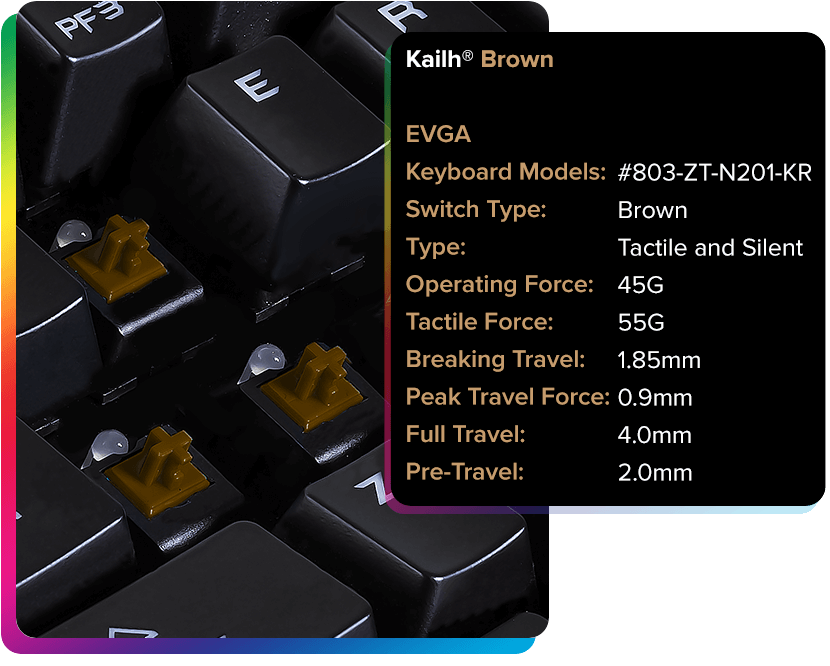 ---
Unleash RGB Software
Illuminate your style with the EVGA Unleash RGB Software.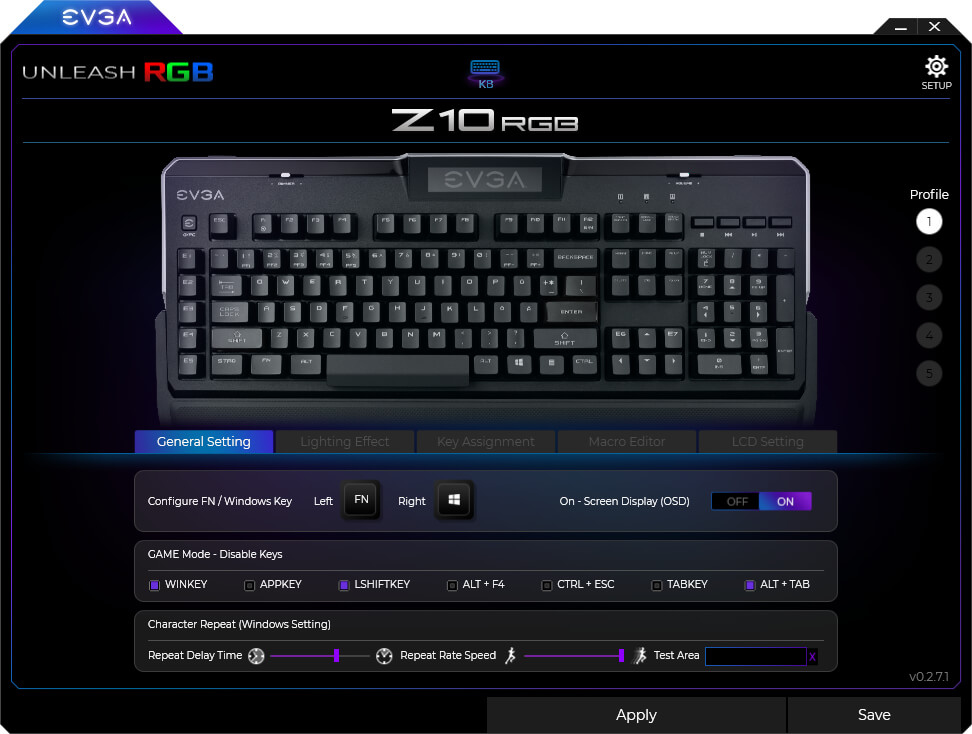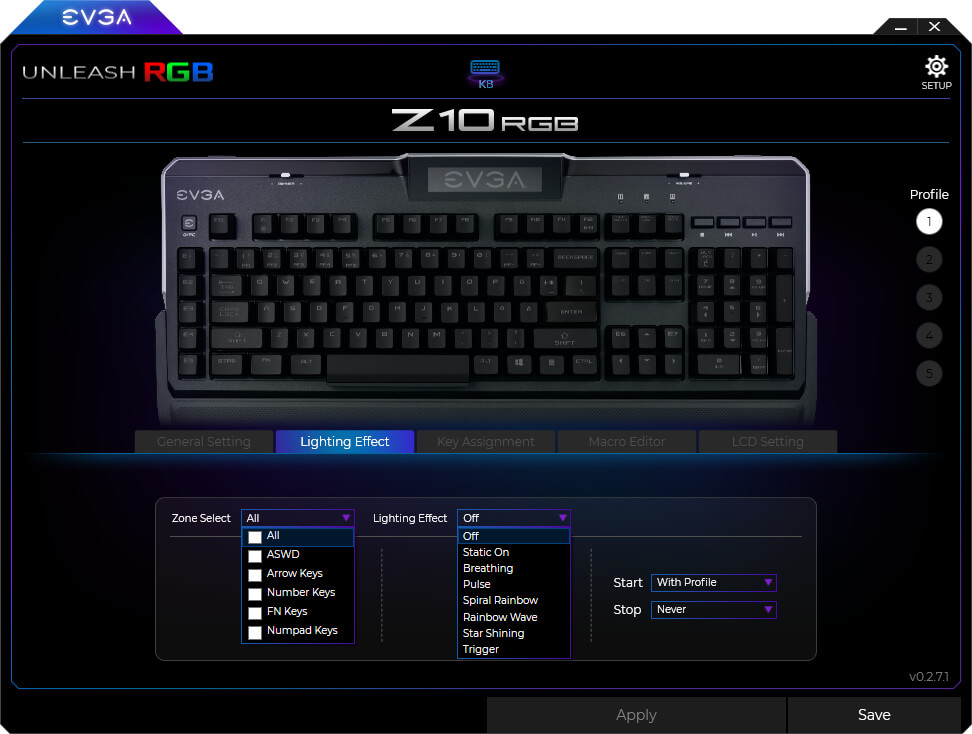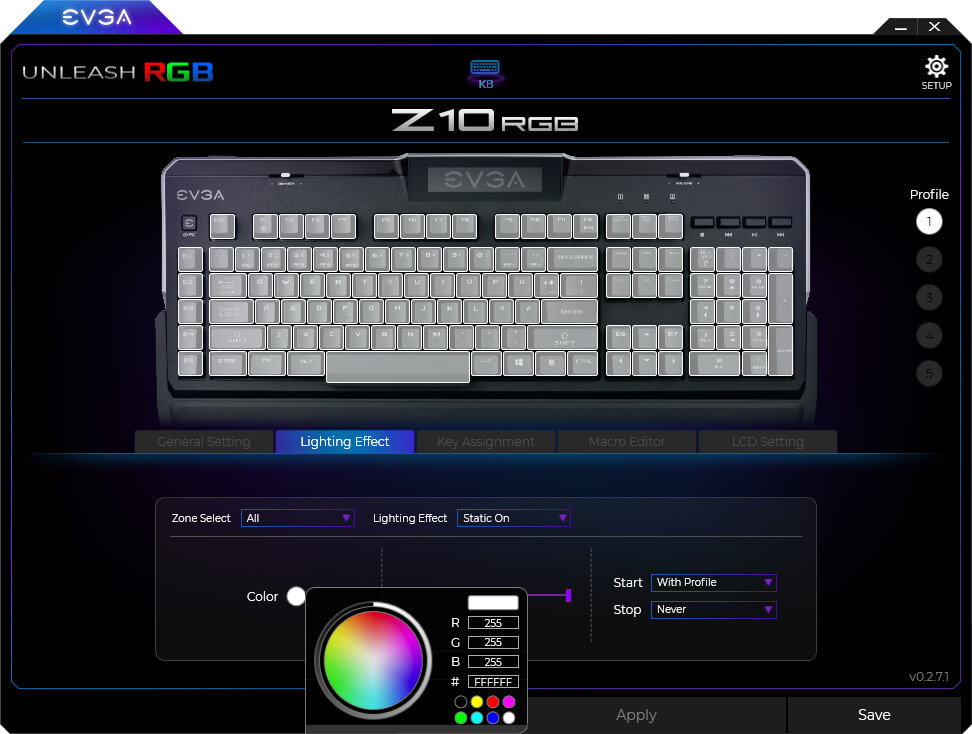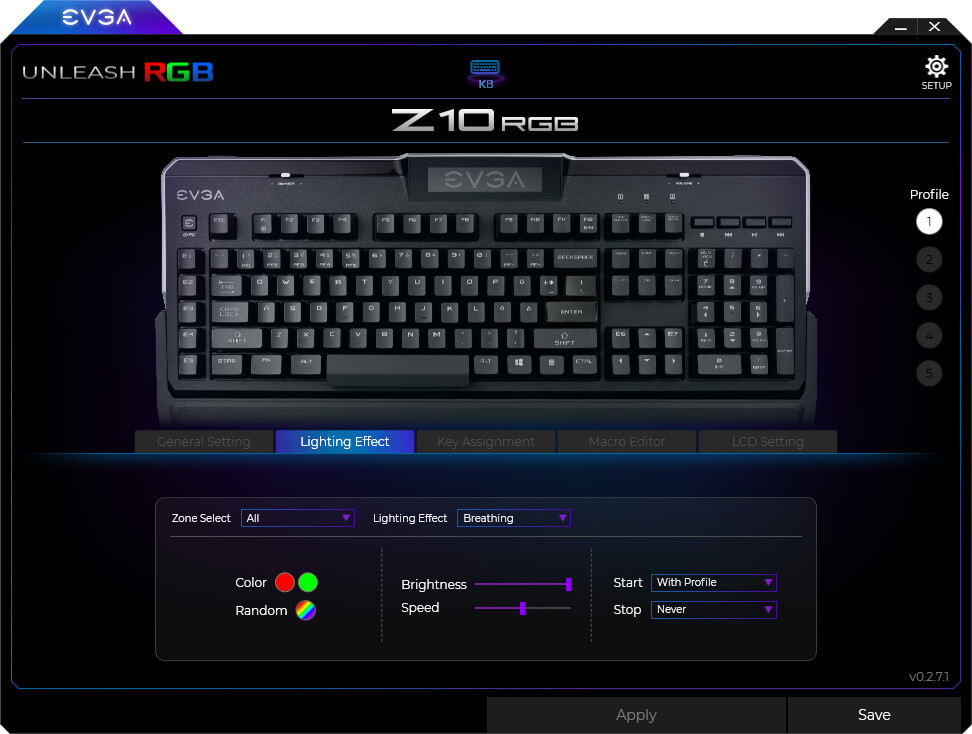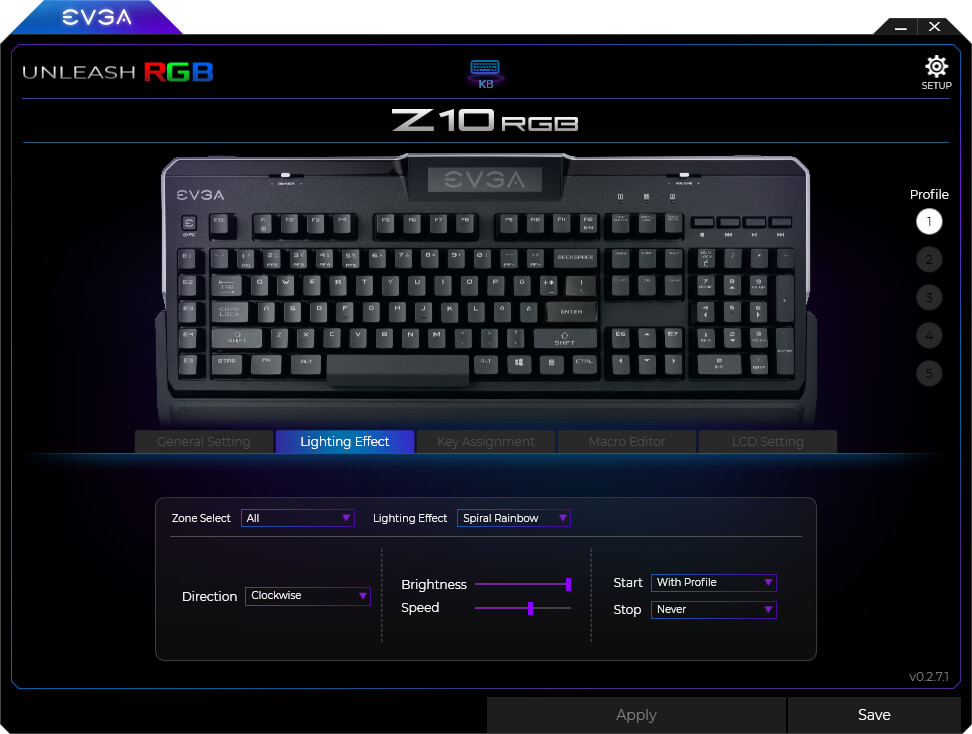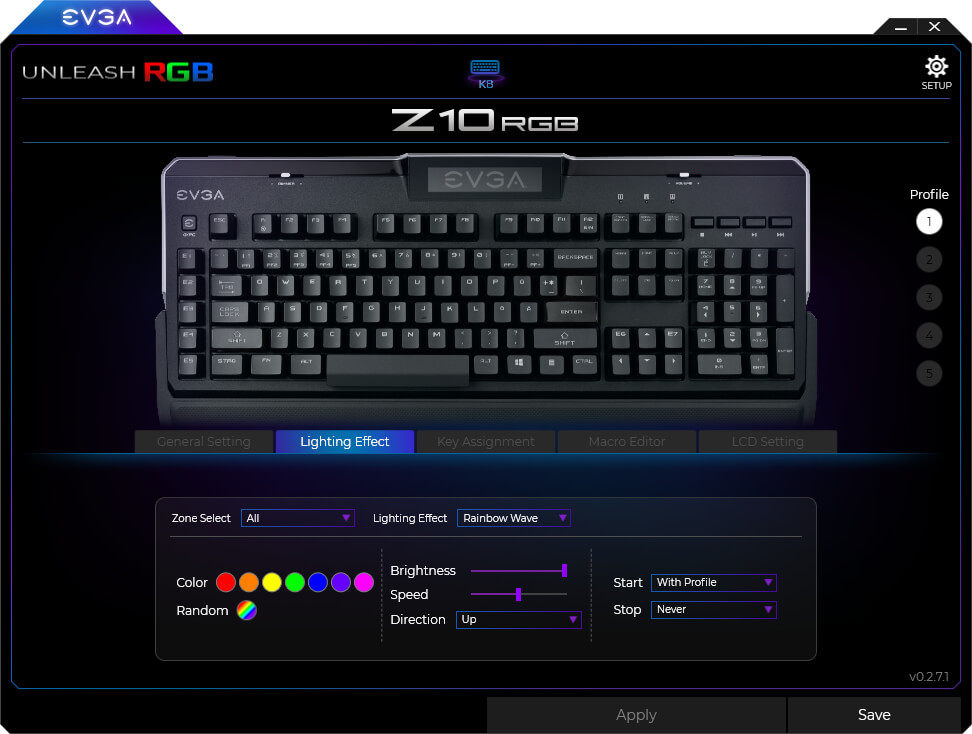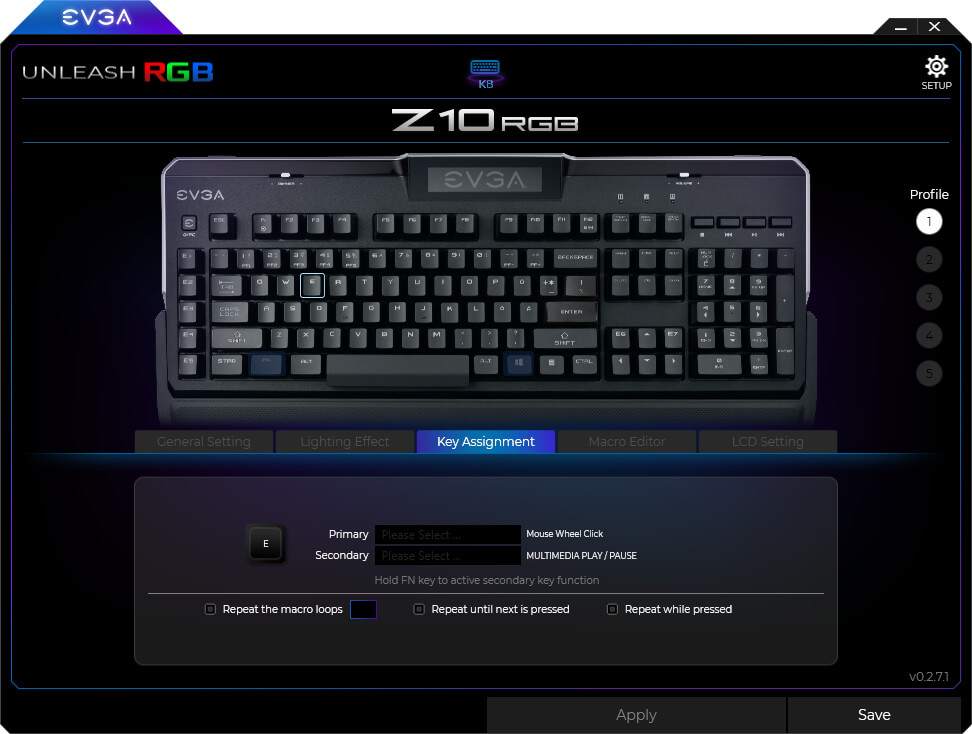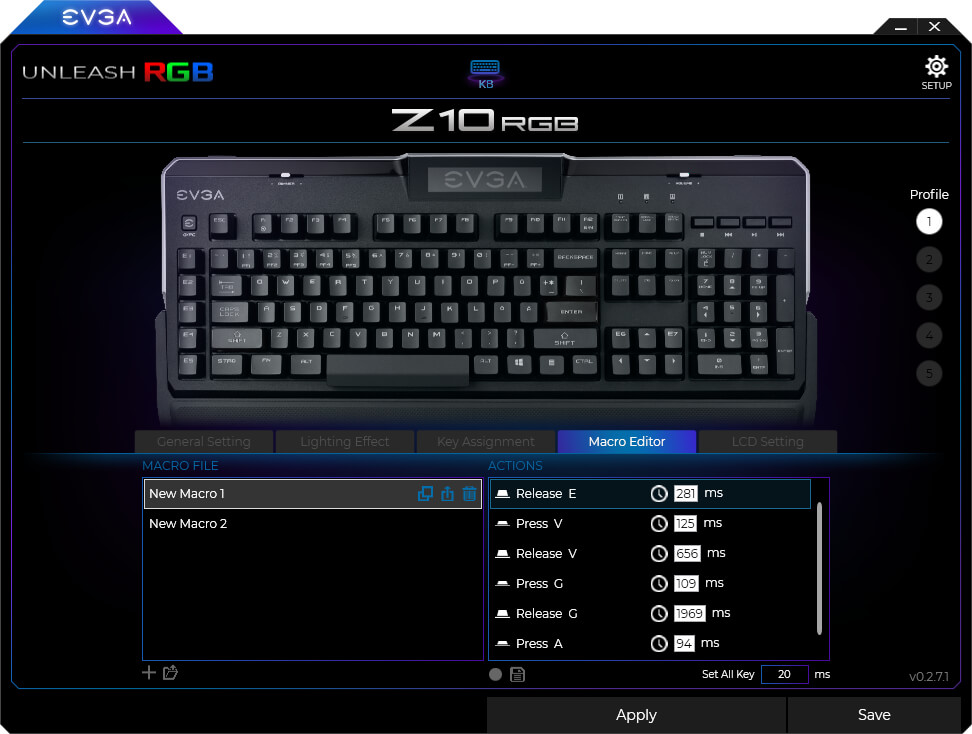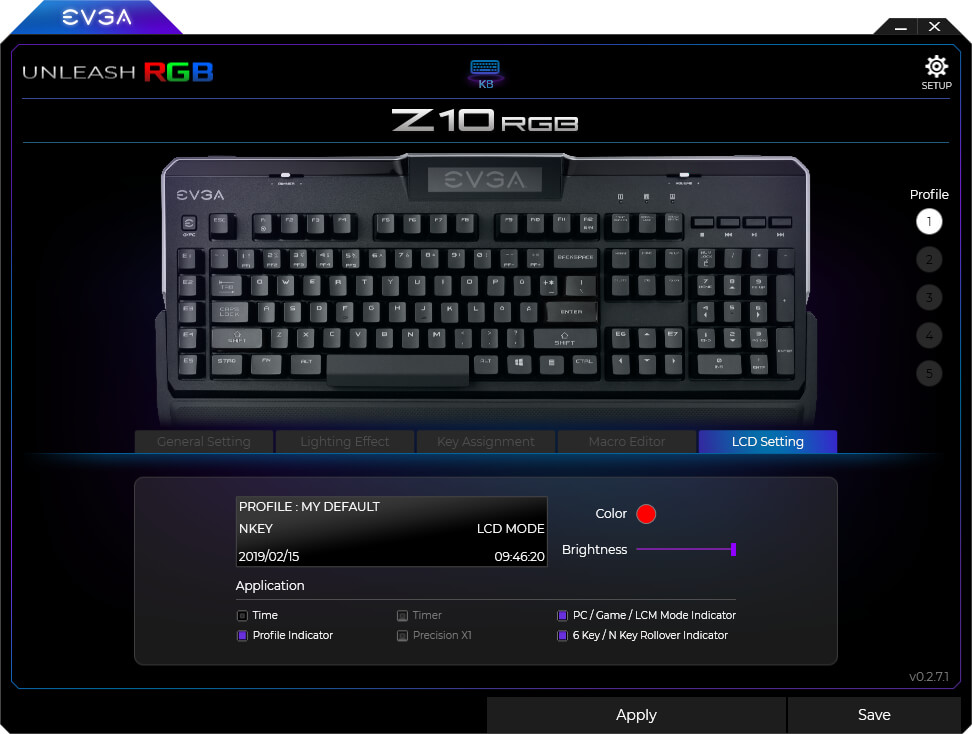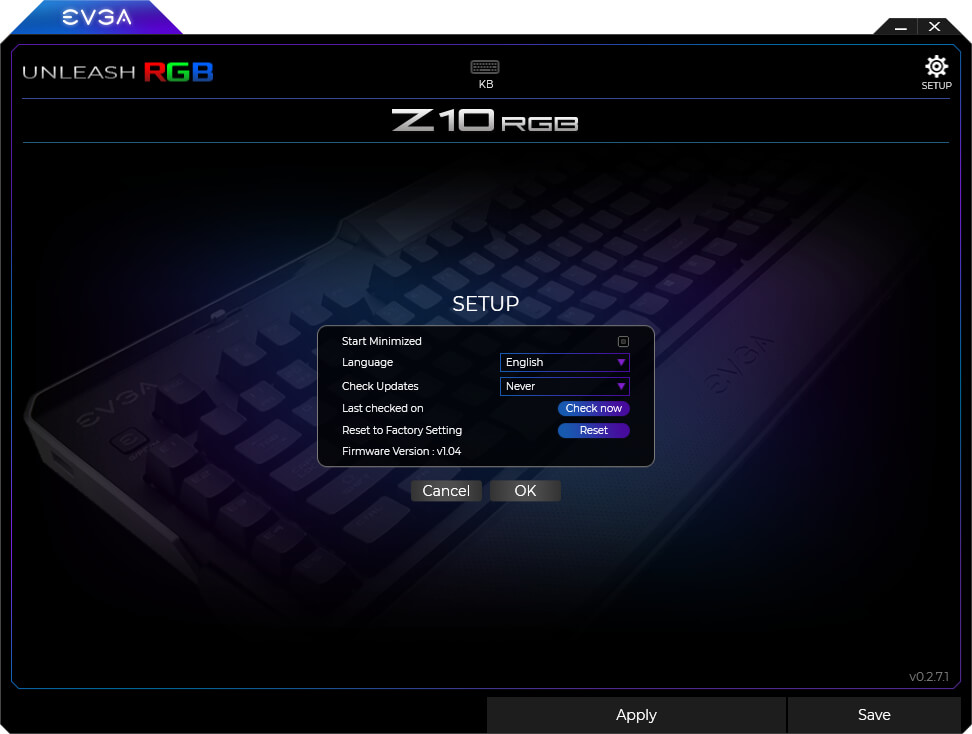 General Function Settings
The General Function Settings Panel allows you to configure your default keys for Windows, Game Mode, the LCD On-Screen Display (OSD), and settings to use Character Repeat. If at any time you need to clear out your settings, simply click the Driver Reset button to return the Control Panel to its default state.
Lighting Effect Settings
The Lighting Effect Panel allows you to control the Z10 RGB 7 pre-set modes, and customize 6 different Set zone lighting, customize buttons to turn effects on and off, change effects, and even preview the lighting before saving. Or set a custom lighting profile to fit your personality with *per-key* customization.
Key Assignment Settings
The Key Assignment panel gives you the freedom to remap your keys with both a primary and secondary assignment, using the FN Key.
Macro Editor
Macro Editor panel gives you access to the Timer and Macro Manager, granting you extensive control to predict cool downs and complete complicated patterns.
LCD Settings
LCD Settings panel allow you to set the LCD Screen color, brightness, and contrast. Set the application to display and preview settings before applying.
Illuminate your Gaming Space
With its sleek design, responsive typing, and highly-detailed user control panel, the EVGA Z10 RGB is the final piece missing from your system to ensure great looks and dominance in any sphere of life.
EVGA Z10 RGB Kailh Brown
803-ZT-N201
Features
Customizable RGB LED Backlighting
Kailh Mechanical Brown Switches
"E-Key" button disables Windows Keys for Gaming Mode
1000Hz Ultra Polling Rate
3 Year Warranty
2x USB 2.0 ports
60 million keystroke lifespan
Anti-Ghosting with N-KEY rollover function
Audio / Brightness slider
Braided USB Cable
Information Display LCD
Multimedia Shortcut Keys
EVGA Z10 RGB Kailh Blue
803-ZT-E201
Features
Customizable RGB LED Backlighting
Kailh Mechanical Blue Switches
"E-Key" button disables Windows Keys for Gaming Mode
1000Hz Ultra Polling Rate
3 Year Warranty
2x USB 2.0 ports
60 million keystroke lifespan
Anti-Ghosting with N-KEY rollover function
Audio / Brightness slider
Braided USB Cable
Information Display LCD
Multimedia Shortcut Keys