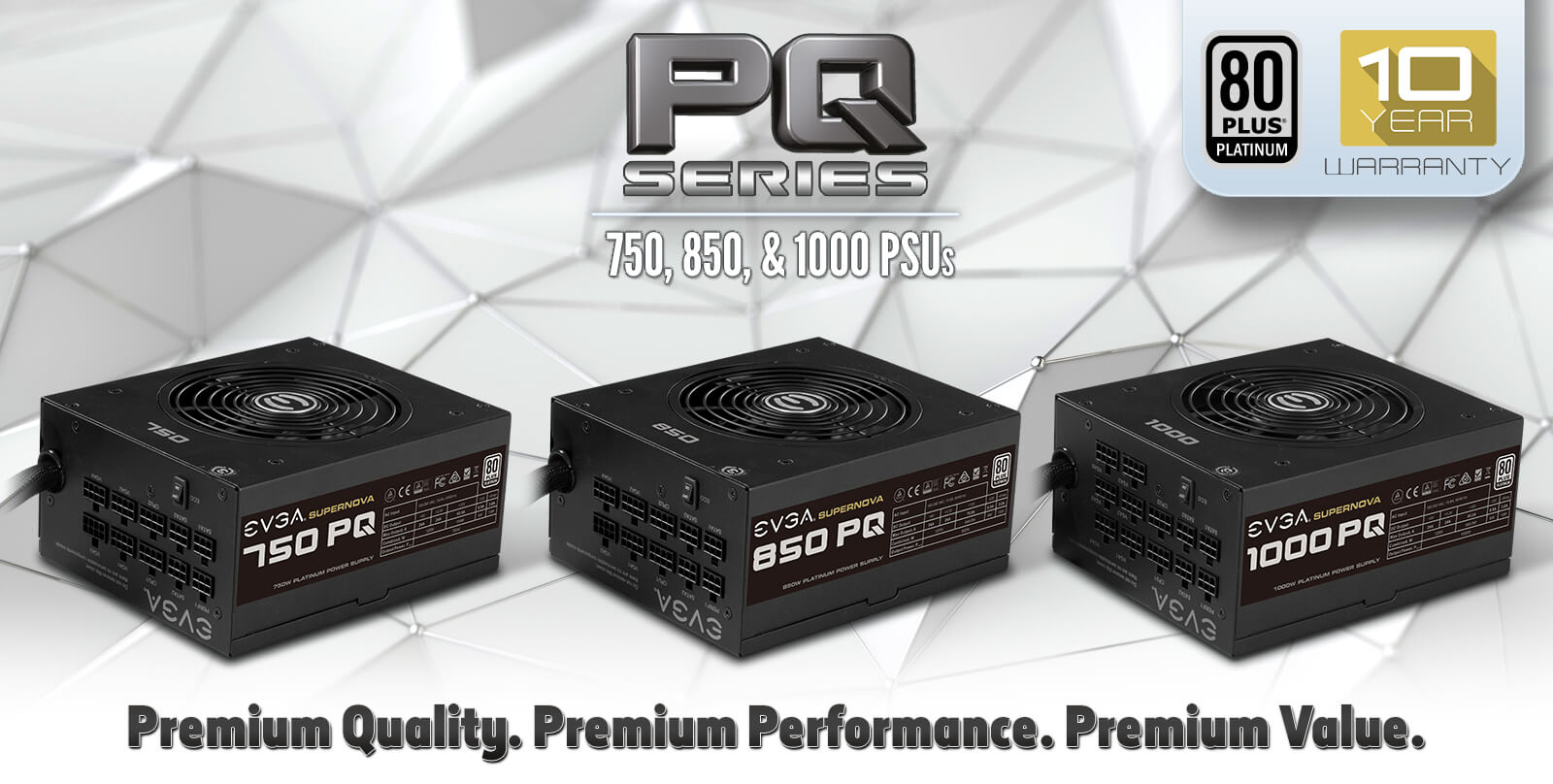 Unrivaled
Performance
Platinum efficiency or higher under typical loads and 100% Japanese capacitors ensure long-term reliability.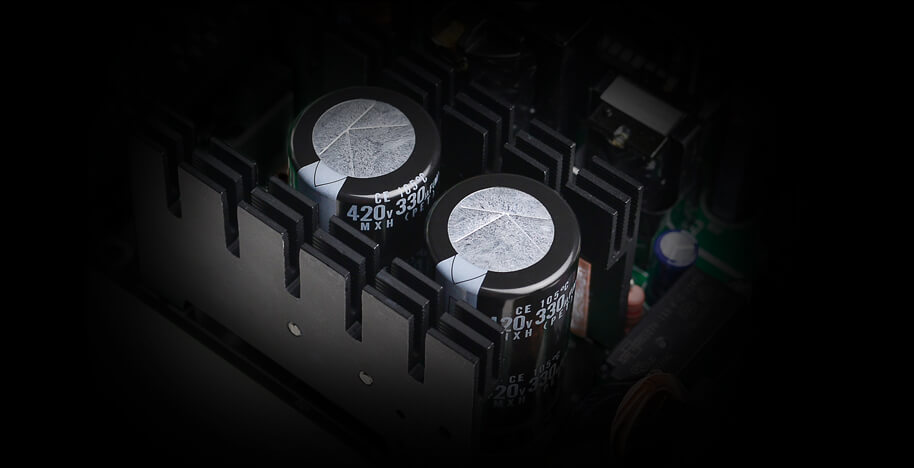 Semi-Modular Design
The EVGA PQ power supplies use a semi-modular design. With only the 24-pin power connector hard wired directly to the power supply, the PQ allows you to use only the cables you need and leave off cables you don't need. Even better, the EVGA PQ is compatible with a variety of EVGA's Individually Sleeved Cable Kits.

Single +12V Rail
A single +12V rail offers the best power output, rail stability and compatibility with the latest hardware. EVGA 1000 PQ can provide up to 83.3A on the +12V rail!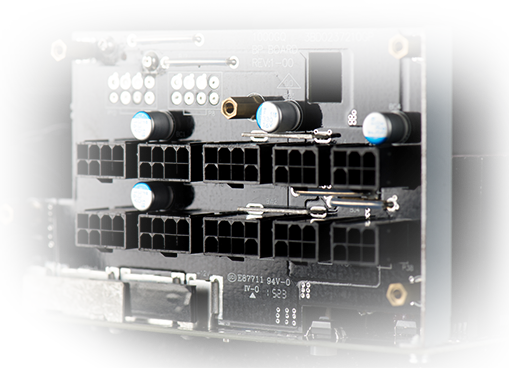 Active Clamp Circuit Design
Active Clamp SR+DD Circuit Layout. Full DC to DC Active Clamp circuit design improves efficiency.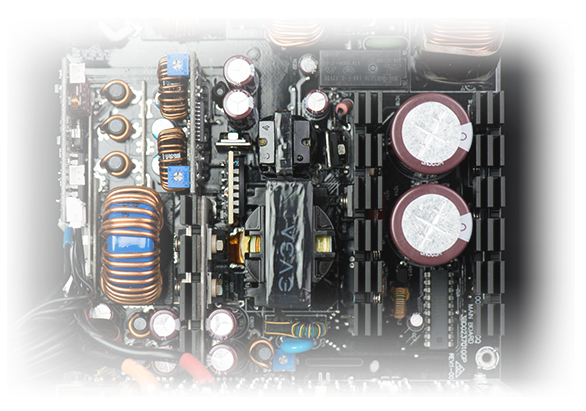 NVIDIA SLI Ready
Run multiple NVIDIA graphics cards for the ultimate gaming experience. The EVGA PQ gives you the power you need to drive these demanding systems and achieve the best overclocks.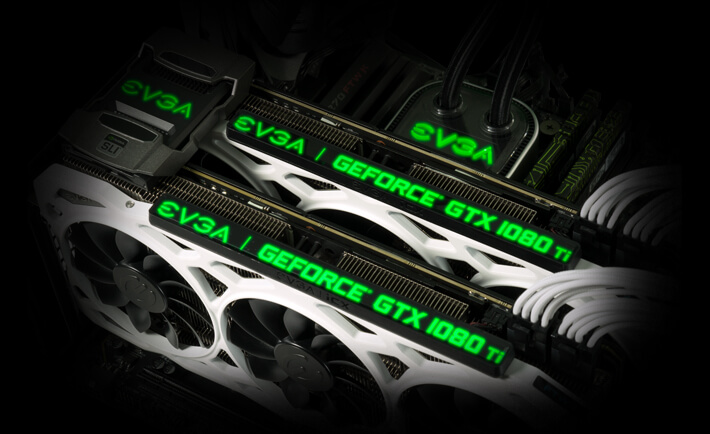 Semi-Modular
A semi-modular design allows some cables to be removed from the power supply for ease of installation and removal. You can leave off unnecessary cables to improve case airflow, eliminate unnecessary wires and - best of all - reduce cable clutter.

100% High Quality
Japanese Capacitors
Get the most reliability and greatest performance with the use of the highest possible quality Japanese solid state capacitors.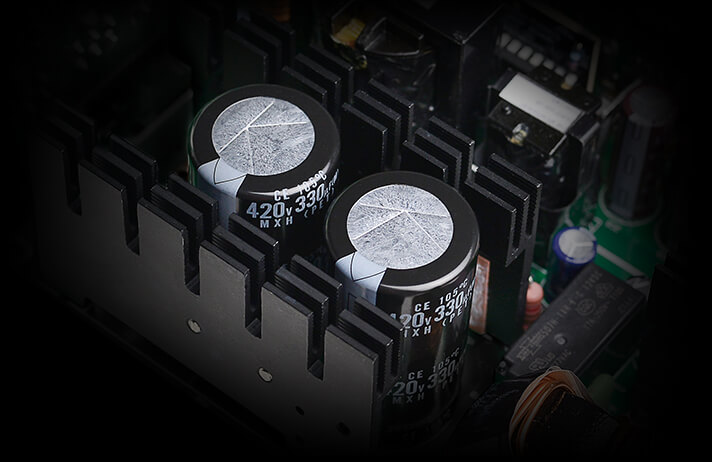 Platinum Rated Efficiency
80 Plus certification ensures your power supply isn't wasting power and turning it into excess heat. Under typical loads these power supplies are Platinum efficiency or higher.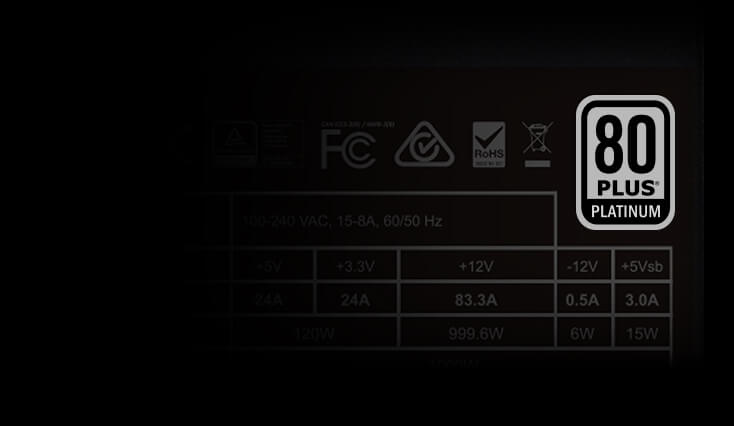 World Leading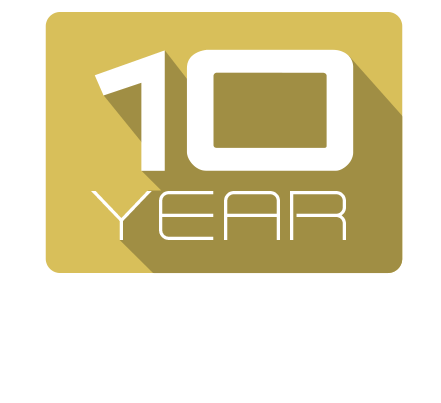 World leading warranty and support for 10 Years.
On 1000, 850, 750 PQ Models
Features
80 PLUS Platinum certified, with 92% (115VAC) / 94% (220VAC~240VAC) efficiency or higher under typical loads
100% Japanese Capacitors ensure long-term reliability
Semi-Modular Design to reduce clutter and improve airflow
EVGA ECO Intelligent Thermal Control System eliminates fan noise at low to medium loads
Unbeatable EVGA 10 Year Warranty and unparalleled EVGA Customer Support
Heavy-duty protections, including OVP (Over Voltage Protection), UVP (Under Voltage Protection), OCP (Over Current Protection), OPP (Over Power Protection), SCP (Short Circuit Protection), and OTP (Over Temperature Protection)
Active Clamp +DC to DC design for efficient operation
Active Power Factor Correction
Whisper Silent with 135mm Fluid Dynamic Bearing Fan
NVIDIA SLI & AMD Crossfire Ready
Specs
Heavy-duty protections, including:
OVP (Over Voltage Protection)
UVP (Under Voltage Protection)
OCP (Over Current Protection)
OPP (Over Power Protection)
SCP (Short Circuit Protection)
OTP (Over Temperature Protection)
AC Input
100 - 240 VAC, 15-8A, 50 - 60 Hz
DC Output
+3.3V
+5V
+12V
-12V
+5Vsb
MAX Output
24A
24A
83.3A
0.5A
3A
83.3A
Combined
120W
999.6W
6W
15W
Output Power
1000W @ +50C
Features
80 PLUS Platinum certified, with 92% (115VAC) / 94% (220VAC~240VAC) efficiency or higher under typical loads
100% Japanese Capacitors ensure long-term reliability
Semi-Modular Design to reduce clutter and improve airflow
EVGA ECO Intelligent Thermal Control System eliminates fan noise at low to medium loads
Unbeatable EVGA 10 Year Warranty and unparalleled EVGA Customer Support
Heavy-duty protections, including OVP (Over Voltage Protection), UVP (Under Voltage Protection), OCP (Over Current Protection), OPP (Over Power Protection), SCP (Short Circuit Protection), and OTP (Over Temperature Protection)
Active Clamp +DC to DC design for efficient operation
Active Power Factor Correction
Whisper Silent with 135mm Fluid Dynamic Bearing Fan
NVIDIA SLI & AMD Crossfire Ready
Specs
Heavy-duty protections, including:
OVP (Over Voltage Protection)
UVP (Under Voltage Protection)
OCP (Over Current Protection)
OPP (Over Power Protection)
SCP (Short Circuit Protection)
OTP (Over Temperature Protection)
AC Input
100 - 240 VAC, 12-5A, 50 - 60 Hz
DC Output
+3.3V
+5V
+12V
-12V
+5Vsb
MAX Output
24A
24A
70.8A
0.5A
3A
849.6W
Combined
120W
849.6W
6W
15W
Output Power
850W @ +50C
Features
80 PLUS Platinum certified, with 92% (115VAC) / 94% (220VAC~240VAC) efficiency or higher under typical loads
100% Japanese Capacitors ensure long-term reliability
Semi-Modular Design to reduce clutter and improve airflow
EVGA ECO Intelligent Thermal Control System eliminates fan noise at low to medium loads
Unbeatable EVGA 10 Year Warranty and unparalleled EVGA Customer Support
Heavy-duty protections, including OVP (Over Voltage Protection), UVP (Under Voltage Protection), OCP (Over Current Protection), OPP (Over Power Protection), SCP (Short Circuit Protection), and OTP (Over Temperature Protection)
Active Clamp +DC to DC design for efficient operation
Active Power Factor Correction
Whisper Silent with 135mm Fluid Dynamic Bearing Fan
NVIDIA SLI & AMD Crossfire Ready
Specs
Heavy-duty protections, including:
OVP (Over Voltage Protection)
UVP (Under Voltage Protection)
OCP (Over Current Protection)
OPP (Over Power Protection)
SCP (Short Circuit Protection)
OTP (Over Temperature Protection)
AC Input
100 - 240 VAC, 10-5A, 50 - 60 Hz
DC Output
+3.3V
+5V
+12V
-12V
+5Vsb
MAX Output
24A
24A
62.5A
0.5A
3A
750W
Combined
120W
750W
6W
15W
Output Power
750W @ +50C