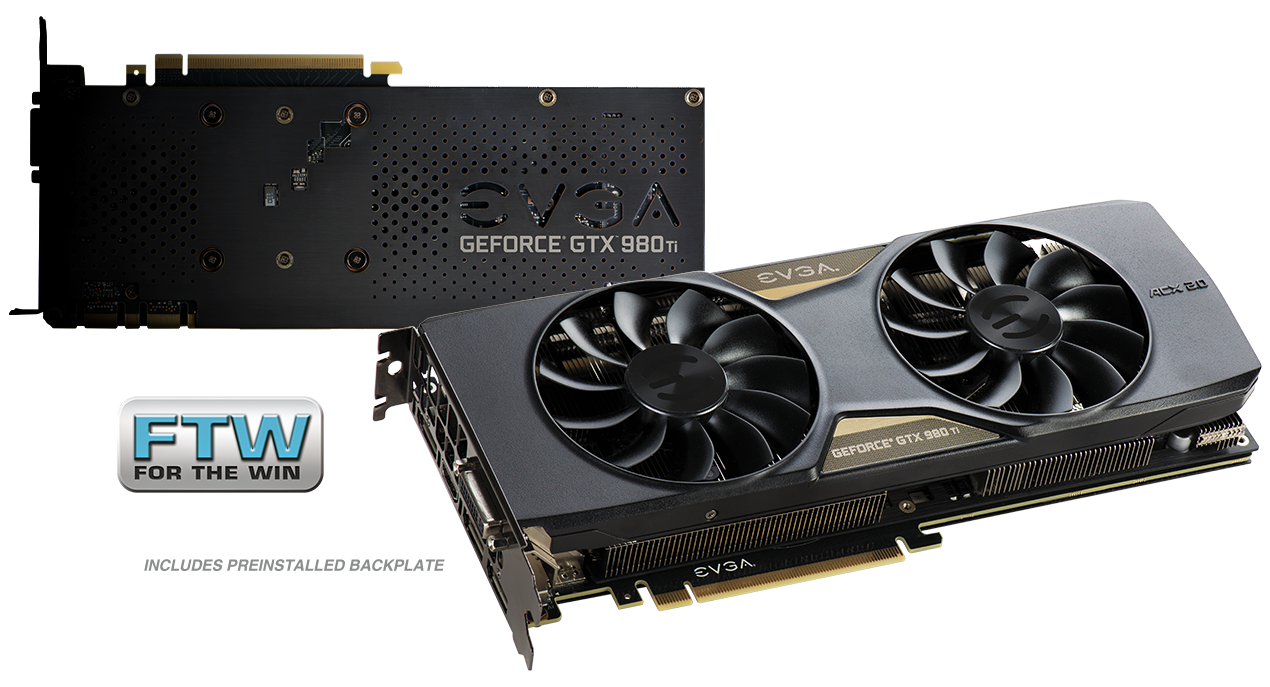 Built For The Win
Introducing the EVGA GeForce GTX 980 Ti FTW. Accelerated by the groundbreaking NVIDIA Maxwell architecture, the EVGA GeForce GTX 980 Ti FTW ups the game with dual 8-Pin Power inputs, 8+2 Phase Power Design, Dual BIOSes and an included EVGA backplate. Not to mention this card packs 2816 NVIDIA CUDA Cores and 6GB of GDDR5 memory, giving you the horsepower to drive whatever comes next. In fact, the EVGA GeForce GTX 980 Ti FTW provides over 3x the performance and 3x the memory of previous-generation cards*.
This card also features EVGA ACX 2.0+ cooling technology. EVGA ACX 2.0+ brings new features to the award winning EVGA ACX 2.0 cooling technology. A memory MOSFET Cooling Plate (MMCP) reduces MOSFET temperatures up to 13%, and optimized Straight Heat Pipes (SHP) additionally reduce GPU temperature by 5C. ACX 2.0+ coolers also feature optimized swept fan blades, double ball bearings and an extreme low power motor, delivering more air flow with less power, unlocking additional power for the GPU.
*GeForce GTX 680
8+2 Power Phases
Built for Overclocking with an Extra +25W of Power
EVGA ACX 2.0+ Cooling
Remark:
* Versus Competitors' Dual Fan Solution.
** When GPU Temperature < 60°C
*** Versus Reference Fan
Why Double Ball Bearings?
EVGA ACX 2.0+ fans use double ball bearings, which offer 4X longer lifespan than the sleeve bearing fans used by competitors. The oil that is used in sleeve bearing fans makes them vulnerable and prone to failure after time when the oil dries up. Upgrade to EVGA ACX 2.0+ and your card will go the distance!

EVGA ACX 2.0+ Means Better Overclocking
Did you know that power consumption of the fans can directly affect your maximum overclock? The maximum "power target" takes into account the fan power consumption, meaning the lower the power consumption from the fan, the more power available for the card. EVGA ACX 2.0+ coolers use more than 4X lower power than competitors allowing for better and more stable overclocks. In some cases, just a few watts of additional power for the card can provide an additional headroom of up to +25MHz higher GPU or +350MHz memory frequency!





Above test conducted with both fans set to the same acoustic level.
Lower Fan Power = More Power For Overclocking
BUILT WITH 6GB OF HIGH PERFORMANCE GDDR5 MEMORY
6GB of High Performance memory running at extreme clockspeeds giving you access to higher texture qualities in games, improved 4K gaming performance and optimized for the next generation of gaming.
EVGA GeForce GTX 980 Ti FTW
06G-P4-4996
EVGA GeForce GTX 980 Ti FTW
Core
CUDA Cores: 2816
Base Clock: 1190 MHz
Boost Clock: 1291 MHz
Bus: PCIe 3.0
2-way, 3-way, 4-way SLI Ready
Memory
Memory Detail: 6144 MB GDDR5
Memory Bit Width: 384 Bit
Memory Clock: 7010 MHz
Memory Speed: 0.28 ns
Memory Bandwidth: 336.5 GB/s
Key Features
8+2 Phase PWM
8+8pin Power Input - Dedicated 600W
dB Inverter
Dual BIOS Support
EVGA ACX 2.0 Cooling
HDMI 2.0, DisplayPort 1.2 and Dual-link DVI
Memory MOSFET Cooling Plate
Microsoft DirectX 12 (feature level 12_1)
NVIDIA Adaptive Vertical Sync
NVIDIA CUDA Technology with OpenCL support
NVIDIA Dynamic Super Resolution Technology
NVIDIA G-SYNC Ready
NVIDIA GameStream Technology
NVIDIA GameWorks Technology
NVIDIA GPU Boost 2.0
NVIDIA MFAA Technology
NVIDIA SLI Ready
NVIDIA Surround Technology
OpenCL Support
OpenGL 4.6 Support
PCI Express 3.0 x16
Preinstalled Backplate
Straight Heat Pipes
EVGA GeForce GTX 980
Ti

FTW Comparison Chart



Introducing EVGA PrecisionX 16 version 5.3.5 with full support for Microsoft DirectX 12 OSD support. This latest version of EVGA PrecisionX adds new features, overclocking support, functionality, and full support for the upcoming Microsoft DirectX 12 API. Download it for free today!
Key Features
Full support for Microsoft DirectX 12 API
Redesigned OSD interface with RGB color support
Available on Steam or as a separate download
Launch Precision Site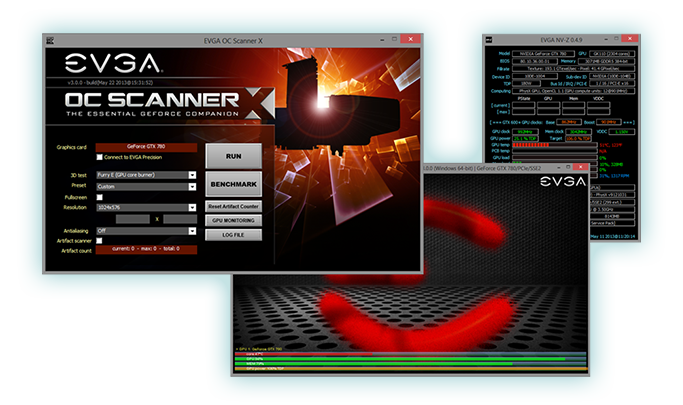 EVGA OC Scanner X – Featuring a brand new look and layout, this popular application has been updated to show all of the GeForce GTX 980 Ti FTW vitals. Learn more and download it here.
Key Features
Built-in stress tester to find and report artifacts
Benchmark function to quickly test your performance
CPU Burn In Module
Built-in log functionality
Launch OC Scanner Site