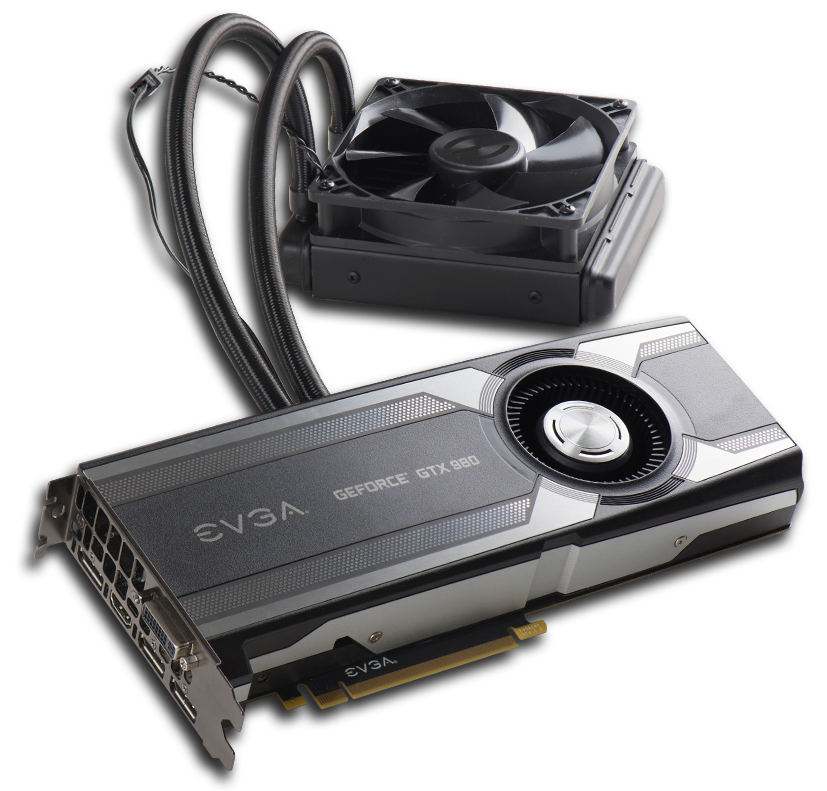 Cooler than the Competition
Introducing the EVGA GeForce GTX 980 HYBRID, an "all in one" water cooling solution that significantly lowers the GPU operating temperature. Best of all? The water cooler is completely self-contained, with an included 120mm radiator and fan. No filling, no custom tubing, no maintenance. Just plug in and play! The EVGA GTX 980 HYBRID is available as a complete unit, or upgrade kit.
Of course, the GeForce GTX 980 HYBRID is also powered by the next-generation NVIDIA Maxwell architecture, giving you incredible performance, unmatched power efficiency, and cutting-edge features. Maxwell is the most advanced GPU architecture ever made, designed to be the engine of next-generation gaming. Inspired by light, it was designed to solve some of the most complex lighting and graphics challenges in visual computing.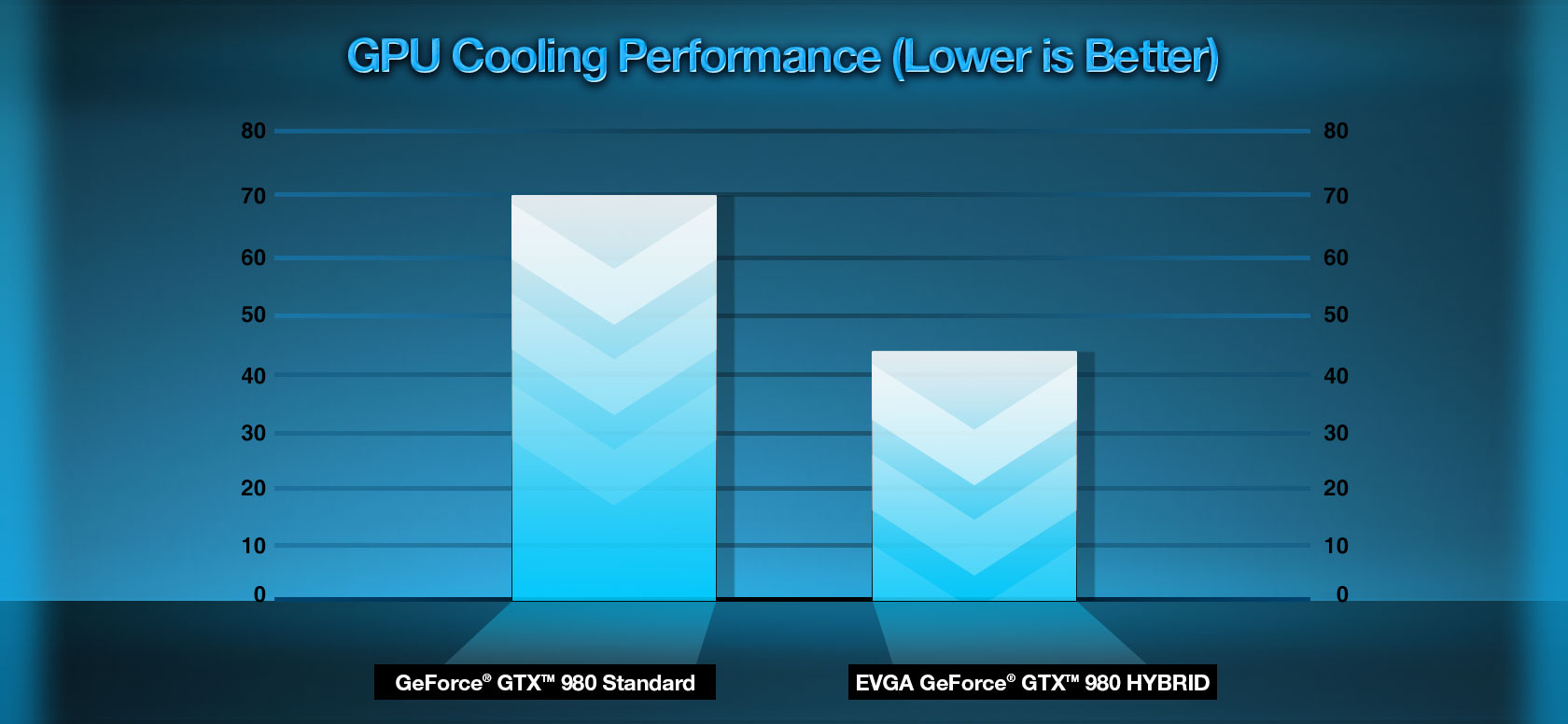 EVGA GeForce GTX 980 HYBRID
04G-P4-1989
EVGA GeForce GTX 980 HYBRID
Core
CUDA Cores: 2048
Base Clock: 1291 MHz
Boost Clock: 1393 MHz
Bus: PCIe 3.0
2-way, 3-way, 4-way SLI Ready
Memory
Memory Detail: 4096 MB GDDR5
Memory Bit Width: 256 Bit
Memory Clock: 7010 MHz
Memory Speed: 0.28 ns
Memory Bandwidth: 224.3 GB/s
Key Features
HDMI 2.0, DisplayPort 1.2 and Dual-link DVI
Microsoft DirectX 12 (feature level 12_1)
NVIDIA GameWorks Technology
NVIDIA Adaptive Vertical Sync
NVIDIA CUDA Technology with OpenCL support
NVIDIA Dynamic Super Resolution Technology
NVIDIA G-SYNC Ready
NVIDIA GameStream Technology
NVIDIA GPU Boost 2.0
NVIDIA MFAA Technology
NVIDIA SLI Ready
NVIDIA Surround Technology
OpenCL Support
OpenGL 4.4 Support
PCI Express 3.0 x16
400-HY-H980
EVGA GeForce GTX 980 HYBRID (Cooler Only)
Key Features
All-in-one cooling solution that is completely self-contained. No filling, no custom tubing, no maintenance. Just plug and play.
Built in 120mm radiator and fan helps dissipate the heat keeping the GPU as cool as possible. Fan can also be swapped or customized.
Compatible with all "reference" style graphics cards.
Copper base provides maximum heat transfer.
Intelligent wiring system and sleeved tubing makes this one sleek cooler without the messy wires.
Variable controlled fans allow dynamic fan speed based on GPU temperature, and the water cooling efficiency means very low noise fans.
VRM and Memory cooling solution separated from GPU, allowing for the lowest GPU temperatures, and efficient VRM and Memory cooling.

EVGA PrecisionX – Redesigned to harness the power of GPU Boost 2.0, EVGA PrecisionX sets another baseline for what overclocking software should be. Learn more and download it below!
Key Features
GPU and Memory Frequency/Clock Offset
Temperature Target Control
Pixel Clock Overclocking
Robust monitoring allowing ingame, system tray and/or Logitech LCD monitoring
In game screenshot hotkey, supports BMP, PNG and JPG formats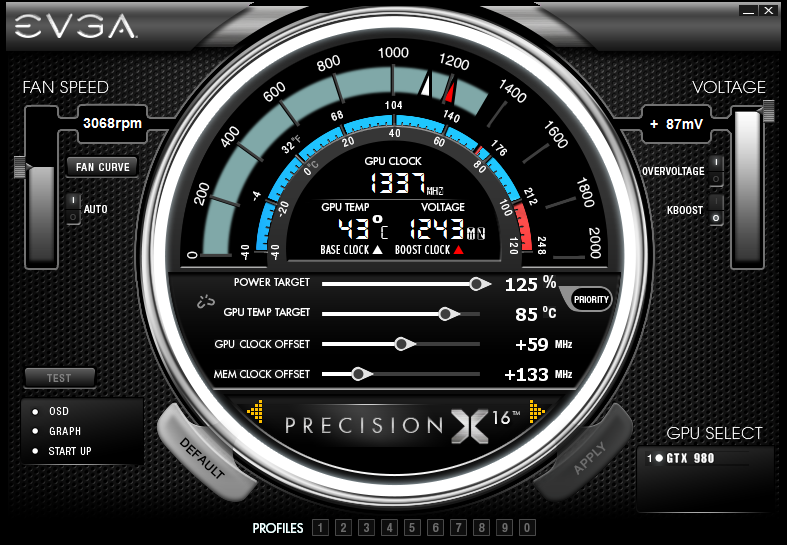 Launch Precision Site
EVGA OC Scanner X – Featuring a brand new look and layout, this popular application has been updated to show all of the GeForce GTX 980 HYBRID vitals. Learn more and download it here.
Key Features
Built-in stress tester to find and report artifacts
Benchmark function to quickly test your performance
CPU Burn In Module
Built-in log functionality
Launch OC Scanner Site