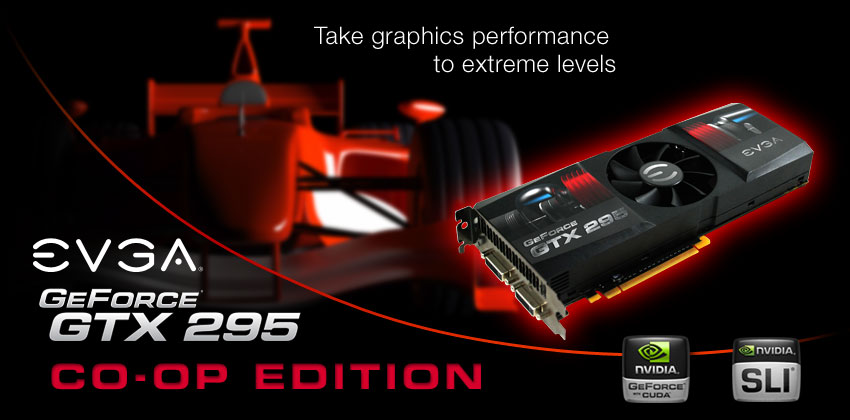 Take gaming performance to extreme levels!
EVGA is proud to announce the latest and fastest in high performance graphics accelerators, the EVGA GTX 295 CO-OP Edition. This card combines two GPUs onto a single PCB (printed circuit board), a clear indication on why this card is called CO-OP! Want even more performance? Pair up two of these for QUAD SLI, or pair up with the standard GTX 295.
Features
An incredible 1792MB of onboard DDR3 Memory - View high-resolution images and textures with this massive amount of onboard memory. Up to 2560x1600 supported!
Dual DVI-I and HDMI 1.3a - Dual Dual-link DVI support for HDMI (with adapter) output enables sending both high-definition video and audio signals to an HDTV via single cable.
2nd Generation Unified Shader Architecture - Delivers 50% more gaming performance over the first generation through an incredible 480 enhanced processor cores that provide incredible shading horsepower.
NVIDIA® PhysX™ - GeForce GPU support for NVIDIA PhysX™ technology, enabling a totally new class of physical gaming interaction for a more dynamic and realistic experience with GeForce.
Full DX10 Support™ - DirectX 10 GPU with full Shader Model 4.0 support delivers unparalleled levels of graphics realism and film quality effects for today's hottest games.
NVIDIA® CUDA Technology™ - CUDA technology unlocks the power of the GPU's processor cores to accelerate the most demanding system tasks such as video transcoding delivering up to 7x performances over traditional CPUs.
2nd Generation Purevideo™ HD - High-definition video decoder and post-processor delivers unprecedented picture clarity, smooth video and accurate color for movies and video.

GTX 295 Hydro Copper
In addition to the GTX 295 CO-OP Edition card, EVGA is also announcing the exclusive EVGA GTX 295 CO-OP Edition Hydro Copper Waterblock. This product is proof that EVGA is the undisputed leader for water cooling solutions! With a sleek, full cover copper design, EVGA lives up to the Hydro Copper name by incorporating only the best attributes: an extreme high flow path desigh with a unique, integrated, pressure point allows the Hydro Copper Waterblock to keep your GTX 295 CO-OP as cool as possible while under the heaviest of graphical loads! Also included are 3/8in and 1/2in barbs which aid in the high flow interior.

© 2008 NVIDIA Corporation. NVIDIA, the NVIDIA logo, GeForce, and The way it's meant to be played are trademarks and/or registered trademarks of NVIDIA Corporation. All other trademarks are the property of their respective owners.
Article Viewed: 165071 times since 6/12/2009