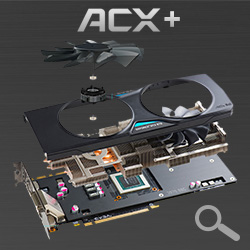 New EVGA GeForce GTX 970 SSC
+140MHz Faster, 6% Cooler GPU, 33% More GPU Power at Superclocked Price!
The new generation of EVGA GeForce GTX 970s have arrived with the SSC. This enhanced model offers improved cooling, double BIOS support, new display output configuration and 6 power phases for robust overclocking support.
The new EVGA ACX 2.0+ cooler brings new features to the award winning EVGA ACX 2.0 cooling technology. A Memory MOSFET Cooling Plate (MMCP) reduces MOSFET and Memory temperatures and optimized Straight Heat Pipes (SHP) reduce GPU temperature by an additional 5°C. ACX 2.0+ coolers also feature optimized Swept fan blades, double ball bearings and an extreme low power motor, delivering more air flow with less power, unlocking additional power for the GPU.
New Features: