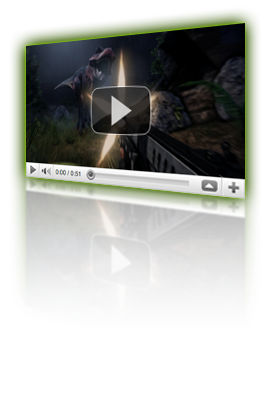 Primal Carnage
Hunt or be hunted …the EVGA exclusive Primal Carnage Bundle has just launched! Receive your FREE game code with the purchase and registration of an EVGA GeForce GTX 650 Ti BOOST or above. Offer available globally. While Supplies last.
About Primal Carnage:
Primal Carnage is an online multiplayer shooter that will engross its players in skilled PVP combat, team-based strategy and savage class-oriented matches unlike any you've previously experienced; be it an armed human mercenary or a cunning dinosaur, Primal Carnage is sure to unleash the inner beast in anyone who seeks to survive amongst the fittest.
Five large, open environments in which to team up and take down the human or dinosaur competition online
10 playable classes (five human, five dinosaur) each with unique skills and abilities that can trump each other in a rock-paper-scissors fashion
Play from both first-person (humans) and third-person (dinosaurs) perspective
Multiple achievements, unlockables and planned DLC
Collect your code
This promotion is closed