Ultimate Power Control
Gain unparalleled control over your power supply with EVGA's exclusive SuperNOVA software. Monitor voltage, current, power on every rail, and overall power consumption and efficiency. You can even adjust the +12V voltage or fan speed profile to suit your needs and enable or disable OC Mode or Single/Multiple Rail mode.
You can monitor up to six power supply functions at once. SuperNOVA even continues to monitor in the background when you are gaming or using other applications. You've never had this much control over your power supply. Unleash the power today with the EVGA NEX1500 Classified and EVGA SuperNOVA!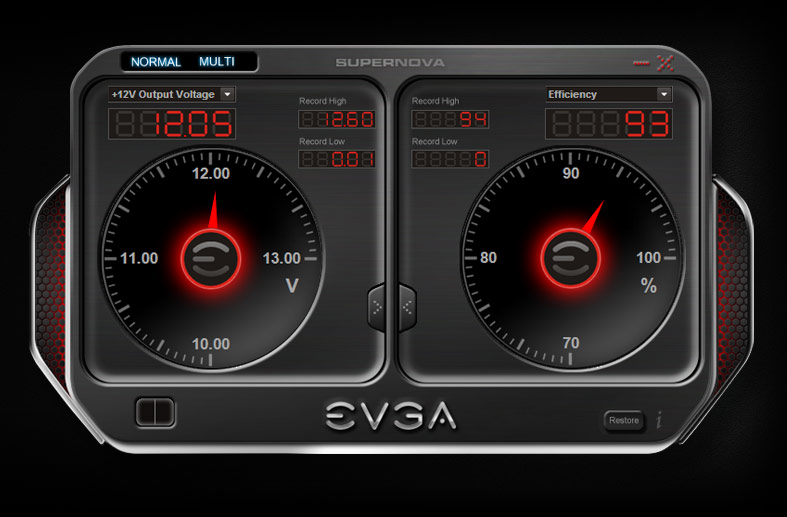 Download EVGA SuperNOVA
YOU MUST BE LOGGED IN TO DOWNLOAD
Features:
Monitor current and voltage on the following rails:
Adjust the +12V rail output voltage
Monitor fan speed and adjust fan profile
Monitor input voltage, current, and power
Monitor power supply efficiency
Enable or Disable EVGA OC Mode
Switch between Single or Multiple +12V rails
Monitor 2, 4, or 6 sensors at once
System Requirements:
Microsoft Windows 8 / 7 / Vista / XP
EVGA SuperNOVA NEX1500 Classified Power Supply
Version 1.0.0.3
Release: 10/23/12
Version 1.0.0.2
Release: 9/04/12
Improved application compatibility
Version 1.0.0.1
Release: 8/22/12
Page Views: 36,974 since 8/21/2012