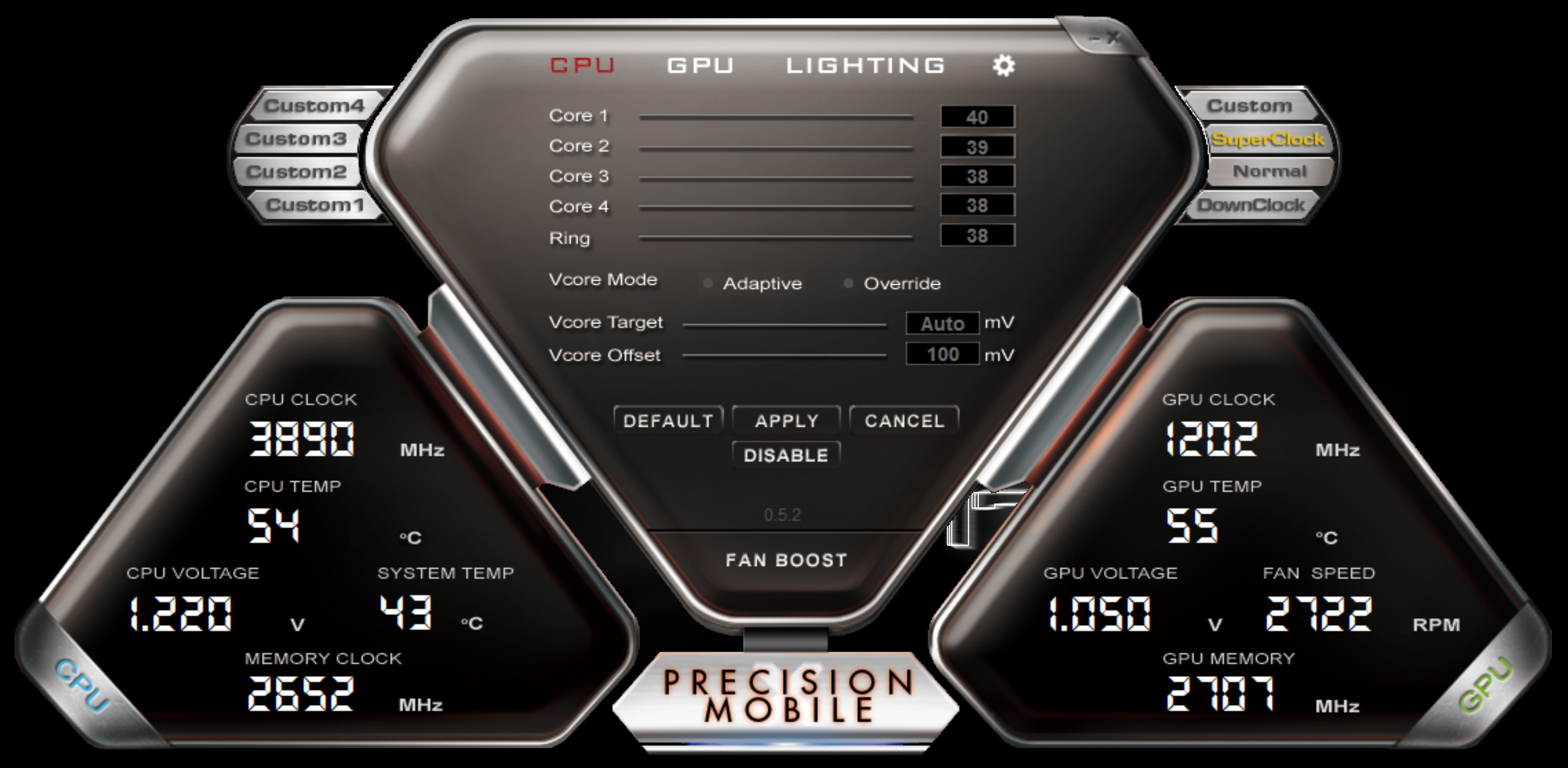 EVGA PrecisionX Mobile
The power of EVGA PrecisionX, now mobile with EVGA PrecisionX Mobile. Tweak your overclock settings, overclock hotkeys, profiles and CPU overclocking right at your fingertips. EVGA PrecisionX mobile can even enable/disable laptop backlighting and keyboard lighting!
By choosing to download the software, you affirm that EVGA PrecisionX Mobile is supplied "as-is". EVGA Corporation assumes no liability for damages, direct or consequential, which may result from the use of EVGA PrecisionX Mobile.
Features
Key Features

TM
(Patent Pending)
Overclocking at your fingertips, overclock on the fly with up/down arrow keys allowing you to enable Superclocked performance, or downclock mode to improve battery life. Also cycle through preset overclocks to find the best performance for the situation.

EVGA Express OC (EOC) – Instantly Overclock by pressing Function + Up Arrow. Allows you to cycle between Superclock mode and preset overclock profiles. Function + Down Arrow enables Downclock mode, reducing clocks and saving battery life.
Full GPU and CPU overclocking support, with included settings for backlighting, profiles, EOC and more. Enable/Disable EVGA Logo lighting with Function + Left/Right
Monitor your GPU and CPU temperatures
Built in Superclock mode enables improved performance with the clock of a button
Save and edit overclock profiles, switch between them on the fly with Function + Up Arrow
EVGA Precision X Version History
Version 1.0.11
Release: 5/14/2018
Resolves multiple detection issues and other issues with SC15 and SC17 laptops after flashing to respective Spectre BIOS updates
Version 1.0.9
Release: 1/10/2018
Support SC17 1070 / 1070 4KG with Fan Curve control. (BIOS 1.02 or later)
Version 1.0.8
Release: 7/20/2017
Add Fn + F6 support to turn on / off screen.
Support fan curve control function.
Remove backlight logo support for SC15 (SC 15 does not have this feature).
Version 1.0.3
Release: 5/8/2017
Added Support for SC17 4KG (768-41-2633-T1)
Several bug and UI fixes
Version 0.5.2
Release: 3/29/2016
EVGA Precision X Mobile Initial Release