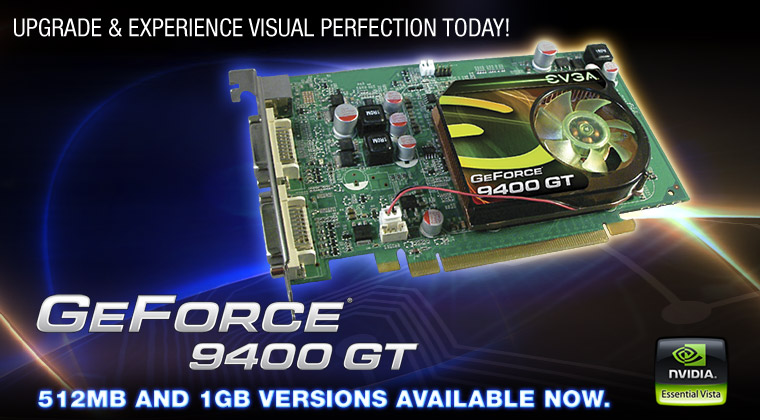 New technology with a reasonable price, now it is your chance to upgrade your pc graphics performance. Featuring double the performance of the 8400GS, EVGA proudly introduces the 9400GT in both 512MB and 1GB versions, making this the perfect solution for any multimedia user. The EVGA 9400GT offloads tasks from the CPU, improving the overall 3D user experience, and increased gaming performance. PureVideo HD technology allows for astounding video-watching quality and performance. Your PC is now more visual than ever with EVGA graphics.
Features:
512MB and 1GB DDR2 - View high resolution images and textures at performance speeds!
Dual DVI-I - Run up to two monitors in either expanded, cloned, or rotated modes for an enhanced viewing experienced.
HDTV - Run S-Video or High Definition video through the onboard 7-Pin HDTV output.
Full DX10 support - Full Direct X 10 and Shader Model 4.0 support delivers unparalleled levels of graphics realism and film-quality effects.
Unified Shader Architecture - Combines vertex, pixel and geometry shaders for an overall more efficient architecture.
Purevideo HD - High-definition video decoder and post-processor delivers unprecedented picture clarity, smooth video and accurate color for movies and video.
128-bit HDR with FSAA - Realistic High Dynamic Range lighting, now with support for anti-aliasing!

---
---

GeForce is a registered trademark of NVIDIA Corporation in the United States and other countries.

Article Viewed: 75849 times since 8/26/2008