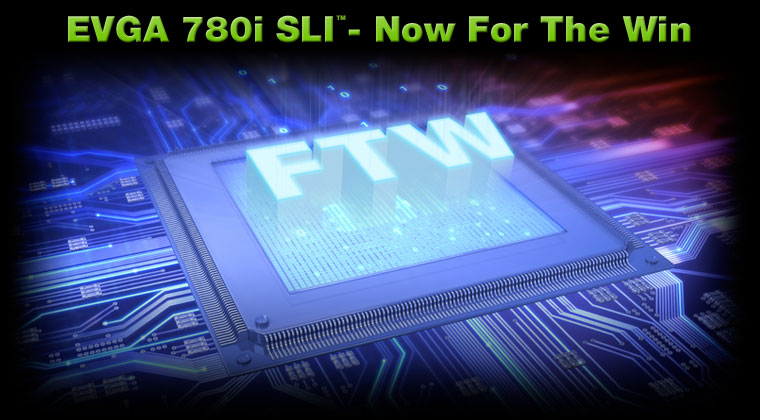 Introducing the EVGA nForce 780i SLI FTW motherboard!
EVGA Designed For the Win: Capable of taking your entire system to the next level of performance. The 780i SLI FTW features support for up to a 3-Way SLI configuration with the latest in PCI-E 2.0 technology. With solid capacitors, an 8-Phase Power design, and on-board all ferrite core chokes, the 780i SLI FTW is more than capable of unlocking and keeping stable the true, extreme, potential from the latest 45nm Intel Processors. A convenient layout and onboard functions such as a Clear CMOS button, a Power and Reset button with integrated status LEDs, and a diagnostic LED readout provide ease of use. A simple yet effective system BIOS with easy overclocking features and voltage controls will get you up and gaming at incredible speeds in no time at all.
Hover over motherboard to Zoom-in
Click Here to View Mainboard Key Features
EVGA nForce 780i SLI FTW:
Reach extreme overclocking speeds supporting 1333MHz FSB and beyond.
8 phase power design for superb stability and performance.
Solid state capacitors and ferrite core chokes allow for better overclocking and stability.
Convenient layout with on-board Clear CMOS, Power, and Reset buttons.
Friendly system BIOS features with easy to use overclock and voltage settings.
Extreme DDR2 speeds of 1066MHz and beyond.
Features and Benefits:
NVIDIA SLI certified
Intel socket 775
45nm CPU ready (Yorkfield & Wolfdale)
8 Phase power design
PCI Express 2.0 support
2-Way and 3-Way SLI support
6 SATA-2 ports with support for RAID 0, 1, 0+1, 5, JBOD
On-board buttons for CMOS/Power/Reset
HD Audio - 7.1 Channel
Power Phases
Memory Support
Vdroop Control
Enthusiast BIOS Enhanced
Solid State Capacitors
Onboard Clear CMOS
Onboard Power / Reset with LED Activity
Core Chokes
Dummy OC
EVGA nForce 780i SLI FTW
8 Phase
1066MHz
Yes
Yes
100% Solid State
Yes
Yes
Ferrite
Yes
Standard nForce 780i SLI
6 Phase
800MHz
N/A
N/A
9% Solid State


(The rest are Electrolytic Caps)

N/A
N/A
Iron
N/A
nForce 780i SLI FTW
Part Number
132-YW-E178-A1
CPU Support
Intel Socket 775
Chipset
NVIDIA nForce 780i SLI Chipset
Memory Support
DDR2 533/667/800/1066MHz+ memory
FSB Speed
Supports 533/800/1066/1333Mhz+
SATA Header
6
SATA Type
SATAII 300MB/sec
USB Ports
10
PCIE Slot
3 x PCIe x16, 1 x PCIe x1, 2 x PCI
Integrated LAN
2 x 10/100/1000
Product Warranty
Limited Lifetime warranty
upon registration

GeForce is a registered trademark of NVIDIA Corporation in the United States and other countries.

Article Viewed: 129695 times since 7/8/2008