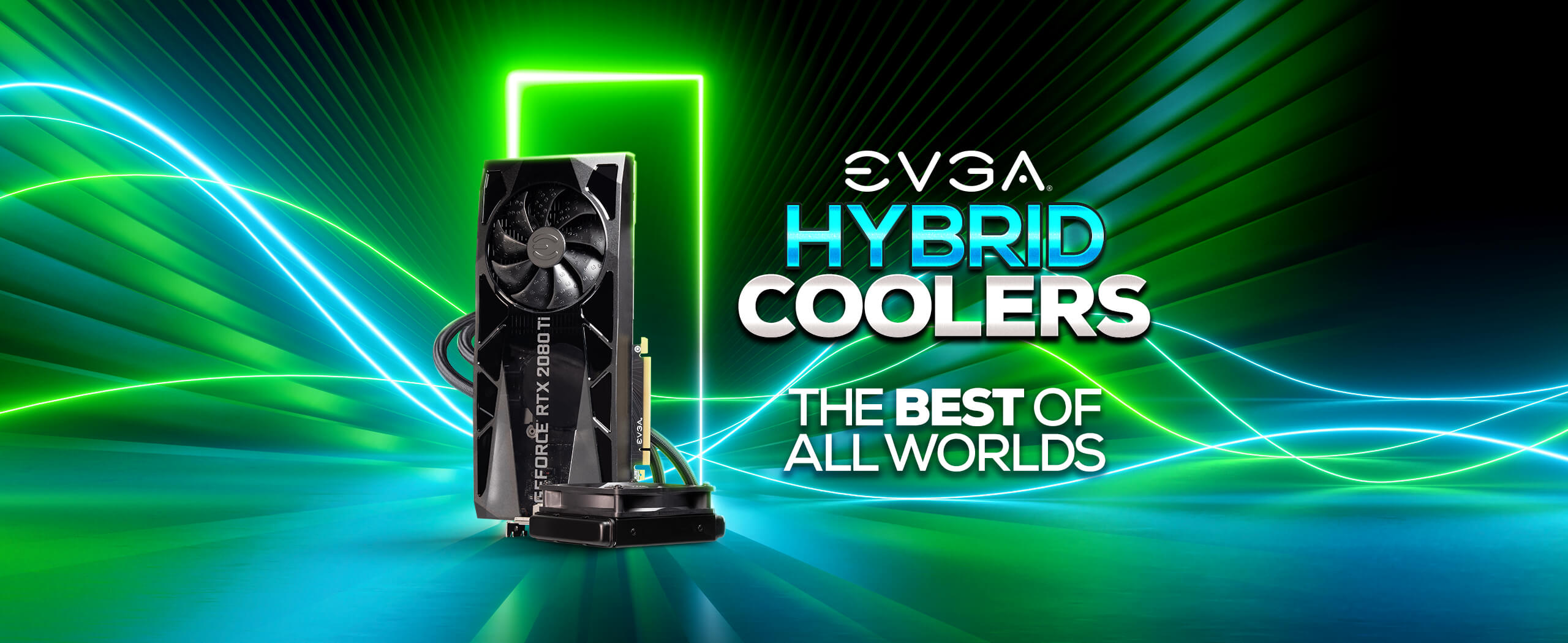 EVGA's hybrid cooler

gives you the benefits of custom

water cooling

in a simple self-contained unit.

No additional parts and hardware needed. Easy and simple installation with no hassle maintenance. Combined with EVGA graphics cards, NVIDIA's #1 Authorized Board Partner in the US, giving you the total package of raw performance, cooling, and aesthetics.
Innovation
Patented dedicated memory cooling plate allowing direct contact with the water block. Large VRM heatsink and Hydro Dynamic Bearing fan to provide cooling to power management components with lower noise and longer life span.
Effortless cooling
Solid copper base plate provide superior heat transfer.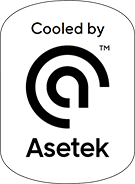 Why Asetek is the CLC leader for quality and reliability:
Helium Integrity Testing to ensure each individual cooler is virtually immune to leaks.
Automated sub-assembly stations to enhance consistency.
100% trace-ability throughout our production process to provide valuable insight and feedback
Vacuum Precision Filling to ensure optimal liquid levels.
Simple and easy
Advantages of water cooling without the hassle and maintenance.
No assembly. No leak test. Simple plug and play.
EVGA's patented cooling plate for dedicated memory cooling allows both the GPU and Memory to have direct contact with the water block. Lower temperatures allows better headroom to unlock the performance potential of your EVGA graphics card.
The EVGA HYBRID saves you the headaches of obtaining individual water cooling parts, assembly, and leak testing, simply plug and play. The all in one solution means no hassles with maintenance or filling just sit back and relax.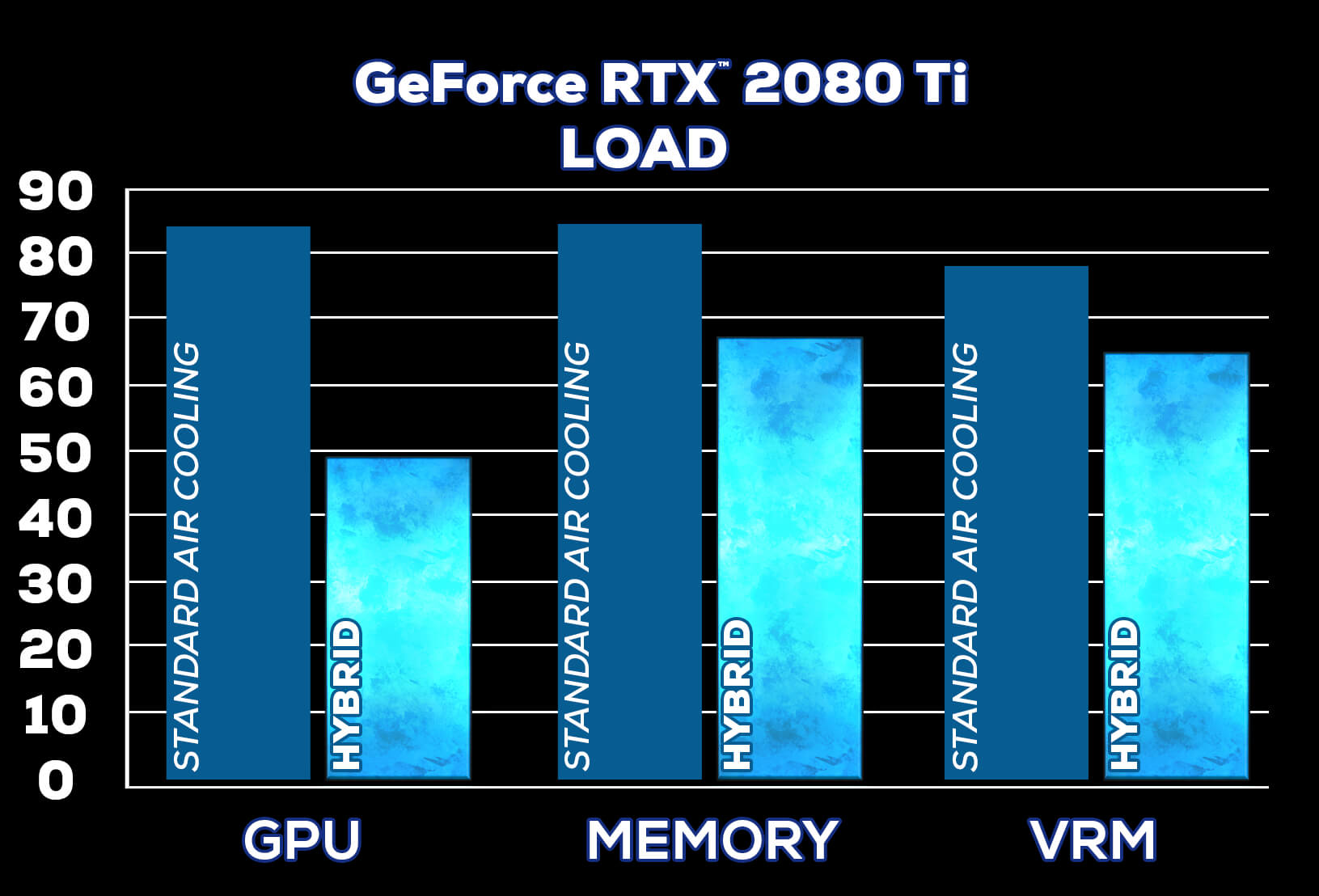 *Lower Temperature is better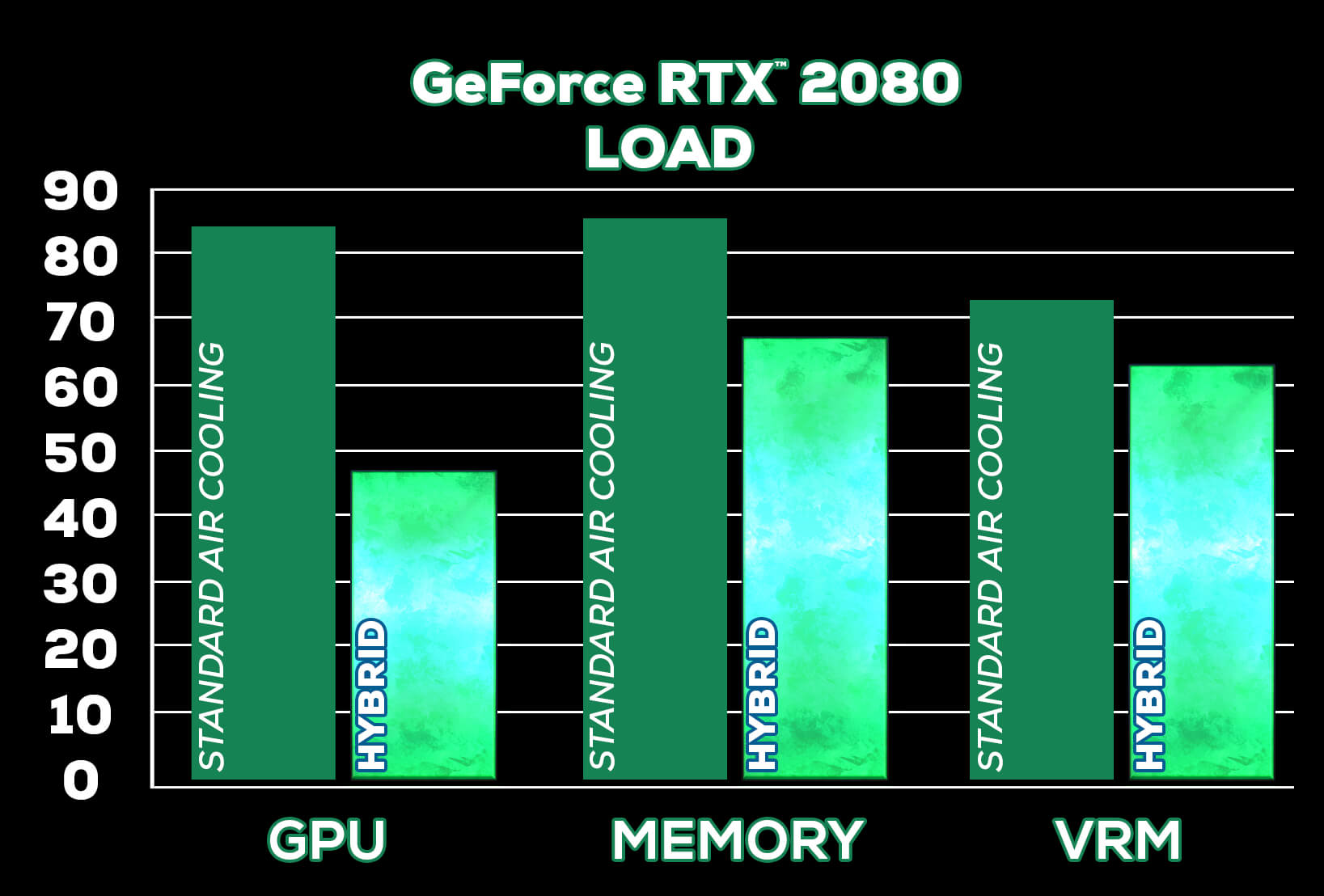 *Lower Temperature is better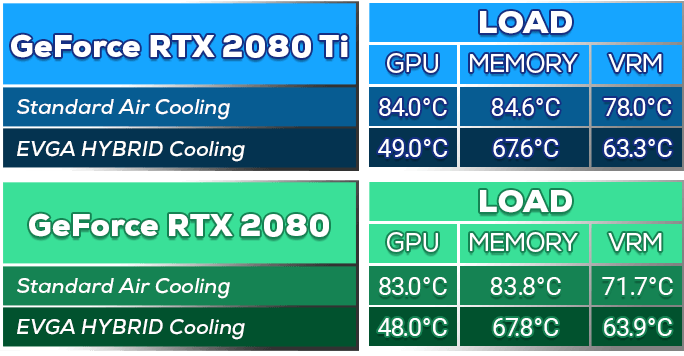 *Lower Temperature is better
Take control
Full control of both VRM and Radiator fan with EVGA's Precision X1 software.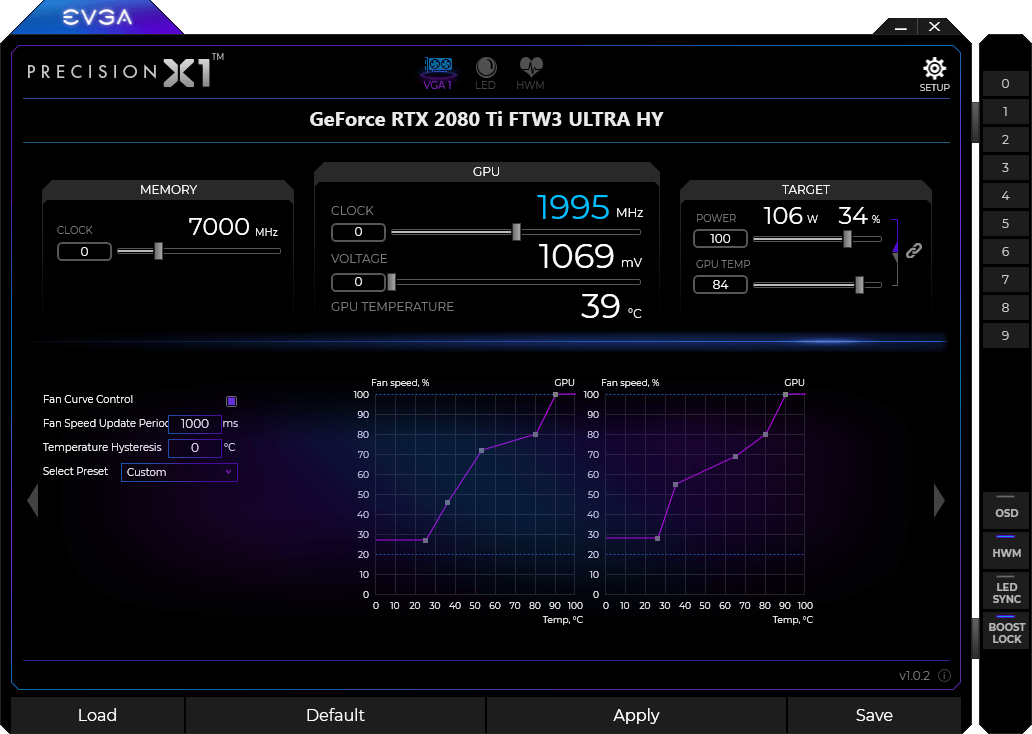 Add your own personal flair
Simple and clean aesthetic with customizable RGB lighting to fit any color scheme.
11G-P4-2589-KR
EVGA GeForce RTX 2080 Ti K|NGP|N GAMING
Core
CUDA Cores: 4352
Boost Clock: 1770 MHz
Bus: PCIe 3.0
NVLink - 2-Way SLI Ready
Memory
Memory Detail: 11264 MB GDDR6
Memory Bit Width: 352 Bit
Memory Clock: 14000 MHz
Memory Bandwidth: 616 GB/s
Key Features
Real-Time Ray Tracing
Hybrid "All-in-One" Watercooler
Built-in OLED Display
19 Power Phases
EVGA iCX2 Technology
All-Metal Backplate, Pre-Installed
Built for EVGA Precision X1
NVIDIA® Ansel
NVIDIA® G-SYNC™ Compatible
NVIDIA® GeForce Experience
NVIDIA® GPU Boost™
NVIDIA® Highlights
Game Ready Drivers
Microsoft® DirectX® 12 Ultimate, Vulkan, OpenGL 4.6
DisplayPort 1.4, HDMI 2.0b
HDCP 2.2
Designed for USB Type-C™ and VirtualLink™*
*In preparation for the emerging VirtualLink standard, Turing GPUs have implemented hardware support according to the "VirtualLink Advance Overview". To learn more about VirtualLink, please see http://www.virtuallink.org.
Supports NVIDIA NVENC Turing Encoder
11G-P4-2384-KR
EVGA GeForce RTX 2080 Ti XC HYBRID GAMING
Core
CUDA Cores: 4352
Boost Clock: 1635 MHz
Bus: PCIe 3.0
NVLink - 2-way SLI Ready
Memory
Memory Detail: 11264 MB GDDR6
Memory Bit Width: 352 Bit
Memory Clock: 14000 MHz
Memory Bandwidth: 616 GB/s
Key Features
Adjustable RGB LED
All-Metal Backplate, Pre-Installed
Built for EVGA Precision X1
Designed for USB Type-C™ and VirtualLink™
DisplayPort 1.4, HDMI 2.0b
Game Ready Drivers
HDCP 2.2
Microsoft® DirectX® 12 Ultimate, Vulkan, OpenGL 4.6
NVIDIA® Ansel
NVIDIA® G-SYNC™ Compatible
NVIDIA® GeForce Experience
NVIDIA® GPU Boost™
NVIDIA® Highlights
Real-Time Ray Tracing
VR Ready
Supports NVIDIA NVENC Turing Encoder
11G-P4-2484-KR
EVGA GeForce RTX 2080 TI FTW3 ULTRA HYBRID GAMING
Core
CUDA Cores: 4352
Boost Clock: 1755 MHz
Bus: PCIe 3.0
NVLink - 2-way SLI Ready
Memory
Memory Detail: 11264 MB GDDR6
Memory Bit Width: 352 Bit
Memory Clock: 14000 MHz
Memory Bandwidth: 616 GB/s
Key Features
19 Power Phases
Adjustable RGB LED
All-Metal Backplate, Pre-Installed
Built for EVGA Precision X1
Designed for USB Type-C™ and VirtualLink™*
*In preparation for the emerging VirtualLink standard, Turing GPUs have implemented hardware support according to the "VirtualLink Advance Overview". To learn more about VirtualLink, please see http://www.virtuallink.org.
DisplayPort 1.4, HDMI 2.0b
EVGA iCX2 Technology
Game Ready Drivers
HDCP 2.2
Microsoft® DirectX® 12 Ultimate, Vulkan, OpenGL 4.6
NVIDIA® Ansel
NVIDIA® G-SYNC™ Compatible
NVIDIA® GeForce Experience
NVIDIA® GPU Boost™
NVIDIA® Highlights
Real-Time Ray Tracing
VR Ready
Supports NVIDIA NVENC Turing Encoder
08G-P4-3188-KR
EVGA GeForce RTX 2080 SUPER XC HYBRID GAMING
Core
CUDA Cores: 3072
Boost Clock: 1830 MHz
Bus: PCIe 3.0
NVLink - 2-Way SLI Ready
Memory
Memory Detail: 8192 MB GDDR6
Memory Bit Width: 256 Bit
Memory Clock: 15500 MHz
Memory Bandwidth: 496 GB/s
Key Features
Hybrid "All-in-One" Watercooler
Adjustable RGB LED
All-Metal Backplate, Pre-Installed
Real-Time Ray Tracing
Built for EVGA Precision X1
Game Ready Drivers
NVIDIA® Ansel
NVIDIA® G-SYNC™ Compatible
NVIDIA® GeForce Experience
NVIDIA® GPU Boost™
NVIDIA® Highlights
Microsoft® DirectX® 12 Ultimate, Vulkan, OpenGL 4.6
HDCP 2.2
DisplayPort 1.4, HDMI 2.0b
Designed for USB Type-C™ and VirtualLink™*
*In preparation for the emerging VirtualLink standard, Turing GPUs have implemented hardware support according to the "VirtualLink Advance Overview". To learn more about VirtualLink, please see http://www.virtuallink.org.
Supports NVIDIA NVENC Turing Encoder
08G-P4-3188-KP
EVGA GeForce RTX 2080 SUPER XC HYBRID GAMING
Core
CUDA Cores: 3072
Boost Clock: 1830 MHz
Bus: PCIe 3.0
NVLink - 2-Way SLI Ready
Memory
Memory Detail: 8192 MB GDDR6
Memory Bit Width: 256 Bit
Memory Clock: 15500 MHz
Memory Bandwidth: 496 GB/s
Key Features
Hybrid "All-in-One" Watercooler
Adjustable RGB LED
All-Metal Backplate, Pre-Installed
Real-Time Ray Tracing
Built for EVGA Precision X1
Game Ready Drivers
NVIDIA® Ansel
NVIDIA® G-SYNC™ Compatible
NVIDIA® GeForce Experience
NVIDIA® GPU Boost™
NVIDIA® Highlights
Microsoft® DirectX® 12 Ultimate, Vulkan, OpenGL 4.6
HDCP 2.2
DisplayPort 1.4, HDMI 2.0b
Designed for USB Type-C™ and VirtualLink™*
*In preparation for the emerging VirtualLink standard, Turing GPUs have implemented hardware support according to the "VirtualLink Advance Overview". To learn more about VirtualLink, please see http://www.virtuallink.org.
Supports NVIDIA NVENC Turing Encoder
08G-P4-3288-KR
EVGA GeForce RTX 2080 SUPER FTW3 HYBRID GAMING
Core
CUDA Cores: 3072
Boost Clock: 1845 MHz
Bus: PCIe 3.0
NVLink - 2-Way SLI Ready
Memory
Memory Detail: 8192 MB GDDR6
Memory Bit Width: 256 Bit
Memory Clock: 15500 MHz
Memory Bandwidth: 496 GB/s
Key Features
Hybrid "All-in-One" Watercooler
Adjustable RGB LED
All-Metal Backplate, Pre-Installed
Real-Time Ray Tracing
Built for EVGA Precision X1
Game Ready Drivers
NVIDIA® Ansel
NVIDIA® G-SYNC™ Compatible
NVIDIA® GeForce Experience
NVIDIA® GPU Boost™
NVIDIA® Highlights
Microsoft® DirectX® 12 Ultimate, Vulkan, OpenGL 4.6
HDCP 2.2
DisplayPort 1.4, HDMI 2.0b
Designed for USB Type-C™ and VirtualLink™*
*In preparation for the emerging VirtualLink standard, Turing GPUs have implemented hardware support according to the "VirtualLink Advance Overview". To learn more about VirtualLink, please see http://www.virtuallink.org.
Supports NVIDIA NVENC Turing Encoder
08G-P4-3288-KP
EVGA GeForce RTX 2080 SUPER FTW3 HYBRID GAMING
Core
CUDA Cores: 3072
Boost Clock: 1845 MHz
Bus: PCIe 3.0
NVLink - 2-Way SLI Ready
Memory
Memory Detail: 8192 MB GDDR6
Memory Bit Width: 256 Bit
Memory Clock: 15500 MHz
Memory Bandwidth: 496 GB/s
Key Features
Hybrid "All-in-One" Watercooler
Adjustable RGB LED
All-Metal Backplate, Pre-Installed
Real-Time Ray Tracing
Built for EVGA Precision X1
Game Ready Drivers
NVIDIA® Ansel
NVIDIA® G-SYNC™ Compatible
NVIDIA® GeForce Experience
NVIDIA® GPU Boost™
NVIDIA® Highlights
Microsoft® DirectX® 12 Ultimate, Vulkan, OpenGL 4.6
HDCP 2.2
DisplayPort 1.4, HDMI 2.0b
Designed for USB Type-C™ and VirtualLink™*
*In preparation for the emerging VirtualLink standard, Turing GPUs have implemented hardware support according to the "VirtualLink Advance Overview". To learn more about VirtualLink, please see http://www.virtuallink.org.
Supports NVIDIA NVENC Turing Encoder
08G-P4-2184-KR
EVGA GeForce RTX 2080 XC HYBRID GAMING
Core
CUDA Cores: 2944
Boost Clock: 1800 MHz
Bus: PCIe 3.0
NVLink - 2-Way SLI Ready
Memory
Memory Detail: 8192 MB GDDR6
Memory Bit Width: 256 Bit
Memory Clock: 14000 MHz
Memory Bandwidth: 448 GB/s
Key Features
Adjustable RGB LED
All-Metal Backplate, Pre-Installed
Real-Time Ray Tracing
Built for EVGA Precision X1
Game Ready Drivers
NVIDIA® Ansel
NVIDIA® G-SYNC™ Compatible
NVIDIA® GeForce Experience
NVIDIA® GPU Boost™
NVIDIA® Highlights
Microsoft® DirectX® 12 Ultimate, Vulkan, OpenGL 4.6
HDCP 2.2
DisplayPort 1.4, HDMI 2.0b
Designed for USB Type-C™ and VirtualLink™*
*In preparation for the emerging VirtualLink standard, Turing GPUs have implemented hardware support according to the "VirtualLink Advance Overview". To learn more about VirtualLink, please see http://www.virtuallink.org.
Supports NVIDIA NVENC Turing Encoder
08G-P4-2284-KR
EVGA GeForce RTX 2080 FTW3 ULTRA HYBRID GAMING
Core
CUDA Cores: 2944
Boost Clock: 1845 MHz
Bus: PCIe 3.0
NVLink - 2-Way SLI Ready
Memory
Memory Detail: 8192 MB GDDR6
Memory Bit Width: 256 Bit
Memory Clock: 14000 MHz
Memory Bandwidth: 448 GB/s
Key Features
14 Power Phases
Adjustable RGB LED
All-Metal Backplate, Pre-Installed
Built for EVGA Precision X1
Designed for USB Type-C™ and VirtualLink™*
*In preparation for the emerging VirtualLink standard, Turing GPUs have implemented hardware support according to the "VirtualLink Advance Overview". To learn more about VirtualLink, please see http://www.virtuallink.org.
DisplayPort 1.4, HDMI 2.0b
EVGA iCX2 Technology
Game Ready Drivers
HDCP 2.2
Microsoft® DirectX® 12 Ultimate, Vulkan, OpenGL 4.6
NVIDIA® Ansel
NVIDIA® G-SYNC™ Compatible
NVIDIA® GeForce Experience
NVIDIA® GPU Boost™
NVIDIA® Highlights
Real-Time Ray Tracing
VR Ready
Supports NVIDIA NVENC Turing Encoder
08G-P4-3178-KR
EVGA GeForce RTX 2070 SUPER XC HYBRID GAMING
Core
CUDA Cores: 2560
Boost Clock: 1800 MHz
Bus: PCIe 3.0
NVLink - 2-Way SLI Ready
Memory
Memory Detail: 8192 MB GDDR6
Memory Bit Width: 256 Bit
Memory Clock: 14000 MHz
Memory Bandwidth: 448 GB/s
Key Features
Hybrid "All-in-One" Watercooler
Real-Time Ray Tracing
Built for EVGA Precision X1
Game Ready Drivers
NVIDIA® Ansel
NVIDIA® G-SYNC™ Compatible
NVIDIA® GeForce Experience
NVIDIA® GPU Boost™
NVIDIA® Highlights
Microsoft® DirectX® 12 Ultimate, Vulkan, OpenGL 4.6
DisplayPort 1.4, HDMI 2.0b
HDCP 2.2
Designed for USB Type-C™ and VirtualLink™*
*In preparation for the emerging VirtualLink standard, Turing GPUs have implemented hardware support according to the "VirtualLink Advance Overview". To learn more about VirtualLink, please see http://www.virtuallink.org.
Supports NVIDIA NVENC Turing Encoder
08G-P4-3178-KP
EVGA GeForce RTX 2070 SUPER XC HYBRID GAMING
Core
CUDA Cores: 2560
Boost Clock: 1800 MHz
Bus: PCIe 3.0
NVLink - 2-Way SLI Ready
Memory
Memory Detail: 8192 MB GDDR6
Memory Bit Width: 256 Bit
Memory Clock: 14000 MHz
Memory Bandwidth: 448 GB/s
Key Features
Hybrid "All-in-One" Watercooler
Real-Time Ray Tracing
Built for EVGA Precision X1
Game Ready Drivers
NVIDIA® Ansel
NVIDIA® G-SYNC™ Compatible
NVIDIA® GeForce Experience
NVIDIA® GPU Boost™
NVIDIA® Highlights
Microsoft® DirectX® 12 Ultimate, Vulkan, OpenGL 4.6
DisplayPort 1.4, HDMI 2.0b
HDCP 2.2
Designed for USB Type-C™ and VirtualLink™*
*In preparation for the emerging VirtualLink standard, Turing GPUs have implemented hardware support according to the "VirtualLink Advance Overview". To learn more about VirtualLink, please see http://www.virtuallink.org.
Supports NVIDIA NVENC Turing Encoder