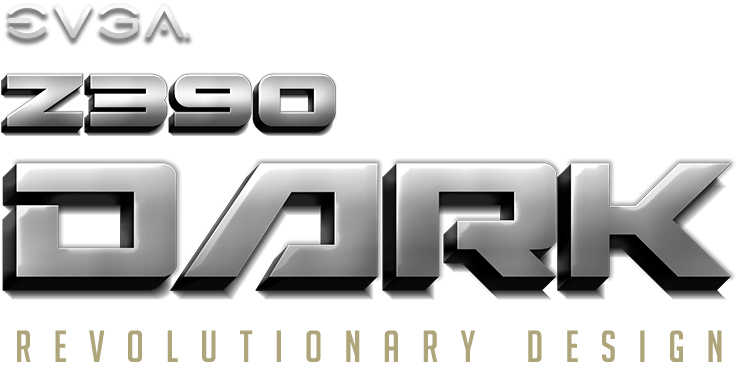 The EVGA Z390 DARK is a 3rd generation model built exclusively for ultimate performance with improved and upgraded component selections, VRM, NVMe I/O, and PCB layout, compared to the flagship X299 DARK.
- Illya TiN Tsemenko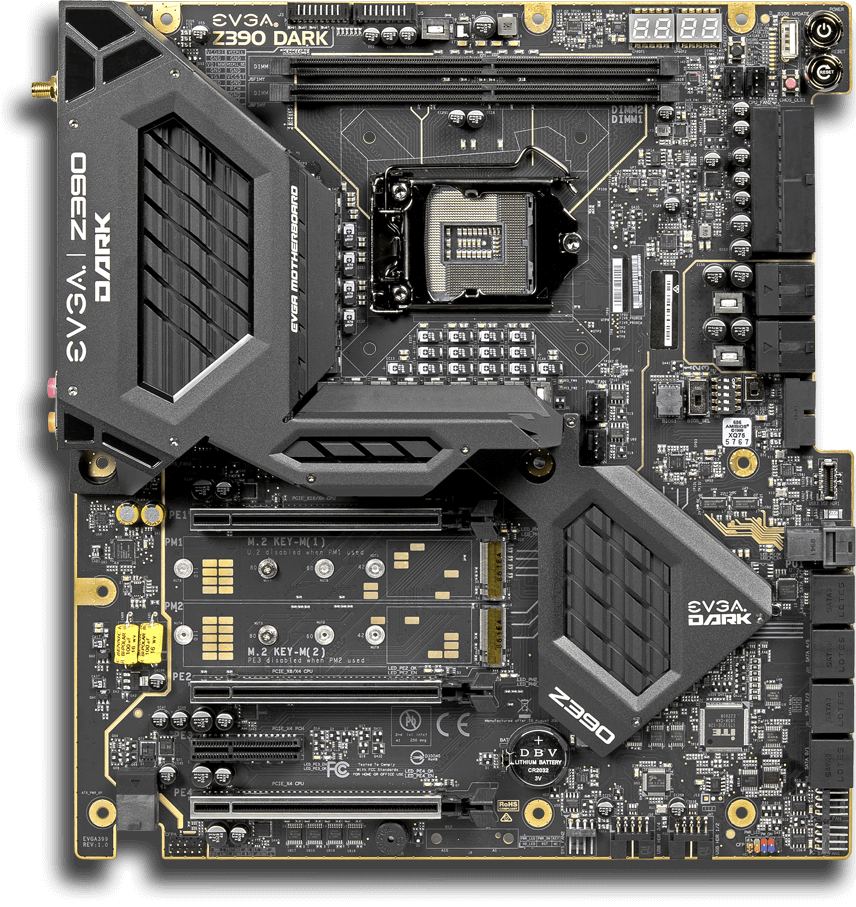 Beware, the power of the DARK side of EVGA's Z390 motherboards is now available! After setting the bar with the X299 DARK, EVGA went back to work to design the next generation of motherboards designed exclusively for the world's top overclockers... or those looking to become one of the world's top overclockers. No effort was spared to improve the power design, layout, or features of the Z390 DARK.
The Z390 DARK is the first motherboard to feature both the 24-pin power connector alongside both 8-pin CPU power connectors on the side of the board. Not only does the layout give the DARK a stunning look in contrast to the sea of Z390 motherboards lit up like rainbows, but the layout also provides a very friendly design for cable-management enthusiasts.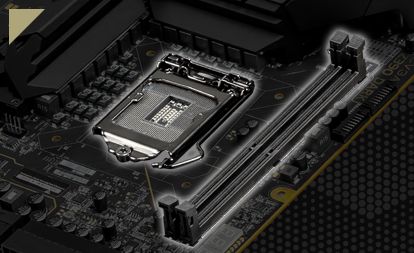 Memory
To create this innovative design, the CPU socket was turned 90-degrees counter-clockwise, which allows the memory to run parallel to the top of the chassis.
A board this powerful does not arrive through accident. This motherboard was designed by taking the best of the X299 DARK, adding additional features for the ultra-enthusiast, and performing non-stop testing until overclocking World Records tremble at the mere mention of the word 'DARK'.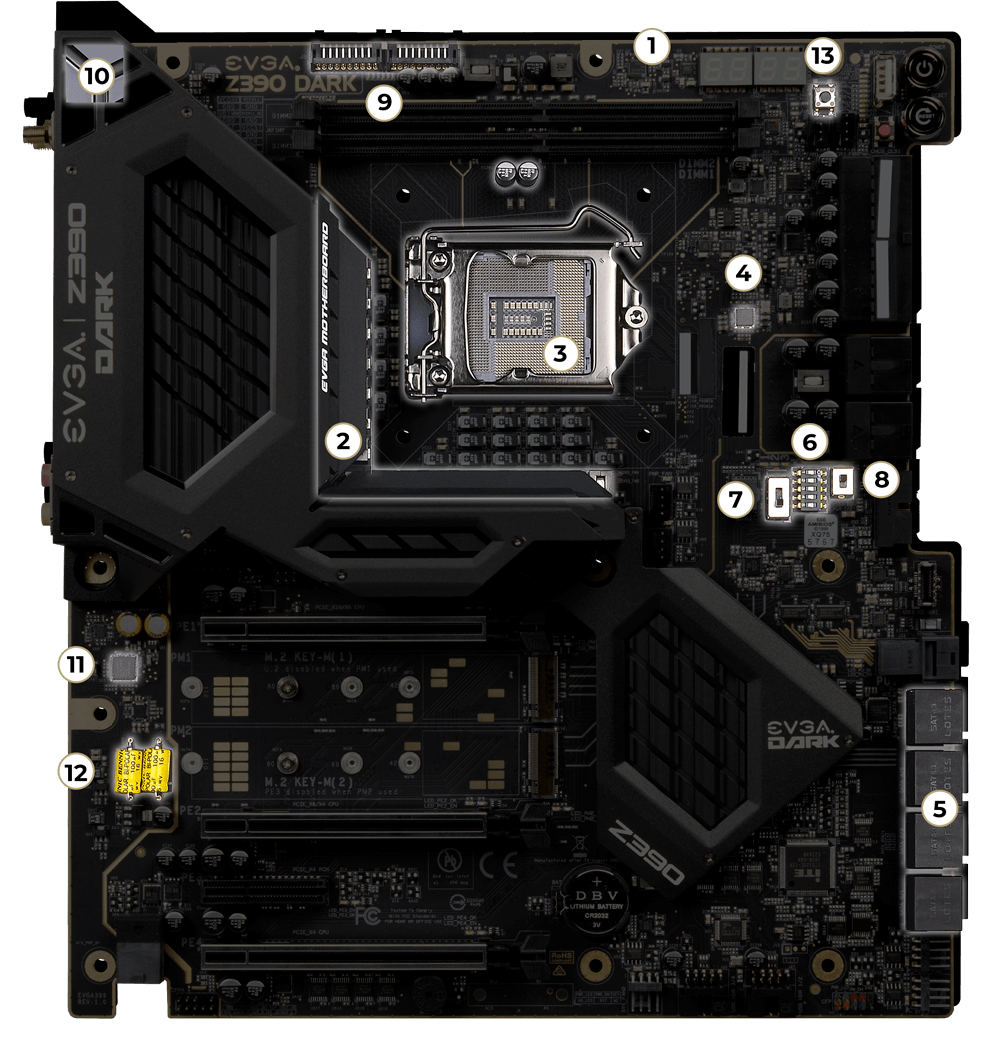 10-Layer PCB
A 10-Layer high-speed E-ATX PCBA with gold-plated shielded edge enhances stability for heavy loads, improved overclocking, and durability for today's extreme cooling hardware.
Highly-Efficient 17-Phase PWM
The Z390 DARK features a 17-phase Digital VRM (12 VCore, 1 VSA, 1 VCCIO, 2 VGT, 1 Phase Memory PWM) for the cleanest, most stable power design to ensure that you're ready for Intel®'s Core i9 Processors.
150% Higher Gold Content in CPU Socket
Higher volume of precious metal (150% Gold) used in the sockets creates lower contact resistance, resulting in better power delivery.
External BCLK / Clock Generators
An external BCLK controller for fine-tuning CFL-S system performance, and an external clock generator for PCIe stability and performance.
8 SATA Ports – 6 from Intel PCH / 2 from ASMedia ASM1061
The Z390 DARK features 8 SATA Ports. 2 are supplied by the ASMedia ASM1061, which provides limited Windows XP support* for ultimate benching OS flexibility. * Coming Soon
PCIe Disable Switches
The Z390 DARK offers PCIe disable switches to quickly shut off PCIe slots to troubleshoot or restore used resources without the need to physically uninstall hardware.
Triple BIOS Select Switch
Switch between up to 3 different BIOS ROMs for overclocking, benching, 24/7 use, or anything you can think of.
SW Slow Mode Switch
Changes the CPU Ratio to the minimum CPU ratio in real-time for stability purposes or to reduce heat/power usage between long benching sessions.
ProbeIT Connectors
Attach your Digital Multimeter to the included ProbeIT adapter and monitor all your voltages in real-time.
PS/2 Port
Despite the Z390 DARK's technical feats, it still features an old school PS/2 keyboard or mouse port to support legacy OS and reduce latency and resources for benching and gaming.
Creative Core3D Audio
Creative 5.1 Channel Audio with output amplifiers – the industry standard for audio quality.
EVGA NU Audio for Front Panel Audio
EVGA NU Audio is available through the front panel header to provide a solid boost of power and audio quality for stereo headphones or speakers.
Safeboot Button
Pressing this button will restart the system and launch into the BIOS at safe setting, while keeping the same settings when you previously left the BIOS. Handy for those times when the board fails to POST, but you only need to make one or two changes to fix it!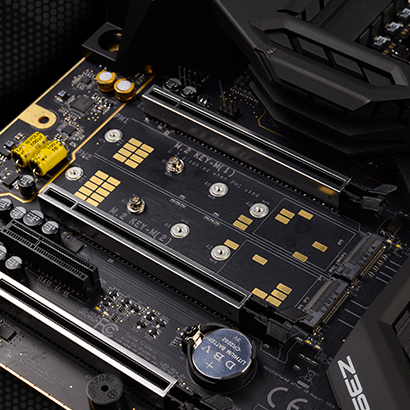 M.2 Support
2x M.2 Key-M 110mm slots / 1x M.2 Key-E slot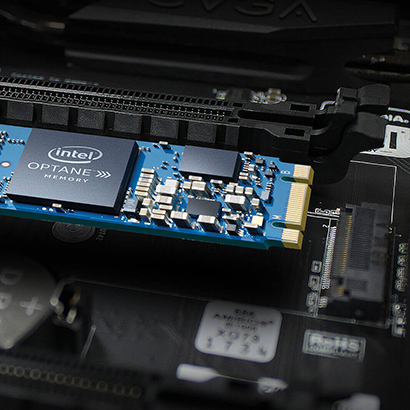 Intel® OPTANE
Intel® OPTANE Memory Ready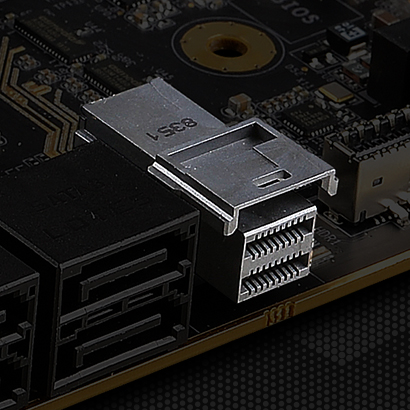 U.2
1x U.2 NVMe Port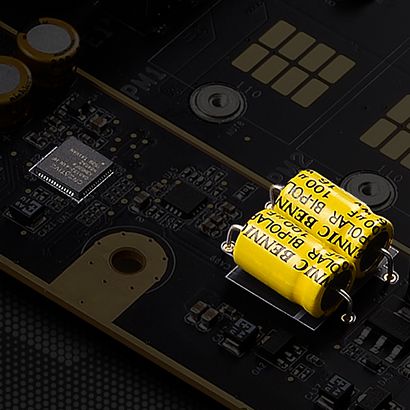 Creative/EVGA Onboard Audio
Creative 5.1 Channel Audio + EVGA NU Audio for Headphones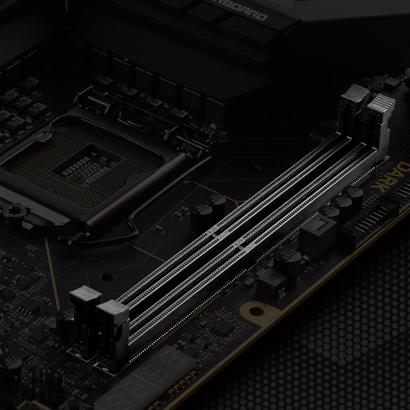 Coffee Lake-S
Up to 32GB of 4600MHz+ (OC) Dual-Channel RAM on Coffee Lake-S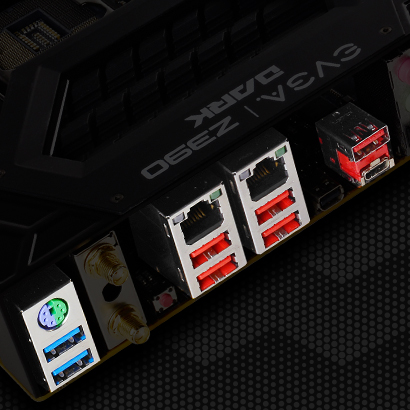 USB
USB 2.0 / USB 3.1 G2 Type-A / USB 3.1 G2 Type-C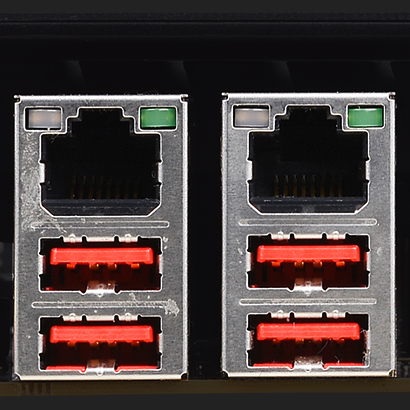 LAN
2x Intel® GbE LAN with teaming support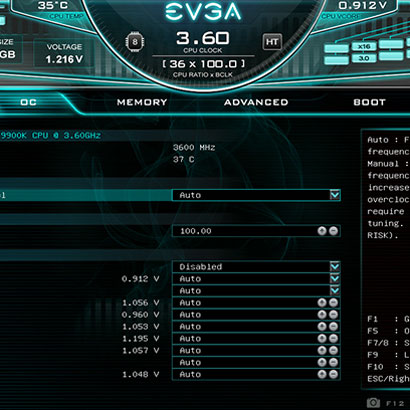 BIOS
EVGA's Latest GUI UEFI/BIOS featuring OC Robot and In-BIOS Stress Test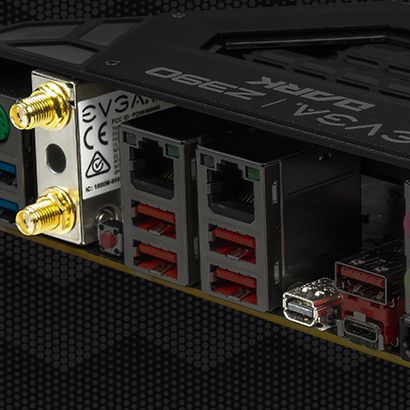 WiFi / mDP
Intel® Wireless-AC 9560 / mini-DisplayPort
We would be remiss for failing to point out that the DARK comes fully equipped with useful LEDs of all types... for monitoring system and component status, and displaying temperatures and voltages. Additional must-have features include: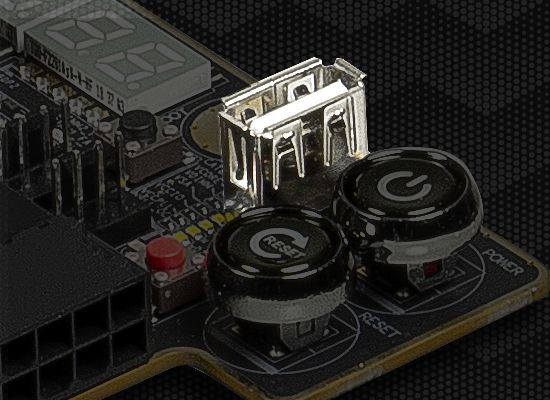 USB BIOS Flash without a CPU
The dedicated internal USB port on the motherboard allows you to update your motherboard BIOS even if you don't have a CPU or cannot boot into the motherboard BIOS.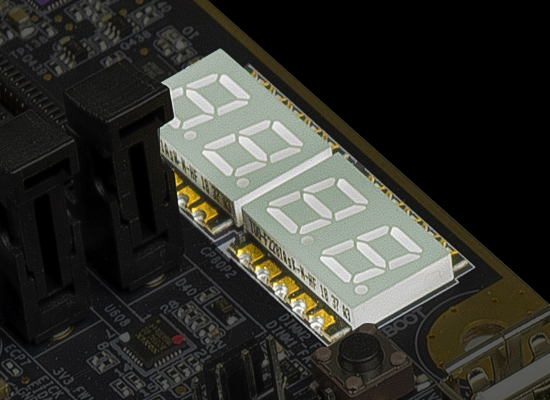 Post Indicator
Multi-Function POST Indicator – Fully configurable in BIOS, these LEDs can be configured to show temperatures, voltages or cycle both in real-time
Right Angle Headers
24-pin power, both 8-pin CPU power, Fan, Probe-It, and USB 3.1 Gen1 headers – Hand-crafted design to provide clean system assembly without cable clutter.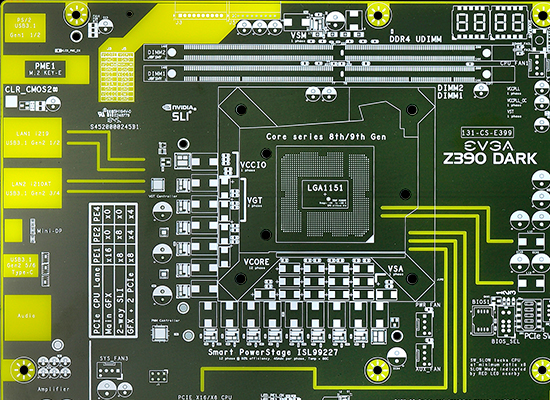 Visual Guide / Bench Table
Every EVGA Z390 Dark is packed with a printed PCB showing components, LEDs, PCIe lane breakdowns, and other helpful information. More importantly, this PCB with included standoffs doubles as an open-air testing or benching station, providing clearance for heaters, condensation isolation, and storage devices.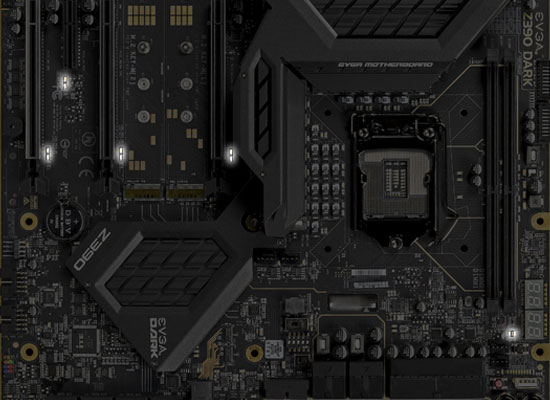 PCIe / DIMM Status LEDs
PCIe / DIMM status LEDs allow for easy system assembly and troubleshooting at a glance.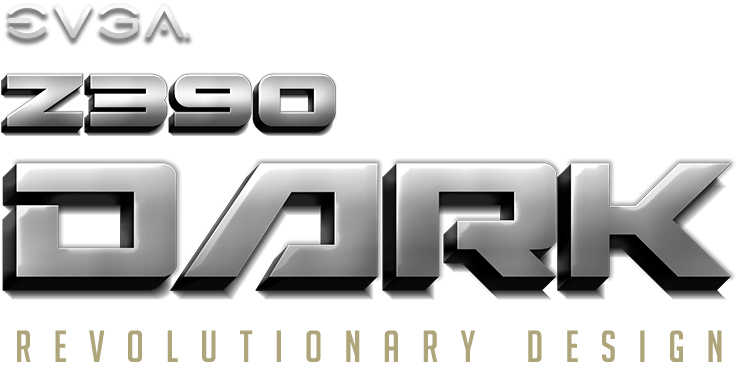 The EVGA Z390 DARK is finally here to convince you to give yourself to the DARK side of the EVGA Motherboard lineup. Go on, the DARK is waiting.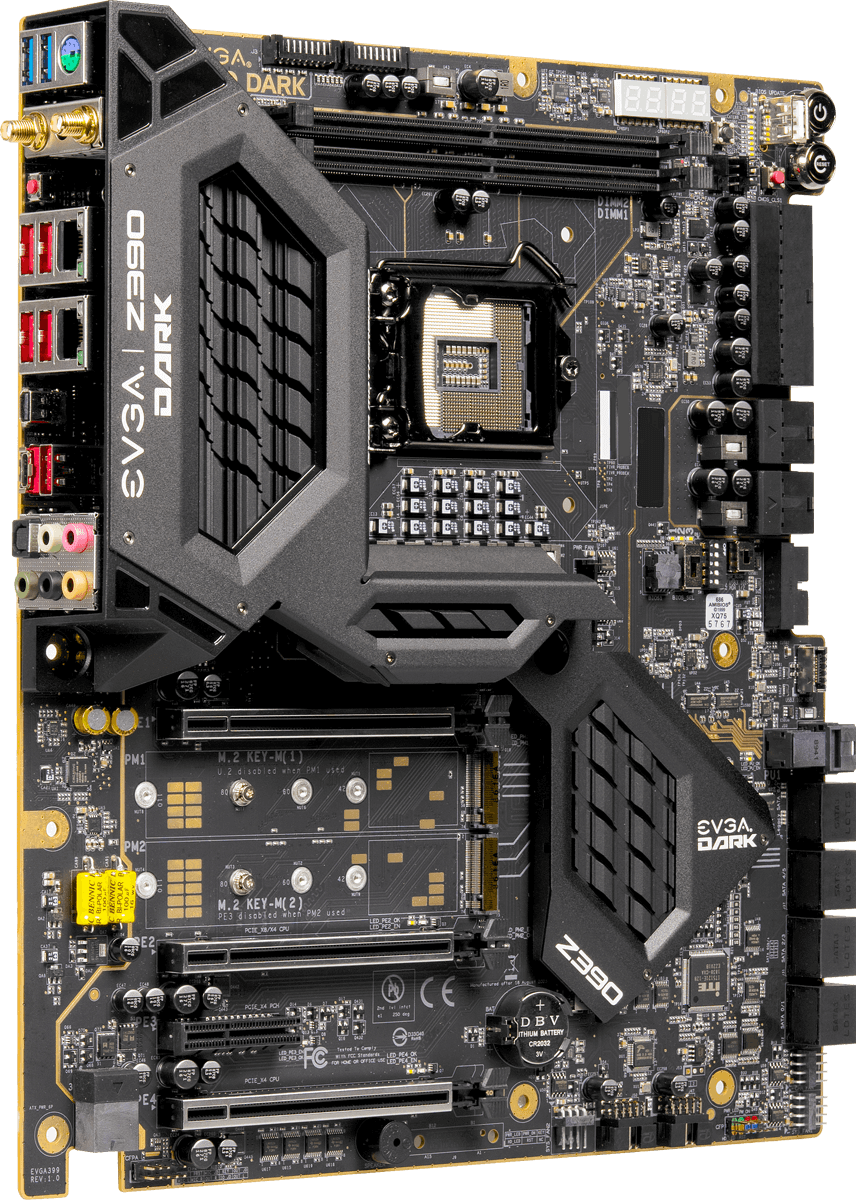 Specification
Chipset: Intel Z390
Socket: LGA1151, 8th and 9th Gen Intel Core i3/i5/i7/i9 Coffee Lake-S Processors
Form Factor: E-ATX
SLI: 2-Way SLI
Memory: 2 DIMM Dual-Channel (up to 32GB) DDR4 4600MHz+
Display Outputs: 1x mDP
USB: 4x USB 2.0 (4 Ports from 2 Internal Headers)
USB 3.1 (Rear I/O): 4x USB3.1 Gen2 Type-A, USB3.1 Gen2 (From ASM3142) 1x Type-A/1x Type-C, 2x USB3.1 Gen1
USB 3.1 (Internal Header): 1x USB3.1 Gen2 Type-C, 2x USB3.1 Gen1 (2 from Internal Header) with USB Power Delivery Support
SATA: 6 Native SATA 6.0Gbps Ports / 2 ASMedia SATA 6.0Gbps Ports
M.2 Key-M: 2x 110mm Slots (Up to 32Gb/s)
M.2 Key-E: 1x 32mm Slot
U.2: 1x U.2 PCIe NVMe port
Ethernet: 2x Intel® Gigabit NIC
Audio: Creative Sound Core3D Quad-Core Audio Processor
Fan Headers: 8 (2 CPU PWM, 6 PWM/DC)
PCB: 10 Layers
Key Features
Highly-Efficient 17 Phase Digital VRM
Intel® Optane™ Memory Ready
Creative 5.1 Channel HD Audio + EVGA NU Audio
New Integrated EVGA Wireless Module with Intel Dual-band WiFi / BT5.0 with external antenna
150% Increased Socket Gold Content
Reinforced PCIe slots
EVGA's Latest GUI BIOS Featuring OC Robot and In-BIOS Stress Testing
SafeBoot button resets the motherboard and goes into the BIOS with last known good settings without clearing CMOS
Slow Mode switch locks CPU multiplier to lowest possible setting to allow users to switch between max OC and low speeds in real-time.
SPI flashing via USB allows you to flash your BIOS without a CPU
Onboard Temperature and Voltage Monitoring
Onboard Clear CMOS, Power and Reset Buttons
Dual EVGA Probe-It Connectors
Triple BIOS Support
EVGA E-LEET X Tuning Support