EVGA
Z390
Series

Motherboards
Powerful to the 8-Cores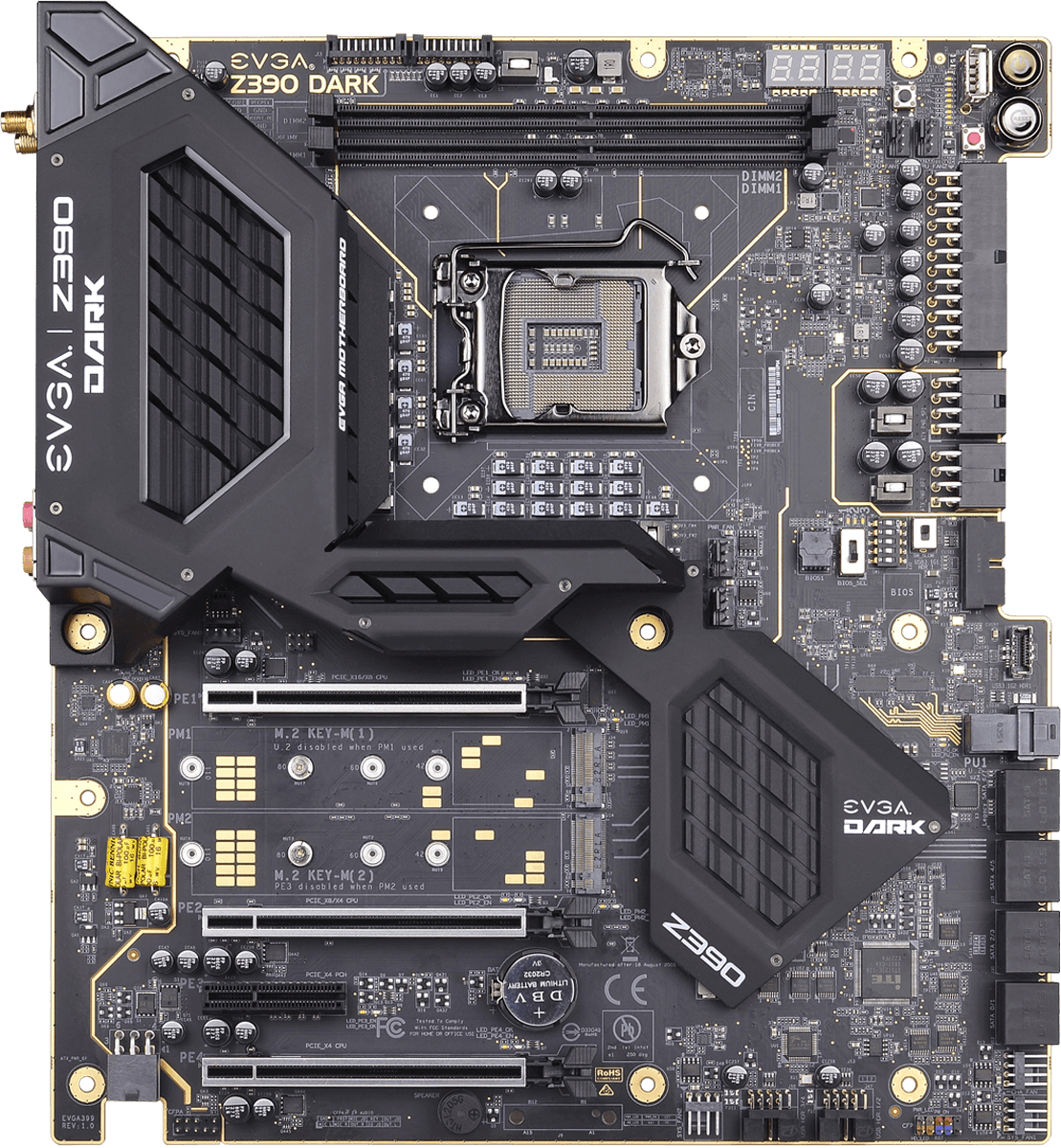 The Intel Z390 chipset is built for the extreme performance of Intel's first 8-Core processor for desktop motherboards. EVGA Z390 boards are designed for the purpose of everyday tasks, exceptional performance, hardcore gaming, and, of course, overclocking. Featuring EVGA's latest GUI BIOS with OC Robot and in-BIOS stress testing, the ability to flash the BIOS without a CPU, and EVGA Nu Audio (Z390 FTW only), these boards offer a little something new for everyone. Although the EVGA Z390 FTW is the first board available, you should always be careful of what's waiting in the Dark….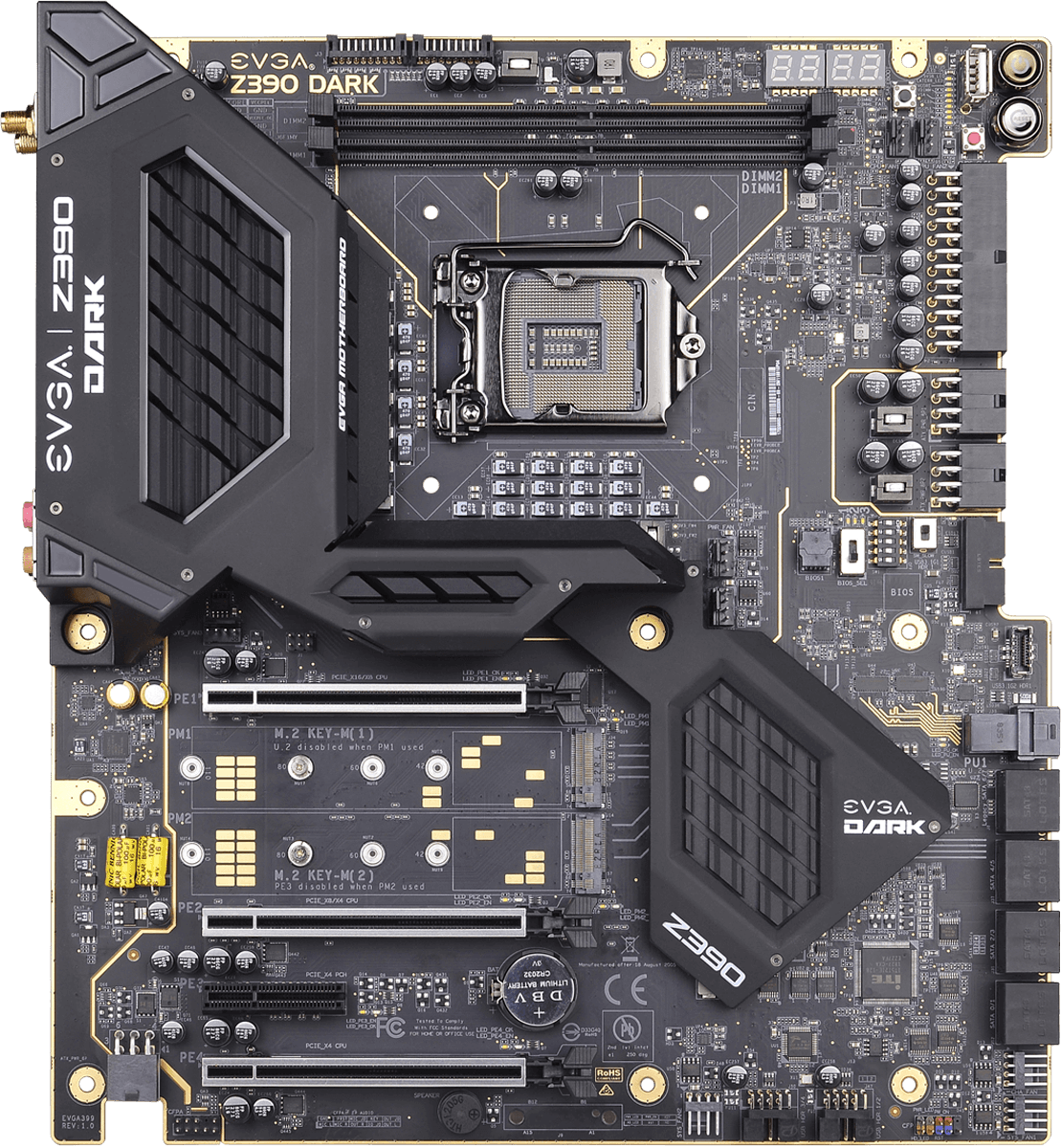 EVGA

Z390 Dark
131-CS-E399-KR
The EVGA Z390 Dark sets the standard for motherboards based on the Intel® Z390 chipset. Much like the EVGA X299 Dark, its older brother, the Z390 Dark is designed for ultra-enthusiasts looking to pull every last ounce of performance from the new 9th Gen Intel® 8-Core CPUs. The Z390 Dark features a 17 Phase VRM design, along with two right-angle 8pin High Current connectors to provide maximum power for overclocking. Two SMT DIMMS enable high-frequency and low latency RAM overclocking. The 10-layer PCB is studded with multiple sensors to track a variety of temperatures and voltages across the board, which can be displayed on the dual-LED displays. For its other features, the Z390 Dark contains Creative Audio, two Intel® Gigabit NICs, mini-Display Port, onboard power/reset/CMOS buttons, PCIe disable switches, triple BIOS support, 8 smart fan headers, and more swagger than any motherboard should have a right to wield. If you've been holding out for a serious motherboard to upgrade, the time has come. Go on, the Dark is waiting.
Specification
Chipset: Intel Z390
Socket: LGA1151, 8th and 9th Gen Intel Core i3/i5/i7/i9 Coffee Lake-S Processors
Form Factor: E-ATX
SLI: 2-Way SLI
Memory: 2 DIMM Dual-Channel (up to 32GB) DDR4 4600MHz+
Display Outputs: 1x mDP
USB: 4x USB 2.0 (4 Ports from 2 Internal Headers)
USB 3.1 (Rear I/O): 4x USB3.1 Gen2 Type-A, USB3.1 Gen2 (From ASM3142) 1x Type-A/1x Type-C, 2x USB3.1 Gen1
USB 3.1 (Internal Header): 1x USB3.1 Gen2 Type-C, 2x USB3.1 Gen1 (2 from Internal Header) with USB Power Delivery Support
SATA: 6 Native SATA 6.0Gbps Ports / 2 ASMedia SATA 6.0Gbps Ports
M.2 Key-M: 2x 110mm Slots (Up to 32Gb/s)
M.2 Key-E: 1x 32mm Slot
U.2: 1x U.2 PCIe NVMe port
Ethernet: 2x Intel® Gigabit NIC
Audio: Creative Sound Core3D Quad-Core Audio Processor
Fan Headers: 8 (2 CPU PWM, 6 PWM/DC)
PCB: 10 Layers
Key Features
Highly-Efficient 17 Phase Digital VRM
Intel® Optane™ Memory Ready
Creative 5.1 Channel HD Audio + EVGA NU Audio
New Integrated EVGA Wireless Module with Intel Dual-band WiFi / BT5.0 with external antenna
150% Increased Socket Gold Content
Reinforced PCIe slots
EVGA's Latest GUI BIOS Featuring OC Robot and In-BIOS Stress Testing
SafeBoot button resets the motherboard and goes into the BIOS with last known good settings without clearing CMOS
Slow Mode switch locks CPU multiplier to lowest possible setting to allow users to switch between max OC and low speeds in real-time.
SPI flashing via USB allows you to flash your BIOS without a CPU
Onboard Temperature and Voltage Monitoring
Onboard Clear CMOS, Power and Reset Buttons
Dual EVGA Probe-It Connectors
Triple BIOS Support
EVGA E-LEET X Tuning Support
EVGA Z390 motherboards are built for durability and reliability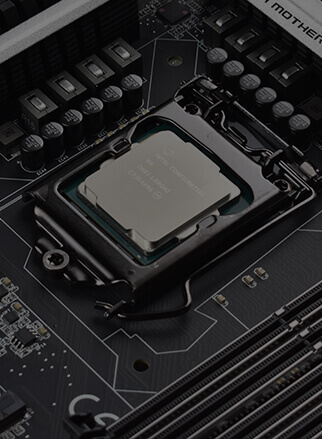 9th Gen Intel® Core i3/i5/i7/i9 Coffee Lake-S Processors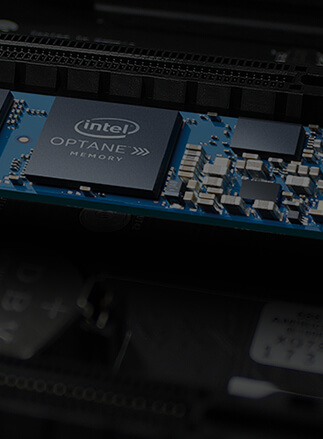 Intel® Optane™ Memory Ready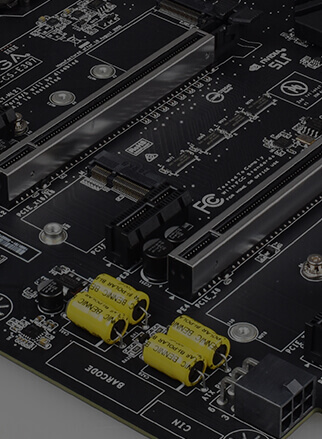 Reinforced PCIe slots (E399) /
Reinforced PCIe slots and DIMM slots (E397)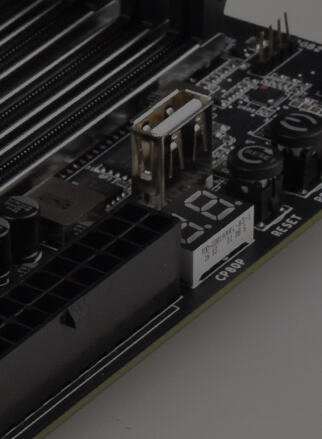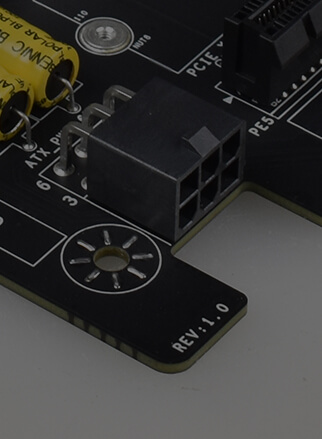 Right-Angle Power and Header layout for better cable management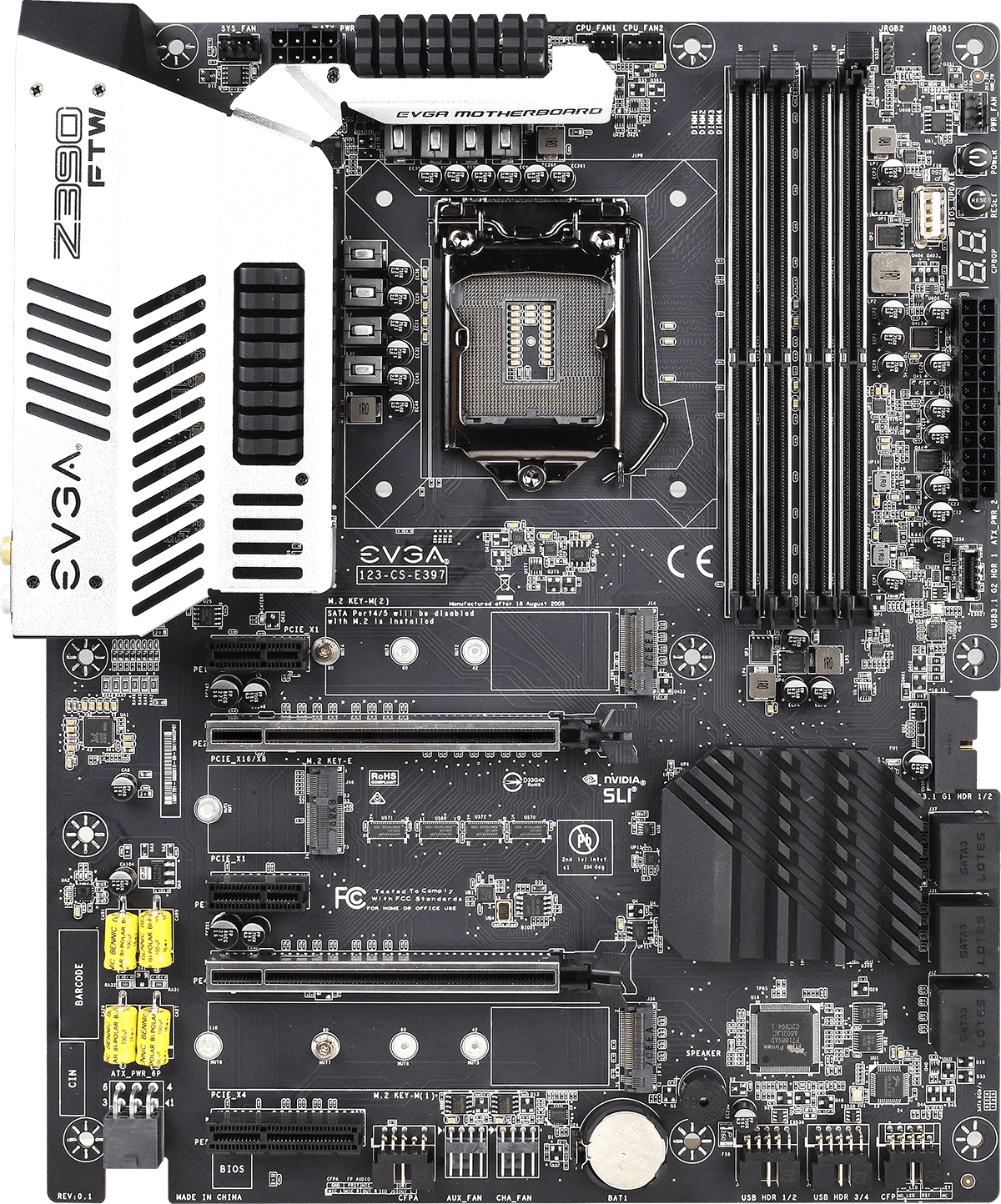 EVGA

Z390 FTW
123-CS-E397-KR
With The EVGA Z390 FTW, high-end gaming is now better than ever without costing an arm and a leg. Featuring 6 SATA ports, USB 3.1 Gen2 Type-A and Type C ports, USB 3.1 Gen1 ports, USB 2.0 ports, multiple M.2 sockets, Intel® Optane™, 7.1 Channel Audio with EVGA NU Audio, and an Intel® Gigabit NIC, this board is ready for everything. However, this board wouldn't be FTW without a highly-efficient Digital VRM connected to an 11 Phase power design, 2-way SLI support, metal-reinforced slots, and EVGA's New GUI BIOS featuring OC Robot and an in-BIOS stress test. The EVGA Z390 FTW is primed to be the center of everything you do next.
Specification
Chipset: Intel Z390
Socket: LGA1151, 8th and 9th Gen Intel® Core™ i3/i5/i7/i9 Coffee Lake-S Processors
Form Factor: ATX
SLI: 2-Way SLI
Memory: 4 DIMM Dual-Channel DDR4 4133MHz+ (up to 64GB)
USB: 6x USB 2.0 (2x Rear I/O, 4x from 2 Internal Headers)
USB 3.1 (Rear I/O): 4x USB3.1 Gen2 Type-A
USB 3.1 (Internal Header): 1x USB3.1 Gen2 Type-C, 4x USB3.1 Gen1
SATA: 6x SATA 6Gb/s
M.2 Key-M: 1x 80mm Slot, 1x 110mm Slot (Up to 32Gb/s)
M.2 Key-E: 1x 32mm Slot
Ethernet: Intel i219V Gigabit NIC
Audio: Realtek ALC1220 7.1 Channel HD Audio + Nu Audio
Fan Headers: 6 (2 CPU PWM, 4 PWM/DC)
PCB: 6 Layers
Key Features
Highly-Efficient 11 Phase Digital VRM
Intel® Optane™ Memory Ready
Realtek 7.1 Channel HD Audio + EVGA NU Audio
RGB Header Support
150% Increased Socket Gold Content
100% Solid State Capacitors
Reinforced PCIe and DIMM slots
Onboard Clear CMOS, Power and Reset Buttons
Onboard CPU Temperature Monitor
SPI flashing via USB allows you to flash your BIOS without a CPU
EVGA E-LEET X Tuning Support
3 Year Warranty
EVGA

Z390 DARK
131-CS-E399-KR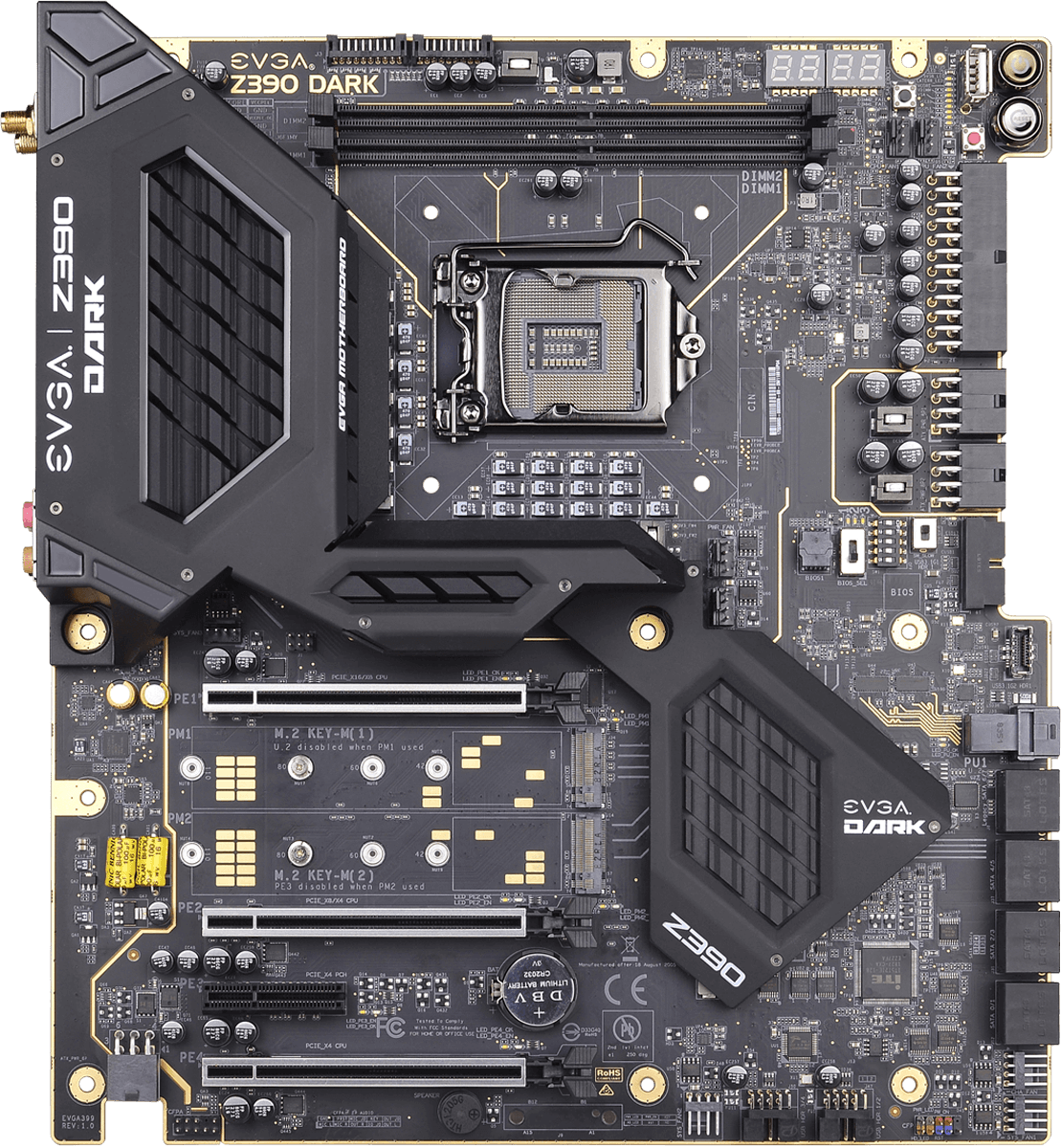 Specification
Chipset: Intel Z390
Socket: LGA1151, 8th and 9th Gen Intel Core i3/i5/i7/i9 Coffee Lake-S Processors
Form Factor: E-ATX
SLI: 2-Way SLI
Memory: 2 DIMM Dual-Channel (up to 32GB) DDR4 4600MHz+
Display Outputs: 1x mDP
USB: 4x USB 2.0 (4 Ports from 2 Internal Headers)
USB 3.1 (Rear I/O): 4x USB3.1 Gen2 Type-A, USB3.1 Gen2 (From ASM3142) 1x Type-A/1x Type-C, 2x USB3.1 Gen1
USB 3.1 (Internal Header): 1x USB3.1 Gen2 Type-C, 2x USB3.1 Gen1 (2 from Internal Header) with USB Power Delivery Support
SATA: 6 Native SATA 6.0Gbps Ports / 2 ASMedia SATA 6.0Gbps Ports
M.2 Key-M: 2x 110mm Slots (Up to 32Gb/s)
M.2 Key-E: 1x 32mm Slot
U.2: 1x U.2 PCIe NVMe port
Ethernet: 2x Intel® Gigabit NIC
Audio: Creative Sound Core3D Quad-Core Audio Processor
Fan Headers: 8 (2 CPU PWM, 6 PWM/DC)
PCB: 10 Layers
EVGA

Z390 FTW
123-CS-E397-KR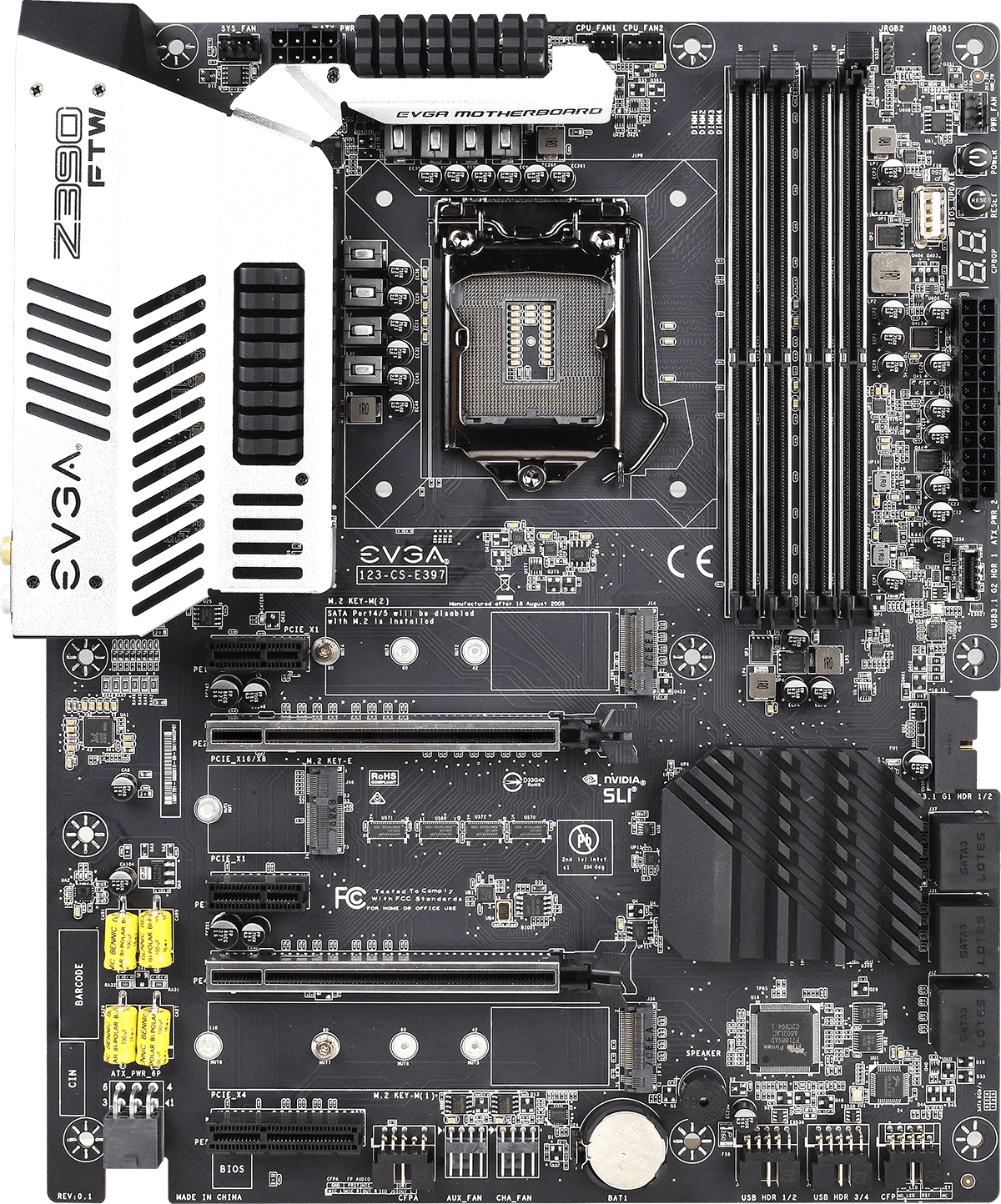 Specification
Chipset: Intel Z390
Socket: LGA1151, 8th and 9th Gen Intel® Core™ i3/i5/i7/i9 Coffee Lake-S Processors
Form Factor: ATX
SLI: 2-Way SLI
Memory: 4 DIMM Dual-Channel DDR4 4133MHz+ (up to 64GB)
USB: 6x USB 2.0 (2x Rear I/O, 4x from 2 Internal Headers)
USB 3.1 (Rear I/O): 4x USB3.1 Gen2 Type-A
USB 3.1 (Internal Header): 1x USB3.1 Gen2 Type-C, 4x USB3.1 Gen1
SATA: 6x SATA 6Gb/s
M.2 Key-M: 1x 80mm Slot, 1x 110mm Slot (Up to 32Gb/s)
M.2 Key-E: 1x 32mm Slot
Ethernet: Intel i219V Gigabit NIC
Audio: Realtek ALC1220 7.1 Channel HD Audio + Nu Audio
Fan Headers: 6 (2 CPU PWM, 4 PWM/DC)
PCB: 6 Layers