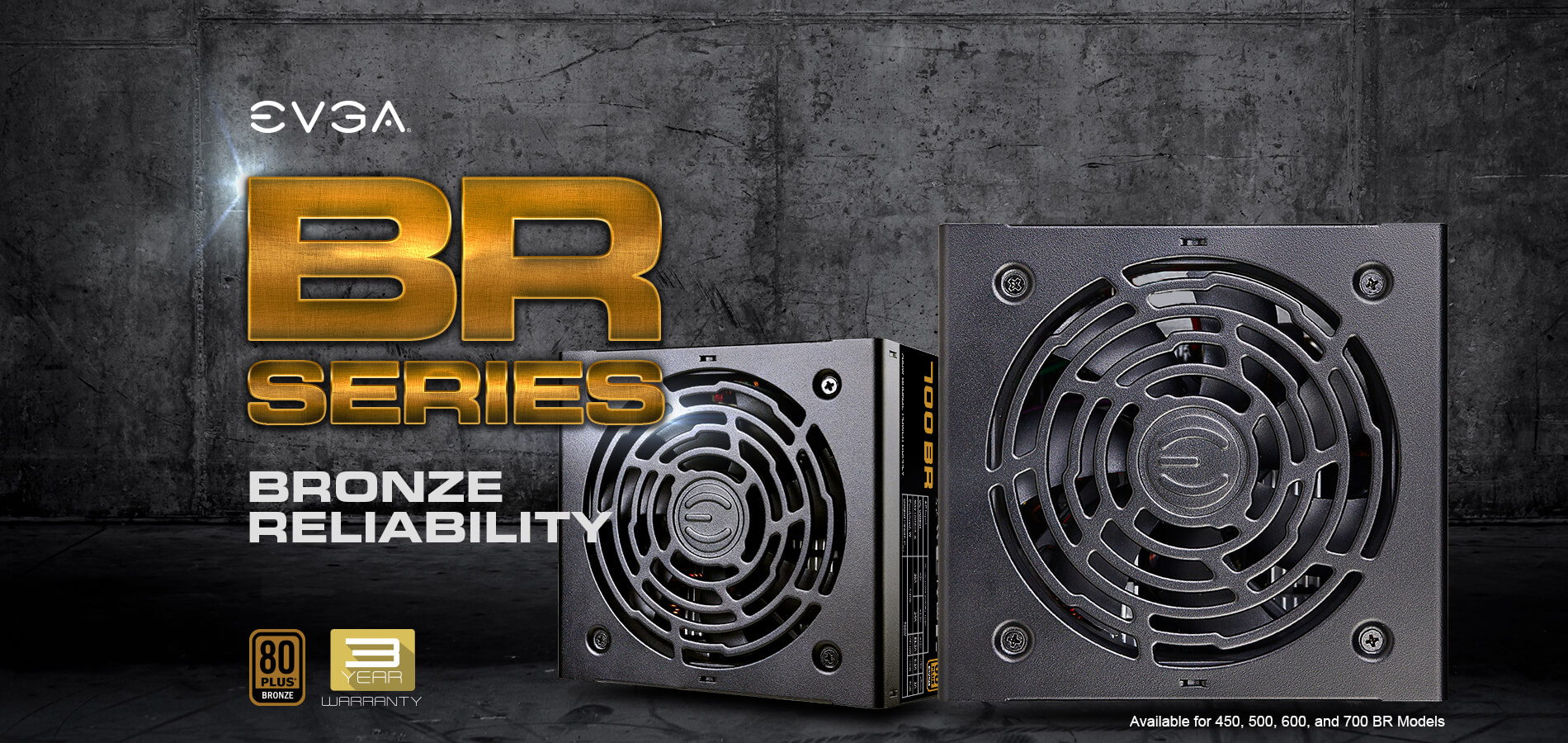 Introducing the EVGA BR Series of power supplies. Building upon our already great line of Bronze rated power supplies, we sought to make the improvements our customers asked for. Our BR Series are 80 PLUS Bronze certified, with 85% efficiency or higher under typical loads. Features a non-modular design with all black full sleeved cables for that high end aesthetic, 120mm sleeve bearing quiet fan, increased 3.3V/5V voltage stability, all backed by EVGA's World Leading Warranty and Support for 3 Years.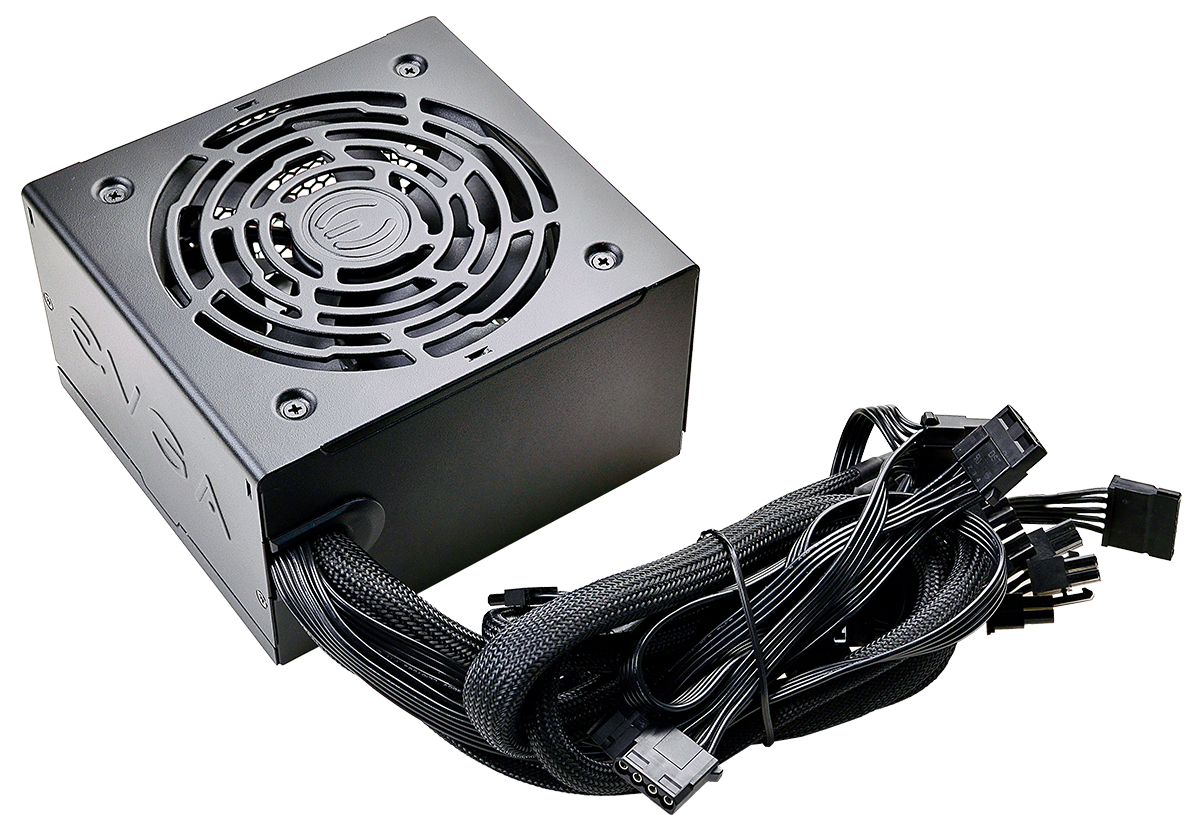 Standard ATX Form Factor
Will fit most mATX, EATX, HPTX, and XLATX cases.
All Black Sleeved Cable
Get that high end look while staying within your budget.
Features


Hard Lined Design
Hard lined design allows your cables to be attached to the power supply for ease of installation and removal. You can be ready to go right out of the box.

Long Sleeve Bearing Fan
A 120mm Long Life Sleeve Bearing fan results in quieter operation and a longer lifespan

Bronze Rated Efficiency
80 Plus certification ensures your power supply isn't wasting power and turning it into excess heat. Under typical load this power supply is 85% efficient or higher.

DC to DC converter
Voltage step-down for rock-solid power stability and minimal signal noise. (For 3.3V and 5V)
Hardware Protection

While being silent, this entire series has a large single 12V rail, providing plenty of power to fuel all of your hardware. And lastly, because power without safety is pointless, a full suite of top tier circuit protections to keep you running strong and your hardware safe.
OVP (Over Voltage Protection)
UVP (Under Voltage Protection)
OCP (Over Current Protection)
OPP (Over Power Protection)
SCP (Short Circuit Protection)
OTP (Over Temperature Protection)
World Leading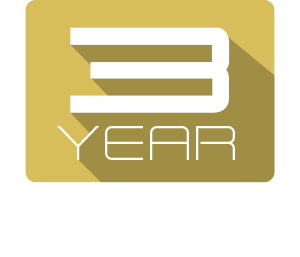 World leading warranty and support for 3 Years.
Available for 450, 500, 600, 700 BR Models
Features
80 PLUS Bronze certified, with 85% efficiency or higher under typical loads
Single +12V. Rail
Active Power Factor Correction
Heavy-duty protections, including OVP (Over Voltage Protection), UVP (Under Voltage Protection), OCP (Over Current Protection), OPP (Over Power Protection), SCP (Short Circuit Protection), and OTP (Over Temperature Protection)
3 Year Warranty
DC-DC Converter improves 3.3V/5V stability
Quiet and Intelligent Auto Fan for near-silent operation
Specs
Heavy-duty protections, including:
OVP (Over Voltage Protection)
UVP (Under Voltage Protection)
OCP (Over Current Protection)
OPP (Over Power Protection)
SCP (Short Circuit Protection)
OTP (Over Temperature Protection)
AC Input
100 - 240 VAC, 10/5A, 50 - 60 Hz
DC Output
+3.3V
+5V
+12V
-12V
+5Vsb
MAX Output
24A
20A
58.3
0.3A
3A
699.6W
Combined
150W
699.6W
3.6W
15W
Output Power
700W @ +30C
Features
80 PLUS Bronze certified, with 85% efficiency or higher under typical loads
Single +12V. Rail
Active Power Factor Correction
Heavy-duty protections, including OVP (Over Voltage Protection), UVP (Under Voltage Protection), OCP (Over Current Protection), OPP (Over Power Protection), SCP (Short Circuit Protection), and OTP (Over Temperature Protection)
3 Year Warranty
DC-DC Converter improves 3.3V/5V stability
Quiet and Intelligent Auto Fan for near-silent operation
Specs
Heavy-duty protections, including:
OVP (Over Voltage Protection)
UVP (Under Voltage Protection)
OCP (Over Current Protection)
OPP (Over Power Protection)
SCP (Short Circuit Protection)
OTP (Over Temperature Protection)
AC Input
100 - 240 VAC, 10/5A, 50 - 60 Hz
DC Output
+3.3V
+5V
+12V
-12V
+5Vsb
MAX Output
24A
20A
50A
0.3A
3A
600W
Combined
130W
600W
3.6W
15W
Output Power
600W @ +30C
Features
80 PLUS Bronze certified, with 85% efficiency or higher under typical loads
Single +12V. Rail
Active Power Factor Correction
Heavy-duty protections, including OVP (Over Voltage Protection), UVP (Under Voltage Protection), OCP (Over Current Protection), OPP (Over Power Protection), SCP (Short Circuit Protection), and OTP (Over Temperature Protection)
3 Year Warranty
DC-DC Converter improves 3.3V/5V stability
Quiet and Intelligent Auto Fan for near-silent operation
Specs
Heavy-duty protections, including:
OVP (Over Voltage Protection)
UVP (Under Voltage Protection)
OCP (Over Current Protection)
OPP (Over Power Protection)
SCP (Short Circuit Protection)
OTP (Over Temperature Protection)
AC Input
100 - 240 VAC, 8/4A, 50 - 60 Hz
DC Output
+3.3V
+5V
+12V
-12V
+5Vsb
MAX Output
20A
20A
41.7A
0.3A
3A
500W
Combined
120W
500W
3.6W
15W
Output Power
500W @ +30C
Features
80 PLUS Bronze certified, with 85% efficiency or higher under typical loads
Single +12V. Rail
Active Power Factor Correction
Heavy-duty protections, including OVP (Over Voltage Protection), UVP (Under Voltage Protection), OCP (Over Current Protection), OPP (Over Power Protection), SCP (Short Circuit Protection), and OTP (Over Temperature Protection)
3 Year Warranty
DC-DC Converter improves 3.3V/5V stability
Quiet and Intelligent Auto Fan for near-silent operation
Specs
Heavy-duty protections, including:
OVP (Over Voltage Protection)
UVP (Under Voltage Protection)
OCP (Over Current Protection)
OPP (Over Power Protection)
SCP (Short Circuit Protection)
OTP (Over Temperature Protection)
AC Input
100 - 240 VAC, 8/4A, 50 - 60 Hz
DC Output
+3.3V
+5V
+12V
-12V
+5Vsb
MAX Output
20A
20A
37.5A
0.3A
3A
450W
Combined
120W
450W
3.6W
15W
Output Power
450W @ +30C