Did you know that EVGA was the first to introduce the "Blower" Style fan and the first to use a heat pipe on a graphics card?
ACS (Asymmetric Cooling System) HISTORY:

• 2/6/2002 - ACS Available for GeForce4 MX 440 Introduced

• 3/1/2002 - ACS2 Available for GeForce4 4600 Ti Introduced
ACS
Remember the EVGA GeForce4 MX 440? Back then was when EVGA first introduced ACS (the Asymmetric Cooling System), it was the first serious attempt to improve the way cooling devices for video cards were made and employed. ACS was designed in a new, efficient manner; with a much larger heat sink with far more surface area to allow for much better heat dissipation; and the fan was placed off center from the GPU so as to allow it to be better protected from extreme temperatures and to allow it to create a much more efficient air flow through the entire unit. In other words, the first "blower" style cooler on a graphics card!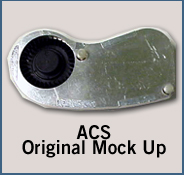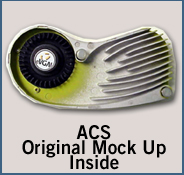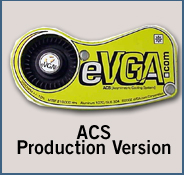 ACS2
EVGA's next effort was ACS2 - a revolutionary design idea that was built to support the Ti 4400 and Ti 4600 line of graphics cards. ACS2 had to meet a number of new challenges that included both GPUs that were getting hotter than ever, and memory whose temperatures were steadily increasing. To accomplish this, ACS2 kept the offset fan that is central to the ACS design philosophy while at the same time enlarging the heat sink to cover not only the GPU, but the memory as well. Added to that were three copper heat pipes that helped to quickly move heat away from the card's memory and GPU and into a large copper thermal chamber. This makes the EVGA GeForce4 Ti 4600 the first ever graphics card to use heatpipes!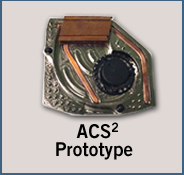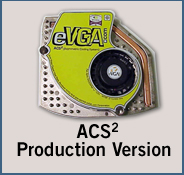 Congratulations! The following winners have been chosen:

Ian K, James K, Cory S
Contest Rules:
It's quite simple, if you have one of these graphics cards today, EVGA wants it and will pay you 1,000 EVGA Bucks for it! This Miracle is available for a maximum of 3 ACS owners and 3 ACS2 owners. Just be one of the first 3 registered owners of either card to submit your information to participate in this exchange!
Qualifying Part Numbers:
ACS Part Numbers:

064-A4-NV70-5K
064-A4-NV70-A1
064-A4-NV70-A2
064-A4-NV70-S1
064-A4-NV70-S2
128-A4-NV71-S1

ACS2 Part Numbers:

128-A4-NV83-A1
128-A4-NV83-S1
128-A4-NV83-S3
128-A8-NV85-BX
128-A8-NV85-R1
How To Submit Your Entry:
Register EVGA GeForce4 graphics card (must be one of listed part numbers above)
Submit your serial number below (Serial Numbers are located on the back of the card or under your My Products section)
If you are one of the first qualifying 3 registered owners to submit you entry, then EVGA will contact you via email.
Winners will be asked to send your card to the EVGA HQ and the 1,000 in EVGA bucks is yours!
Note:
First 3 ACS and the first 3 ACS2 qualifying owners will be contacted with further information. Please do not send in your graphics card if you are not a winner or if you were not given directions by EVGA to do so.
Winner will be selected and contacted on Monday, December 18, 2017
Official Terms and Conditions
Duration of Promotion:
The EVGA "A Christmas Miracle! 1,000 EVGA Bucks For Your GeForce4 ACS/ACS2" (US) / "Wants to Buy Back Your EVGA GeForce4 ACS/ACS2 Graphics Card for 1000 " (LATAM/EMEA/APAC Regions), or ("EVGA WTB Giveaway"), will allow Six (6) winners to exchange an EVGA GeForce4 Ti 4600 ACS2 or an EVGA GeForce4 MX 440 ACS for 1,000 EVGA Bucks for use on EVGA.com. The EVGA WTB Giveaway begins on Thursday, December 14, 2017 at 10:00:00 AM PST and ends on Sunday, December 17, 2017 at 11:59:59 PM PST.
Eligibility:
The EVGA WTB Giveaway is eligible for customers and participants in the Americas (North and South America), EMEA (Europe, Middle East, and Africa), and APAC (Asia and Pacific) regions. Six Grand Prizes will be available globally, with 3 prizes available for owners of qualified EVGA GeForce4 GTX MX 440 ACS graphics cards, and 3 prizes available for owners of qualified GeForce4 Ti 4600 ACS2 graphics cards.
Employees and directors of the Sponsor, and its subsidiaries, affiliates, parent companies, distributors, retail dealers, advertising and promotional agencies, and the immediate family members or those living in the same household with such individuals, are not eligible to participate in this Promotion. All international, federal, state, provincial, and local laws and regulations apply. VOID where prohibited.
Ways to Enter:
Entries are limited to one entry per person, per household for the duration of the EVGA WTB Giveaway. Sponsor is not responsible for Internet submissions not received due to technical/transmission problems beyond its reasonable control, including failure to recognize a valid serial number. Moreover, Sponsor is not responsible for mail that is lost, damaged, illegible, late, misdirected, or sent with insufficient postage. To enter:
EVGA GeForce4 MX 440 ACS and GeForce4 Ti 4600 ACS2 owners must register their qualifying Product at https://www.evga.com/register/. Next, the customer must the customer must visit the Event webpage at https://www.evga.com/articles/01177/evga-christmas-miracle/ to sign up for the EVGA WTB Giveaway. After signing-in to EVGA.com, customers must accept these Terms and Conditions and submit an entry, which will register the natural account holder for the EVGA WTB Giveaway. One entry per customer, per household.

EVGA GeForce4 MX440 ACS:

064-A4-NV70-5K
064-A4-NV70-A1
064-A4-NV70-A2
064-A4-NV70-S1
064-A4-NV70-S2
128-A4-NV71-S1

EVGA GeForce4 Ti 4600 ACS2:

128-A4-NV83-A1
128-A4-NV83-S1
128-A4-NV83-S3
128-A8-NV85-BX
128-A8-NV85-R1
Prize/Odds:
Six (6) Grand Prizes are available to exchange one of the qualifying graphics cards for 1,000 in EVGA Bucks. Three Grand Prizes are available for EVGA GeForce4 Ti 4600 ACS2 owners, and Three Grand Prizes are available for EVGA GeForce4 MX 440 ACS owners.
Total Approximate Retail Value of each Grand Prize is $1.00 USD.
Winner Selection:
The Grand Prize Winners will be selected in the order by which the submissions are received; in other words, the first three (3) owners of a qualifying GeForce4 Ti 4600 ACS2 and the first three (3) owners of a qualifying GeForce4 MX 440 ACS graphics card will become Grand Prize Winners. Grand Prize Winners must still posses the qualifying product registered to the account and be capable of shipping the card to Sponsor by Friday, December 22, 2017. Sponsor will contact all Winners on Monday, December 18, 2017 to arrange shipping details to Sponsor. Upon receipt of the graphics card, and verification that the product is registered to the Winner, EVGA will award 1,000 EVGA Bucks to the Winner's profile on EVGA.com.
Prize Conditions:
The potential Grand Prize Winners (pending confirmation of eligibility and ability to satisfy all requirements of the EVGA WTB Giveaway) will be notified by email and/or phone. A potential Winner must respond by Tuesday, December 19, 2017 and ship the winning qualifying product early enough to arrive at Sponsor by Friday, December 22, 2017. If a Grand Prize Winner no longer possesses the qualifying product, cannot ship the product, or does not wish to ship the product to arrive at Sponsor by Friday, December 22, 2017, then the Prize will be forfeit.
All Grand Prize Winners must have a valid and current account at EVGA.com within 5 days of accepting the Grand Prize.
If a potential Grand Prize winner cannot be contacted or does not exchange the card by Friday, December 22, 2017, or the winner fails to sign and return any requested documents within the required time period, then the potential winner will forfeit the prize and the prize will be awarded to the next eligible Grand Prize Winner. Any or all of the above Eligibility requirements may be temporarily suspended, at Sponsor's sole discretion, to provide a reasonable amount of time for a potential Winner to satisfy all aspects of the eligibility requirements; Sponsor is under no obligation, however, to temporarily suspend the Eligibility requirements for a potential Winner nor allow the suspension to last indefinitely if the potential Winner has not satisfied the Eligibility requirements. In the event that a potential winner is disqualified for any reason, Sponsor will award said prize to the next eligible Grand Prize Winner.
DO NOT SEND YOUR CARD TO SPONSOR UNLESS YOU HAVE BEEN CONTACTED BY SPONSOR AND INVITED TO SHIP YOUR CARD TO SPONSOR. CARDS SENT IN WITHOUT AUTHORIZATION WILL NOT BE CONSIDERED OR QUALIFY FOR A GRAND PRIZE, AND MAY NOT BE RETURNED.
General Conditions and Limitations:
All entries become the property of the Sponsor. Any attempt by an entrant to obtain more than one free online entry by using multiple/different email addresses, identities, registrations and/or logins, or any other, similar methods will void that Participant's entries altogether, and that Participant may be disqualified. Use of any automated/robotic method of entry is prohibited and will result in disqualification. In the event of a dispute regarding entries received from multiple users having the same email account, the "authorized subscriber" of the email account used to enter will be deemed to be the entrant. The "authorized subscriber" is the natural person who is assigned an email address by an ISP or other organization responsible for assigning email addresses. All federal, state, local, and provincial taxes and fees on prize offered, if applicable, are the sole responsibility of the winner. There are no substitutions of prize allowed, no cash alternative offered, and no transfer of prize is permitted, except to a surviving spouse, or at the sole discretion of the Sponsor. Acceptance of the prize constitutes permission from the Winner to the Sponsor and its agencies to use such winner's name and/or likeness for advertising and publicity purposes, without further compensation, except where prohibited by law. By entering, each Promotion entrant and Winners agree to hold harmless and indemnify Sponsor and each of its affiliates, parent companies, directors, officers, employees and agents against any and all liability, damages or causes of action (however named or described), with respect to or arising out of entrant's participation in this Promotion, and/or the receipt, use, or misuse of the prize awarded herein. By participating in this Promotion, entrants/Winners agree to be bound by these Official Terms and Conditions and the decisions of Sponsor. Entrants further agree that by participating, they may from time to time receive promotional offerings from the Sponsor. All disputes concerning this promotion will be governed by and construed in accordance with the laws, rule and regulations of the State of California. Sponsor reserves the right to terminate, suspend or modify the EVGA WTB Giveaway if, at its sole discretion, it determines that for any reason the EVGA WTB Giveaway is not capable of running as originally planned, fraud, technical failures, printing, mailing or distribution errors, or any other unanticipated causes or occurrences have compromised the fairness or integrity of the EVGA WTB Giveaway. In the event the EVGA WTB Giveaway is terminated prior to the stated end date, Sponsor reserves the right to award the Grand Prize among all eligible entries received as of the date of termination, based on the chronological order of valid submissions. TO THE MAXIMUM EXTENT PERMITTED BY LAW, Sponsor DISCLAIMS ALL WARRANTIES AND CONDITIONS REGARDING THE PRIZE, WHETHER EXPRESS OR IMPLIED, INCLUDING, BUT NOT LIMITED TO, THE IMPLIED WARRANTIES OF MERCHANTABILITY OR FITNESS FOR A PARTICULAR OR GENERAL USE OR PURPOSE.
Winner's List:
Winners will be announced on Sponsor's website EVGA.com on or about Friday, December 22, 2017. For written confirmation of the name and city/(state, province, country) of the Grand Prize Winners, send a self-addressed, stamped, #10 envelope to: EVGA WTB Giveaway Winner Confirmation Request, 408 Saturn St., Brea, CA 92821 USA.
Sponsor:
EVGA Corp., 408 Saturn St., Brea, CA 92821 USA.
Void wherever restricted or prohibited by law.