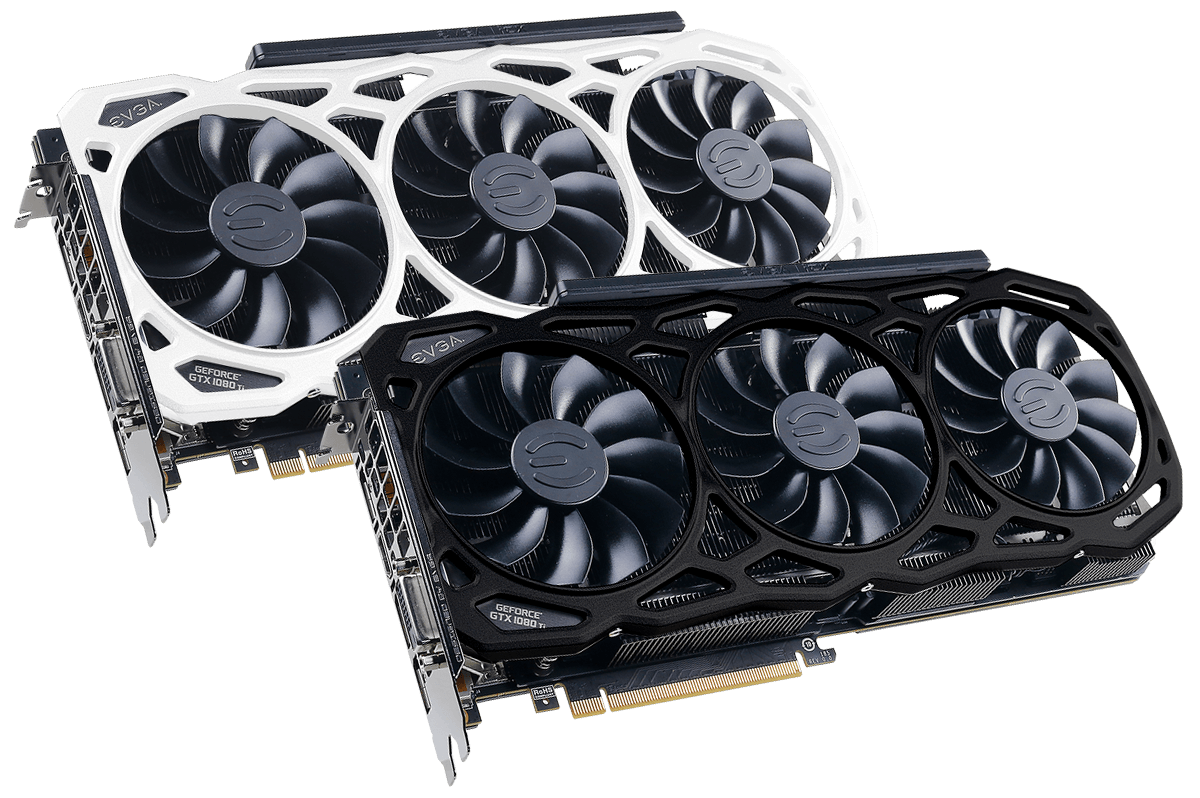 EVGA iCX Technology is not JUST a Cooler.
It is a combination of new PCB, Thermal Modules, LED, and Precision XOC.
Featuring a total of 11 global patents (pending and granted), iCX is efficiency perfected.
9 Additional Sensors and MCU's embedded on the PCB.
Purposefully-directed Airflow Chambers.
Newly Designed Die-Cast Baseplate and Backplate.
Full Control Using EVGA Precision XOC.
EVGA's iCX is the Very Definition of Interactive Cooling.
After the ACX 3.0 cooler was verified to operate within spec on Power and Memory section from independent third party testing, we determined that on an enthusiast graphics card, one thermal sensor is just not enough. On an enthusiast graphics card, equal importance should be given to the Power and Memory, not just focused on GPU. This type of thinking required drastic change in the way thermal management is performed on a graphics card.
With EVGA
i

CX Technology, a new era of PC gaming is coming!

iCX Has

9 Thermals Sensors

& Multiple MCUs
All 9 sensors can be displayed in EVGA Precision XOC and OSD
A new & more
efficient

way to cool
GPU fan determined by GPU temperature
(Left Fan)
Power / Memory fan determined by Power / Memory temperature
(Middle / Right Fan)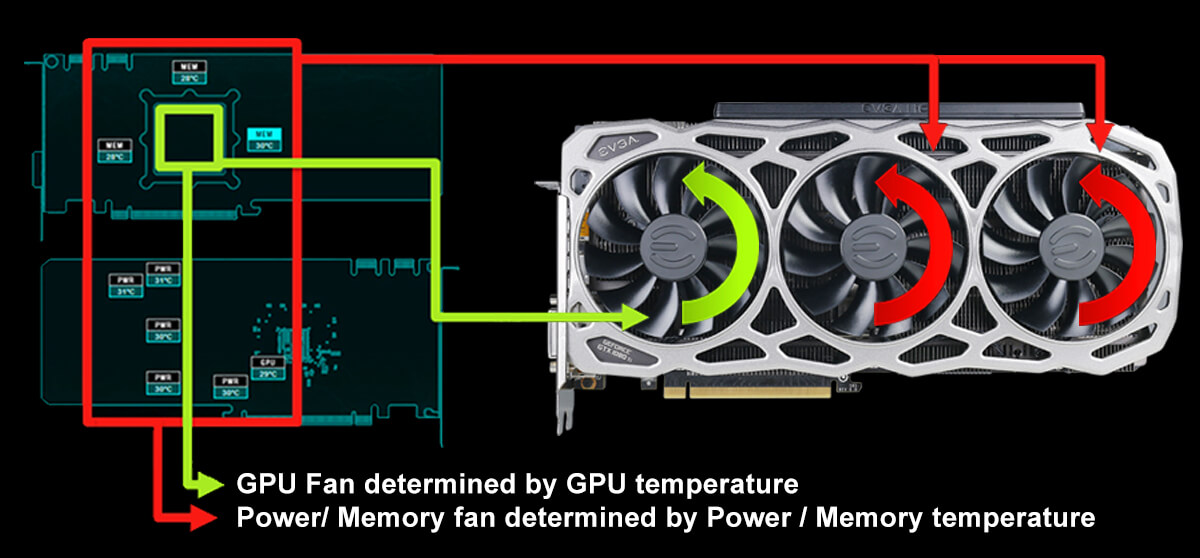 EVGA iCX

Is The

BEST

Dual Slot Air Cooler
EVGA iCX's efficient design means it can keep a Dual Slot size allowing more room for other expansion cards, improved chassis compatibility, and improved compatibility with SLI.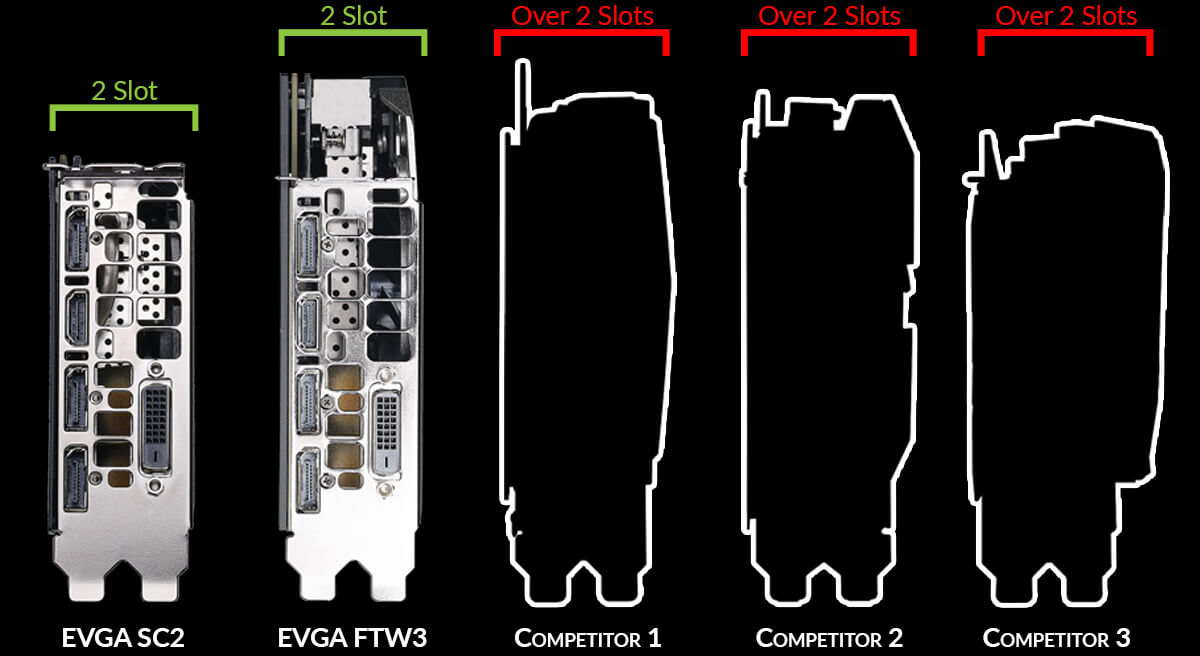 Full Control with

EVGA Precision XOC
Each sensor can be monitored in real time and displayed in PXOC OSD.
Control the VGA/Power fans simultaneously or asynchronously.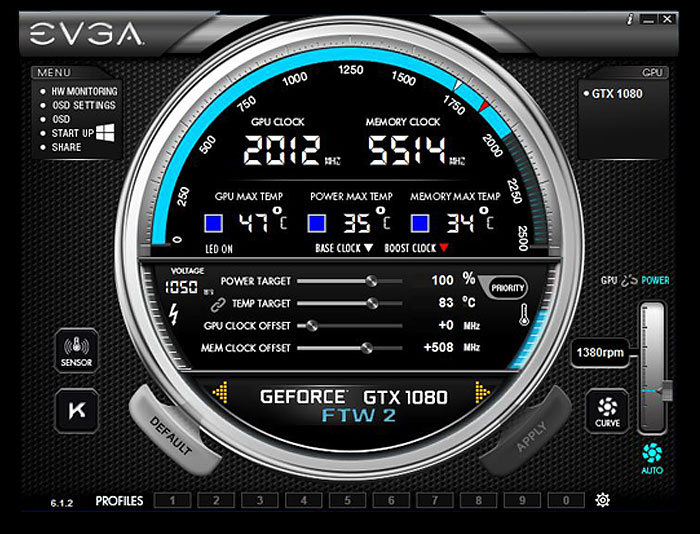 Interactive
cooling

with Thermal Display System
User customized RGB color and visual alarm settings*
An EVGA only fuse adds another layer of protection to your card and system.
Optimized airflow
fin design
An optimized air flow design directs air through the fin holes, while half open fins maximize airflow to important components and L-shaped fins increase surface contact.

Interlaced
pin fin

on Baseplate
Maximize heat dissipation with increased surface area on baseplate
Diecast
form fitted baseplate

and backplate
Backplate makes direct contact with all vital components and new baseplate design with integrated heatpipe significantly reduces component temperatures
Play longer!

Overclock Better!
Double ball bearing fans with 4x longer lifespan, and low power consumption motor means more power for your GPU.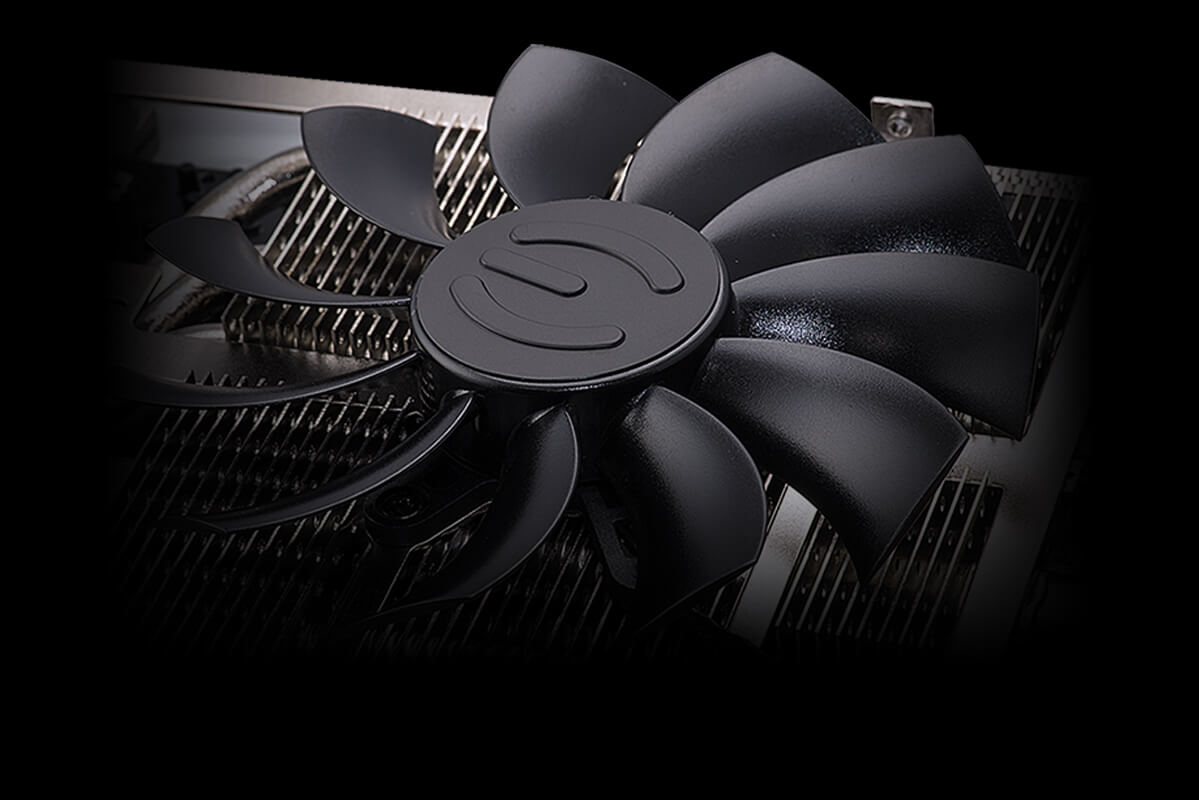 Interaction with
Other Devices

*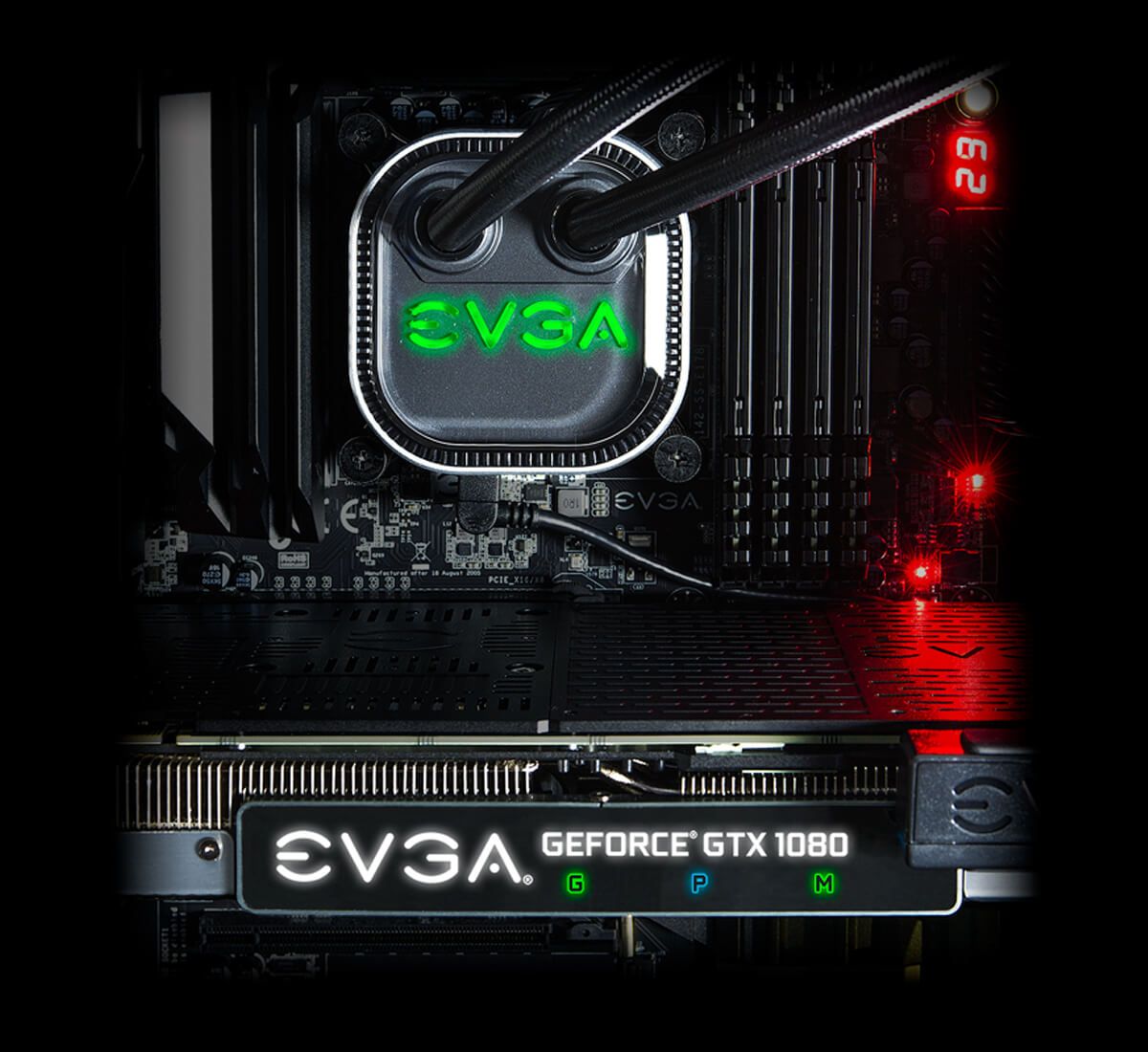 Sync your graphics card to your EVGA CPU Cooler and more!
11G-P4-6797-K1
EVGA GeForce GTX 1080 Ti FTW3 ELITE White
Core
CUDA Cores: 3584
Base Clock: 1569 MHz
Boost Clock: 1683 MHz
Bus: PCIe 3.0
SLI Support: 2-way
Memory
Type: GDDR5X
Width: 352 Bit
Clock: 12006 MHz
Speed: 0.17 ns
Bandwidth: 528.3 GB/s
Key Features
9 additional temp sensors to monitor Memory and VRM
Asynchronous Fans
Built for EVGA Precision XOC
EVGA iCX Technology
GPU / Memory / PWM Thermal Status Indicator LEDs
HDMI 2.0b, DisplayPort 1.4 and Dual-Link DVI
Max Digital Resolution - 7680x4320
Microsoft DirectX 12 API
New vented heatsink fin design and pin fins for optimized airflow
NVIDIA® Ansel
NVIDIA G-SYNC
NVIDIA GameStream
NVIDIA GPU Boost 3.0
NVIDIA SLI w/ HB Bridge Support
OpenGL 4.6 Support
Redesigned cooling with L-shaped contact fins to improve contact surface area for better heat dissipation
Safety fuse to protect components from damage due to improper installation or other component failures
Simultaneous Multi-Projection
VR Ready
Vulkan API
11G-P4-6797-K2
EVGA GeForce GTX 1080 Ti FTW3 ELITE Black
Core
CUDA Cores: 3584
Base Clock: 1569 MHz
Boost Clock: 1683 MHz
Bus: PCIe 3.0
SLI Support: 2-way
Memory
Type: GDDR5X
Width: 352 Bit
Clock: 12006 MHz
Speed: 0.17 ns
Bandwidth: 528.3 GB/s
Key Features
9 additional temp sensors to monitor Memory and VRM
Asynchronous Fans
Built for EVGA Precision XOC
EVGA iCX Technology
GPU / Memory / PWM Thermal Status Indicator LEDs
HDMI 2.0b, DisplayPort 1.4 and Dual-Link DVI
Max Digital Resolution - 7680x4320
Microsoft DirectX 12 API
New vented heatsink fin design and pin fins for optimized airflow
NVIDIA® Ansel
NVIDIA G-SYNC
NVIDIA GameStream
NVIDIA GPU Boost 3.0
NVIDIA SLI w/ HB Bridge Support
OpenGL 4.6 Support
Redesigned cooling with L-shaped contact fins to improve contact surface area for better heat dissipation
Safety fuse to protect components from damage due to improper installation or other component failures
Simultaneous Multi-Projection
VR Ready
Vulkan API