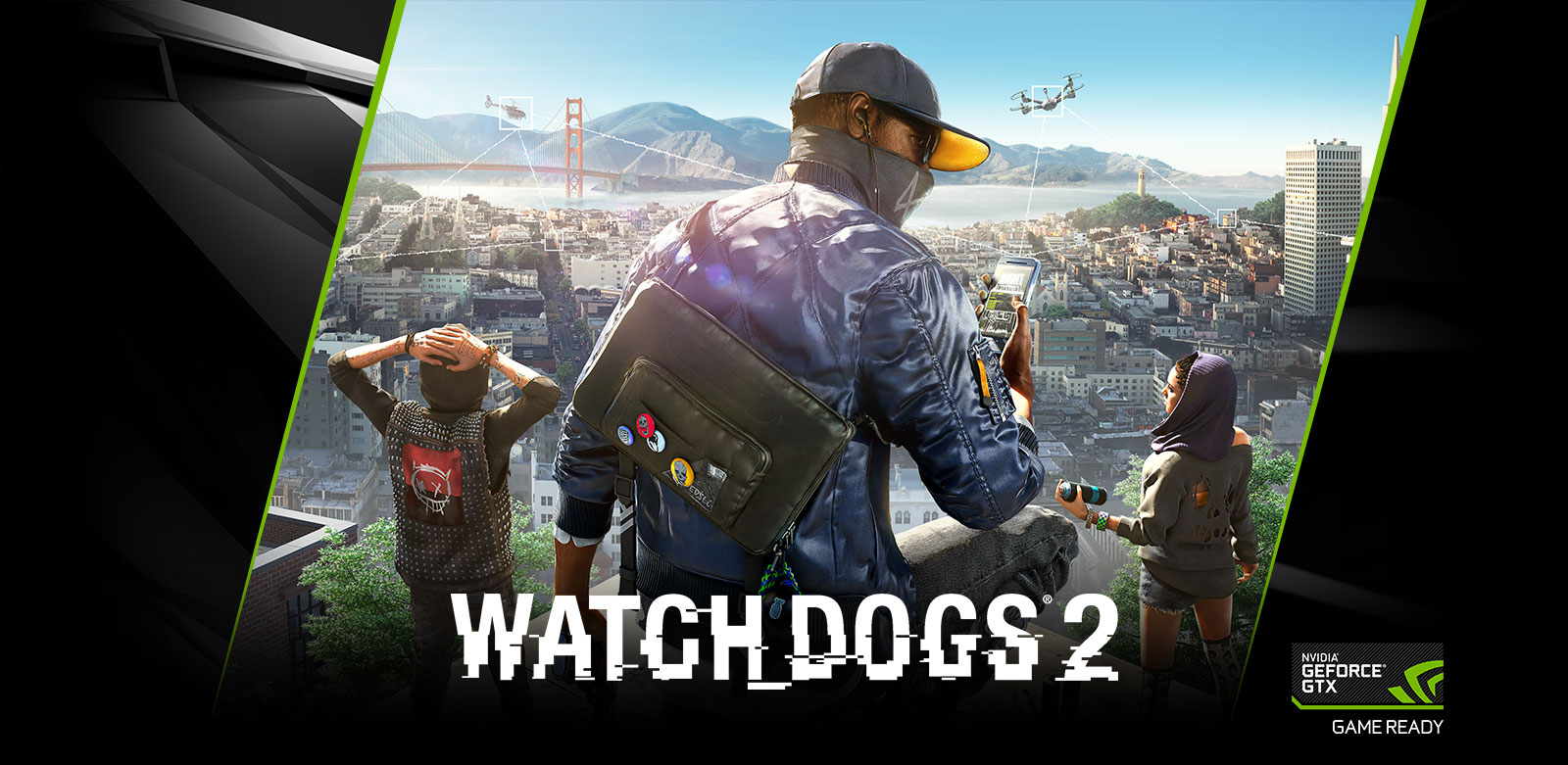 Hackers Wanted.
Buy EVGA GeForce® GTX 10-Series,
Get Watch Dogs 2 Free.*
Play as Marcus, a brilliant Hacker, and join Dedsec in San Francisco Bay Area and launch the hack of the century: take down the ctOS 2.0. For a limited time, Ubisoft's Watch Dogs 2 is free* when you get Game Ready with a GeForce GTX 1080 or 1070 graphics card or powered notebooks.
Experience the power of hacking with the advanced technology and unprecedented performance of EVGA GeForce GTX 10 Series.
EVGA GeForce® GTX 10 Series
Get Game Ready for Watch Dogs 2.
SC17 1070 LAPTOP
758-41-2633-T1
758-41-2633-T2
758-41-2633-T3
758-41-2633-T5
768-41-2633-T1
768-41-2633-T2
768-41-2633-T3
768-41-2633-T5
GEFORCE GTX 1080
GEFORCE GTX 1070
Collect Your Code
Instructions:
Purchase any graphics card from the qualifying list above on or after November 22nd, 2016

from EVGA.com

Register your EVGA Graphics Card with us at EVGA.com
Request your code from the form while logged into your EVGA.com account
Once approved your code will show on this promotion page under the "Collect Your Code" section
Go to http://redeem.geforce.com to claim your game code.
Follow the instructions to claim your redemption code
Offer available for a limited time or while supplies last
If the bundle is not showing after successfully registering your EVGA product to your EVGA account, then it is possible that you did not purchase your product from the EVGA online store.
Please contact your participating place of purchase if you did not receive a code upon receiving your product.
Products received through the EVGA Step-Up® program are not eligible for this promotion.
If you believe this is an error, please contact us for assistance by email or by phone at 1-888-881-3842 Option 1.
Please visit the below links to see a list of other resellers that are participating in this promotion. (Please note that the code should be supplied directly from the reseller upon purchase or shortly thereafter. Please contact the reseller if further support is needed.)
Frequently Asked Questions:
Q. Where do I get my promotion code, if I did not buy my graphics card from the EVGA.com online store?
A. Since this is an NVIDIA sponsored promotion, if you purchased your card from a participating retailer, then they would provide you with a promotion code.
Q: I got my promotion code, now what do I do?
A: You will have to redeem your promotion on the GeForce website here: http://redeem.geforce.com
Q: Are there an unlimited number of promotion codes available?
A: No, this offer is available for a limited time or while supplies last.