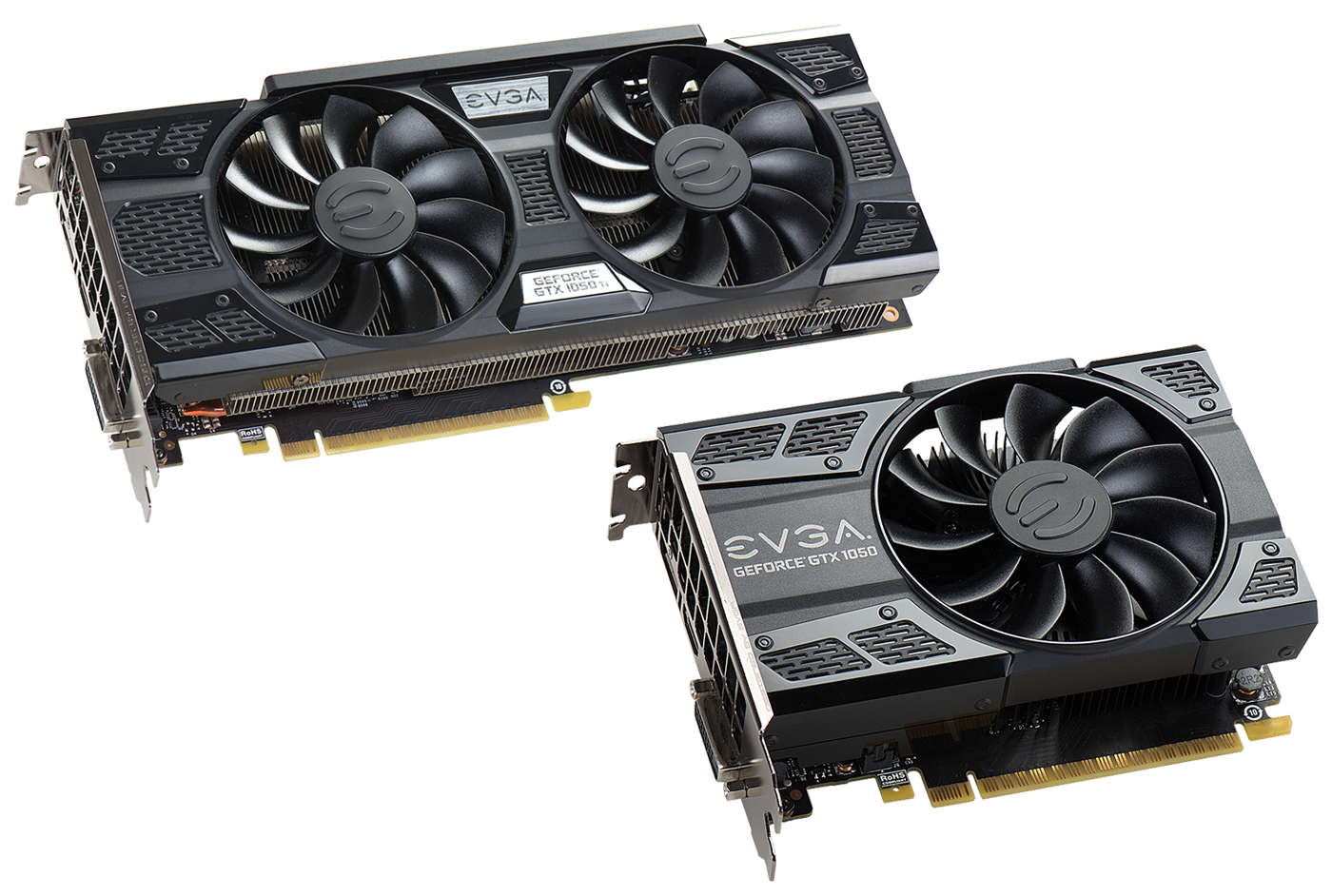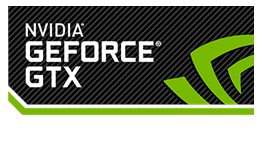 The EVGA GeForce GTX 1050 Ti & 1050 hit the perfect spot for that upgrade you know you need, but at the price you want! With the latest NVIDIA Pascal architecture, the 4GB GTX 1050 Ti displays stunning visuals and great performance at 1080p HD+, while the 2GB GTX 1050 will break through any obstacle at 1080p.
Installing a EVGA GeForce GTX 1050 Ti and GTX 1050 card gives you the power to take on today's next-gen titles in full 1080p HD – with room to spare. These cards give you a choice of memory sizes, cooling options, factory overclocks, and power options to fit every need and every system. Of course, no GTX card would be complete without essential gaming technologies, such as NVIDIA GameStream, G-Sync, and GeForce Experience.
If you've been waiting for that card that gives you the performance to take back the competitive edge, but without taking out your wallet, then the GTX 1050 Ti & 1050 are the cards for you!

Small Size
Big
Performance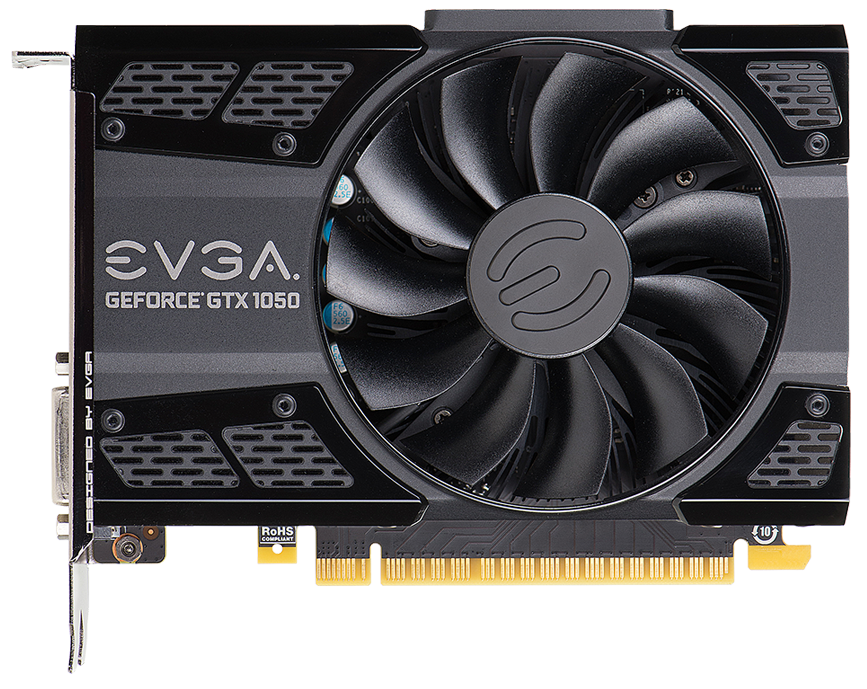 EVGA Precision XOC unlocks the power of Pascal
The next generation of EVGA PrecisionX has arrived with EVGA Precision XOC. This new version of Precision is built for the new NVIDIA Pascal architecture and combines the best of EVGA Precision and EVGA OC Scanner to give you never before seen overclocking features and built-in automatic overclock tuning.
Define Your Game With EVGA Precision XOC

EVGA ACX 3.0 fans use double ball bearings, which offer 4X longer lifespan than the sleeve bearing fans used by competitors. The oil that is used in sleeve bearing fans makes them vulnerable and prone to failure after time when the oil dries up. Upgrade to EVGA ACX 3.0 and your card will go the distance!

EVGA ACX means better overclocking
Did you know that power consumption of the fans can directly affect your maximum overclock? The maximum "power target" takes into account the fan power consumption, meaning the lower the power consumption from the fan, the more power available for the card. EVGA ACX coolers use more than 4X lower power than competitors allowing for better and more stable overclocks.




Above test conducted with both fans set to the same acoustic level.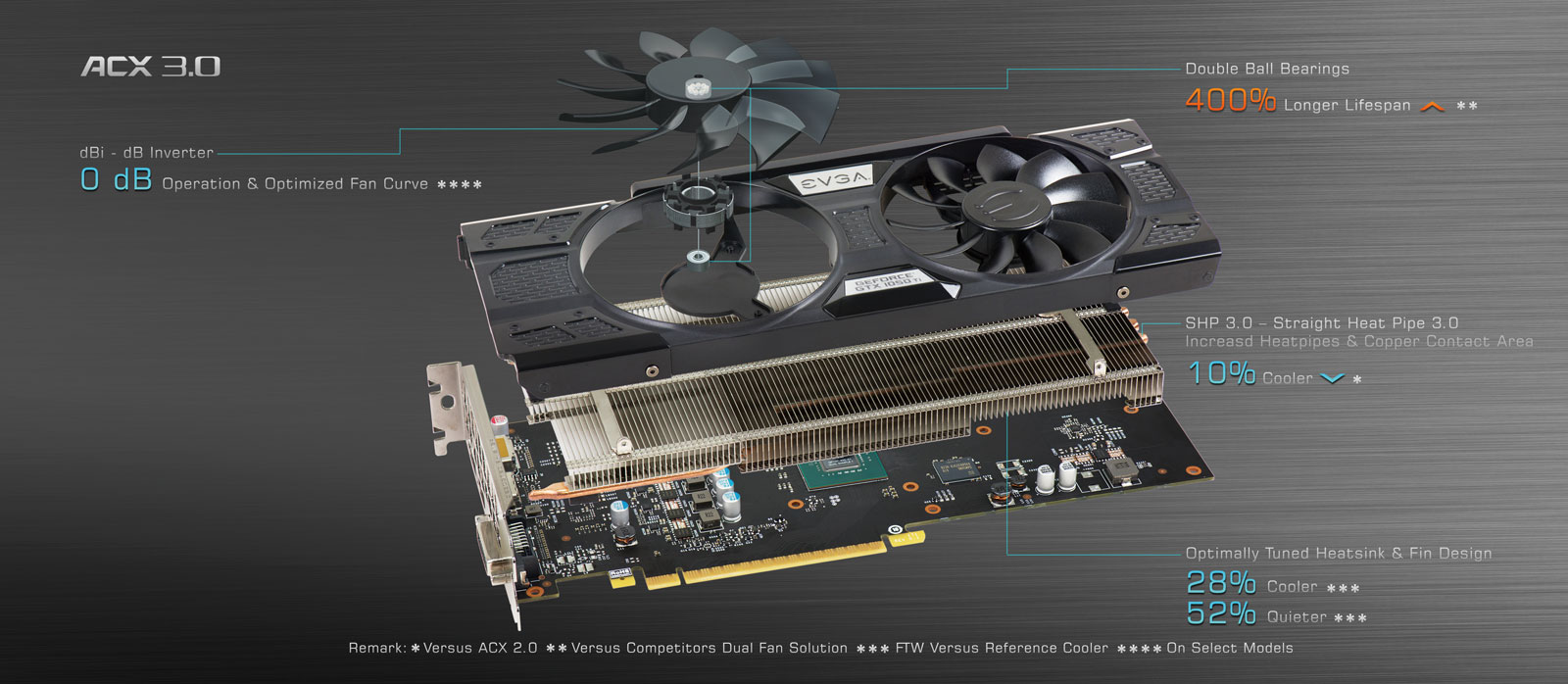 EVGA GeForce GTX 1050 Ti
04G-P4-6258
EVGA GeForce GTX 1050 Ti FTW
Core
CUDA Cores: 768
Base Clock: 1379 MHz
Boost Clock: 1493 MHz
Bus: PCIe 3.0
Memory
Memory Detail: 4096 MB GDDR5
Memory Bit Width: 128 Bit
Memory Clock: 7008 MHz
Memory Speed: 0.28 ns
Memory Bandwidth: 112.16 GB/s
Key Features
Built for EVGA Precision XOC
EVGA ACX 3.0 Cooling
HDMI 2.0b, DisplayPort 1.4 and Dual-Link DVI
Max Digital Resolution - 7680x4320
Microsoft DirectX 12 API
NVIDIA® Ansel
NVIDIA G-SYNC Ready
NVIDIA GameStream Technology
NVIDIA GPU Boost 3.0
OpenGL 4.6 Support
PCI Express 3.0
Simultaneous Multi-Projection
Vulkan API
04G-P4-6256
EVGA GeForce GTX 1050 Ti FTW DT
Core
CUDA Cores: 768
Base Clock: 1290 MHz
Boost Clock: 1392 MHz
Bus: PCIe 3.0
Memory
Memory Detail: 4096 MB GDDR5
Memory Bit Width: 128 Bit
Memory Clock: 7008 MHz
Memory Speed: 0.28 ns
Memory Bandwidth: 112.16 GB/s
Key Features
Built for EVGA Precision XOC
EVGA ACX 3.0 Cooling
HDMI 2.0b, DisplayPort 1.4 and Dual-Link DVI
Max Digital Resolution - 7680x4320
Microsoft DirectX 12 API
NVIDIA® Ansel
NVIDIA G-SYNC Ready
NVIDIA GameStream Technology
NVIDIA GPU Boost 3.0
OpenGL 4.6 Support
PCI Express 3.0
Simultaneous Multi-Projection
Vulkan API
04G-P4-6255
EVGA GeForce GTX 1050 Ti SSC
Core
CUDA Cores: 768
Base Clock: 1366 MHz
Boost Clock: 1480 MHz
Bus: PCIe 3.0
Memory
Memory Detail: 4096 MB GDDR5
Memory Bit Width: 128 Bit
Memory Clock: 7008 MHz
Memory Speed: 0.28 ns
Memory Bandwidth: 112.16 GB/s
Key Features
Built for EVGA Precision XOC
EVGA ACX 3.0 Cooling
HDMI 2.0b, DisplayPort 1.4 and Dual-Link DVI
Max Digital Resolution - 7680x4320
Microsoft DirectX 12 API
NVIDIA® Ansel
NVIDIA G-SYNC Ready
NVIDIA GameStream Technology
NVIDIA GPU Boost 3.0
OpenGL 4.6 Support
PCI Express 3.0
Simultaneous Multi-Projection
Vulkan API
04G-P4-6253
EVGA GeForce GTX 1050 Ti SC
Core
CUDA Cores: 768
Base Clock: 1354 MHz
Boost Clock: 1468 MHz
Bus: PCIe 3.0
Memory
Memory Detail: 4096 MB GDDR5
Memory Bit Width: 128 Bit
Memory Clock: 7008 MHz
Memory Speed: 0.28 ns
Memory Bandwidth: 112.16 GB/s
Key Features
Built for EVGA Precision XOC
HDMI 2.0b, DisplayPort 1.4 and Dual-Link DVI
Max Digital Resolution - 7680x4320
Microsoft DirectX 12 API
NVIDIA® Ansel
NVIDIA G-SYNC Ready
NVIDIA GameStream Technology
NVIDIA GPU Boost 3.0
OpenGL 4.6 Support
PCI Express 3.0
Simultaneous Multi-Projection
Vulkan API
04G-P4-6251
EVGA GeForce GTX 1050 Ti
Core
CUDA Cores: 768
Base Clock: 1290 MHz
Boost Clock: 1392 MHz
Bus: PCIe 3.0
Memory
Memory Detail: 4096 MB GDDR5
Memory Bit Width: 128 Bit
Memory Clock: 7008 MHz
Memory Speed: 0.28 ns
Memory Bandwidth: 112.16 GB/s
Key Features
Built for EVGA Precision XOC
HDMI 2.0b, DisplayPort 1.4 and Dual-Link DVI
Max Digital Resolution - 7680x4320
Microsoft DirectX 12 API
NVIDIA® Ansel
NVIDIA G-SYNC Ready
NVIDIA GameStream Technology
NVIDIA GPU Boost 3.0
OpenGL 4.6 Support
PCI Express 3.0
Simultaneous Multi-Projection
Vulkan API
EVGA GeForce GTX 1050
02G-P4-6157
EVGA GeForce GTX 1050 FTW
Core
CUDA Cores: 640
Base Clock: 1442 MHz
Boost Clock: 1556 MHz
Bus: PCIe 3.0
Memory
Memory Detail: 2048 MB GDDR5
Memory Bit Width: 128 Bit
Memory Clock: 7008 MHz
Memory Speed: 0.28 ns
Memory Bandwidth: 112.16 GB/s
Key Features
Built for EVGA Precision XOC
EVGA ACX 3.0 Cooling
HDMI 2.0b, DisplayPort 1.4 and Dual-Link DVI
Max Digital Resolution - 7680x4320
Microsoft DirectX 12 API
NVIDIA® Ansel
NVIDIA G-SYNC Ready
NVIDIA GameStream Technology
NVIDIA GPU Boost 3.0
OpenGL 4.6 Support
PCI Express 3.0
Simultaneous Multi-Projection
Vulkan API
02G-P4-6155
EVGA GeForce GTX 1050 FTW DT
Core
CUDA Cores: 640
Base Clock: 1354 MHz
Boost Clock: 1455 MHz
Bus: PCIe 3.0
Memory
Memory Detail: 2048 MB GDDR5
Memory Bit Width: 128 Bit
Memory Clock: 7008 MHz
Memory Speed: 0.28 ns
Memory Bandwidth: 112.16 GB/s
Key Features
Built for EVGA Precision XOC
EVGA ACX 3.0 Cooling
HDMI 2.0b, DisplayPort 1.4 and Dual-Link DVI
Max Digital Resolution - 7680x4320
Microsoft DirectX 12 API
NVIDIA® Ansel
NVIDIA G-SYNC Ready
NVIDIA GameStream Technology
NVIDIA GPU Boost 3.0
OpenGL 4.6 Support
PCI Express 3.0
Simultaneous Multi-Projection
Vulkan API
02G-P4-6154
EVGA GeForce GTX 1050 SSC
Core
CUDA Cores: 640
Base Clock: 1430 MHz
Boost Clock: 1544 MHz
Bus: PCIe 3.0
Memory
Memory Detail: 2048 MB GDDR5
Memory Bit Width: 128 Bit
Memory Clock: 7008 MHz
Memory Speed: 0.28 ns
Memory Bandwidth: 112.16 GB/s
Key Features
Built for EVGA Precision XOC
EVGA ACX 3.0 Cooling
HDMI 2.0b, DisplayPort 1.4 and Dual-Link DVI
Max Digital Resolution - 7680x4320
Microsoft DirectX 12 API
NVIDIA® Ansel
NVIDIA G-SYNC Ready
NVIDIA GameStream Technology
NVIDIA GPU Boost 3.0
OpenGL 4.6 Support
PCI Express 3.0
Simultaneous Multi-Projection
Vulkan API
02G-P4-6152
EVGA GeForce GTX 1050 SC
Core
CUDA Cores: 640
Base Clock: 1417 MHz
Boost Clock: 1531 MHz
Bus: PCIe 3.0
Memory
Memory Detail: 2048 MB GDDR5
Memory Bit Width: 128 Bit
Memory Clock: 7008 MHz
Memory Speed: 0.28 ns
Memory Bandwidth: 112.16 GB/s
Key Features
Built for EVGA Precision XOC
HDMI 2.0b, DisplayPort 1.4 and Dual-Link DVI
Max Digital Resolution - 7680x4320
Microsoft DirectX 12 API
NVIDIA® Ansel
NVIDIA G-SYNC Ready
NVIDIA GameStream Technology
NVIDIA GPU Boost 3.0
OpenGL 4.6 Support
PCI Express 3.0
Simultaneous Multi-Projection
Vulkan API
02G-P4-6150
EVGA GeForce GTX 1050
Core
CUDA Cores: 640
Base Clock: 1354 MHz
Boost Clock: 1455 MHz
Bus: PCIe 3.0
Memory
Memory Detail: 2048 MB GDDR5
Memory Bit Width: 128 Bit
Memory Clock: 7008 MHz
Memory Speed: 0.28 ns
Memory Bandwidth: 112.16 GB/s
Key Features
Built for EVGA Precision XOC
HDMI 2.0b, DisplayPort 1.4 and Dual-Link DVI
Max Digital Resolution - 7680x4320
Microsoft DirectX 12 API
NVIDIA® Ansel
NVIDIA G-SYNC Ready
NVIDIA GameStream Technology
NVIDIA GPU Boost 3.0
OpenGL 4.6 Support
PCI Express 3.0
Simultaneous Multi-Projection
Vulkan API