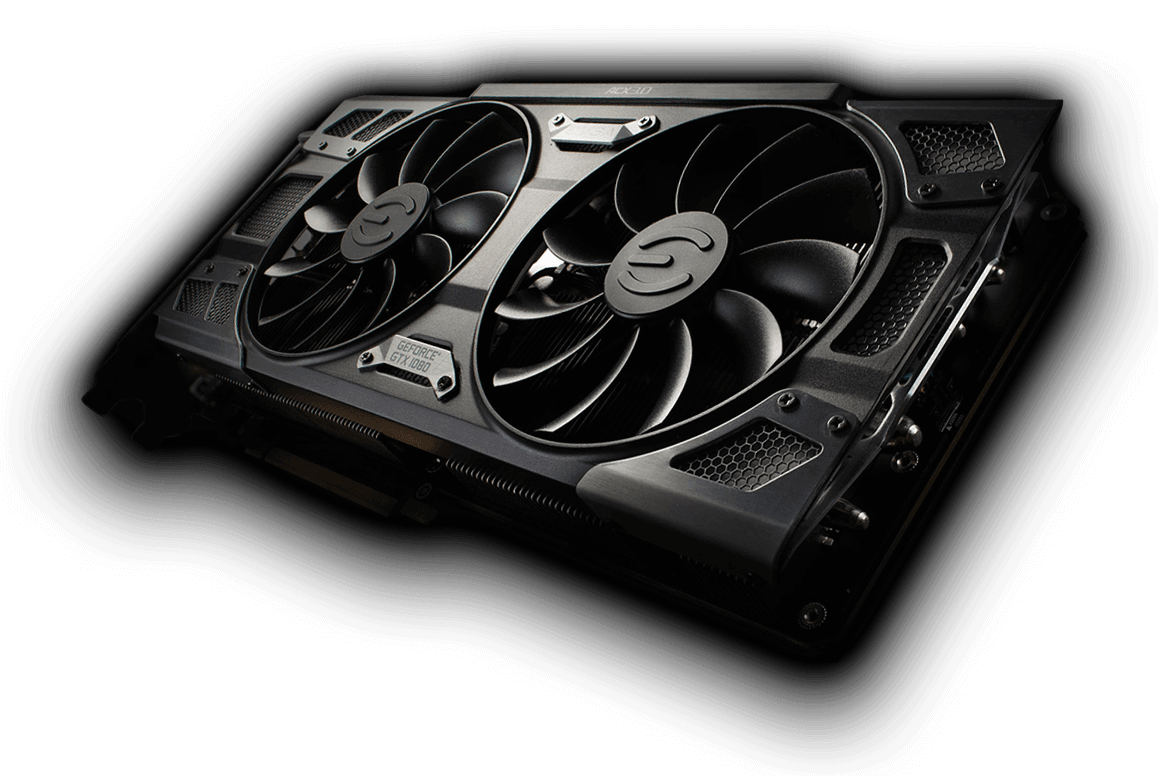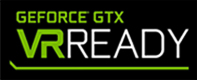 The EVGA GeForce GTX 1080 featuring EVGA ACX 3.0 cooling has arrived. This new graphics card features NVIDIA's new "Pascal" graphics processor which is the most advanced gaming GPU ever created. This breakthrough GPU delivers industry-leading performance, innovative new gaming technologies, and immersive, next-gen VR.
These cards also feature EVGA ACX 3.0 cooling technology. EVGA ACX 3.0 once again brings new and exciting features to the award winning EVGA ACX cooling technology. SHP 3.0 gives increased heatpipes and copper contact area for cooler operation, and optimized fan curve for even quieter gaming. Of course, ACX 3.0 coolers also feature optimized swept fan blades, double ball bearings and an extreme low power motor, delivering more air flow with less power, unlocking additional power for the GPU. Select EVGA ACX 3.0 models will even feature a 10CM fan and RGB LED, allowing complete control over the color from EVGA Precision XOC.

The next generation of EVGA PrecisionX has arrived with EVGA Precision XOC. This new version of Precision is built for the NVIDIA Pascal architecture and combines the best of EVGA Precision and EVGA OC Scanner to give you never before seen overclocking features and built in automatic overclock tuning.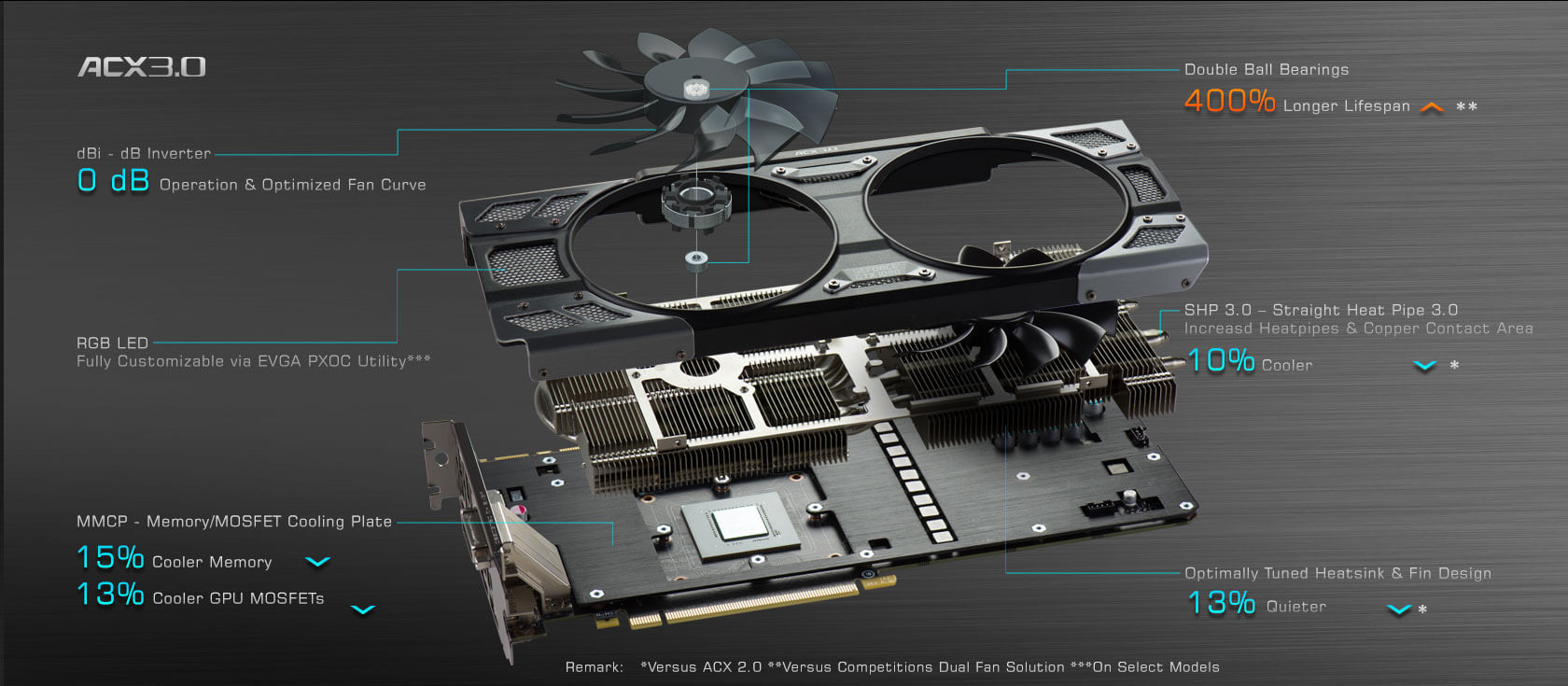 * Available on select models
An RGB LED that allows complete control of the color through EVGA Precision XOC.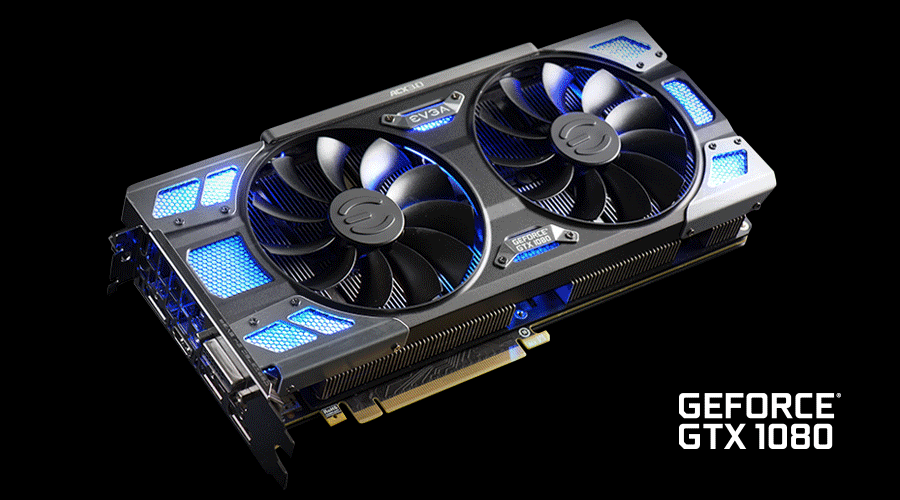 EVGA ACX 3.0 fans use double ball bearings, which offer 4X longer lifespan than the sleeve bearing fans used by competitors. The oil that is used in sleeve bearing fans makes them vulnerable and prone to failure after time when the oil dries up. Upgrade to EVGA ACX 3.0 and your card will go the distance!


Did you know that power consumption of the fans can directly affect your maximum overclock? The maximum "power target" takes into account the fan power consumption, meaning the lower the power consumption from the fan, the more power available for the card. EVGA ACX 3.0 coolers use more than 4X lower power than competitors allowing for better and more stable overclocks.







Above test conducted with both fans set to the same acoustic level.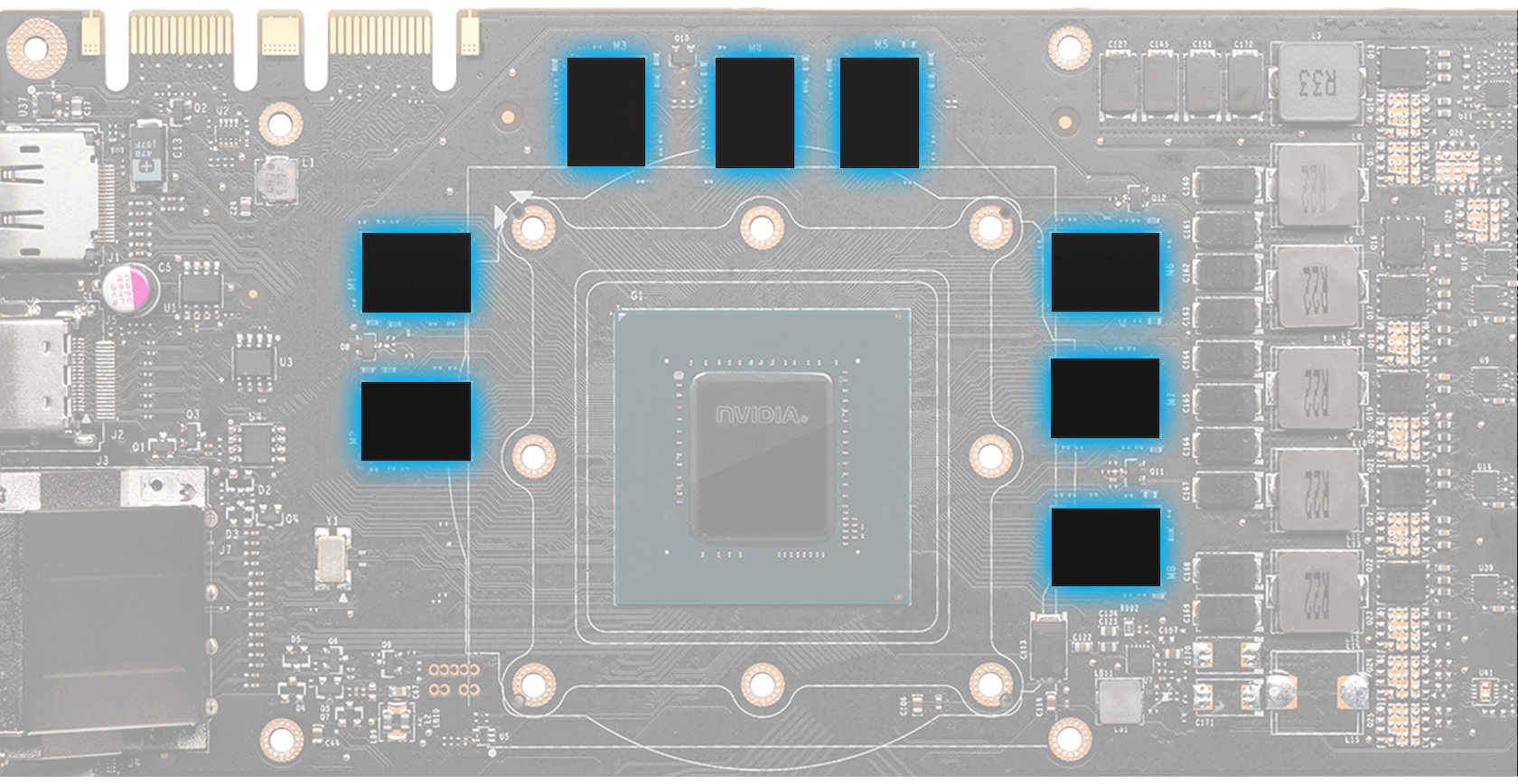 8GB of high performance memory running at extreme Clockspeeds giving you access to higher texture qualities in games and improved 4K gaming performance. Did we mention that this memory is running at an extreme 10,000MHz out of the box??!!

Looking for something even cooler? Achieve gaming bliss when paired up with an EVGA HYBRID or HYDRO water cooler.
NOW AVAILABLE
EVGA GeForce GTX 1080
08G-P4-6299
EVGA GeForce GTX 1080 HYDRO COPPER
Core
CUDA Cores: 2560
Base Clock: 1721 MHz
Boost Clock: 1860 MHz
Bus: PCIe 3.0
2-way SLI Ready
Memory
Memory Detail: 8192 MB GDDR5X
Memory Bit Width: 256 Bit
Memory Clock: 10000 MHz
Memory Speed: 0.2 ns
Memory Bandwidth: 320 GB/s
Key Features
10 Phase Power Design
Adjustable RGB LED
Built for EVGA Precision XOC
EVGA Double BIOS
HDMI 2.0b, DisplayPort 1.4 and Dual-Link DVI
Max Digital Resolution - 7680x4320
Microsoft DirectX 12 API
NVIDIA® Ansel
NVIDIA G-SYNC
NVIDIA GameStream
NVIDIA GPU Boost 3.0
NVIDIA SLI w/ HB Bridge Support
OpenGL 4.6 Support
PCI Express 3.0
Simultaneous Multi-Projection
VR Ready
Vulkan API
08G-P4-6288
EVGA GeForce GTX 1080 FTW HYBRID
Core
CUDA Cores: 2560
Base Clock: 1721 MHz
Boost Clock: 1860 MHz
Bus: PCIe 3.0
2-way SLI Ready
Memory
Memory Detail: 8192 MB GDDR5X
Memory Bit Width: 256 Bit
Memory Clock: 10000 MHz
Memory Speed: 0.2 ns
Memory Bandwidth: 320 GB/s
Key Features
10 Phase Power Design
Adjustable RGB LED
Built for EVGA Precision XOC
EVGA Double BIOS
HDMI 2.0b, DisplayPort 1.4 and Dual-Link DVI
Hybrid "All-in-One" Watercooler
Max Digital Resolution - 7680x4320
Microsoft DirectX 12 API
NVIDIA® Ansel
NVIDIA G-SYNC
NVIDIA GameStream
NVIDIA GPU Boost 3.0
NVIDIA SLI w/ HB Bridge Support
OpenGL 4.6 Support
PCI Express 3.0
Simultaneous Multi-Projection
VR Ready
Vulkan API
08G-P4-6188
EVGA GeForce GTX 1080 HYBRID
Core
CUDA Cores: 2560
Base Clock: 1708 MHz
Boost Clock: 1847 MHz
Bus: PCIe 3.0
2-way SLI Ready
Memory
Memory Detail: 8192 MB GDDR5X
Memory Bit Width: 256 Bit
Memory Clock: 10010 MHz
Memory Speed: 0.2 ns
Memory Bandwidth: 320 GB/s
Key Features
Built for EVGA Precision XOC
HDMI 2.0b, DisplayPort 1.4 and Dual-Link DVI
Hybrid "All-in-One" Watercooler
Max Digital Resolution - 7680x4320
Microsoft DirectX 12 API
NVIDIA® Ansel
NVIDIA G-SYNC
NVIDIA GameStream
NVIDIA GPU Boost 3.0
NVIDIA SLI w/ HB Bridge Support
OpenGL 4.6 Support
PCI Express 3.0
Simultaneous Multi-Projection
VR Ready
Vulkan API
08G-P4-6386
EVGA GeForce GTX 1080 CLASSIFIED GAMING ACX 3.0
Core
CUDA Cores: 2560
Base Clock: 1721 MHz
Boost Clock: 1860 MHz
Bus: PCIe 3.0
2-way SLI Ready
Memory
Memory Detail: 8192 MB GDDR5X
Memory Bit Width: 256 Bit
Memory Clock: 10000 MHz
Memory Speed: 0.2 ns
Memory Bandwidth: 320 GB/s
Key Features
14 Phase Power Design
Adjustable RGB LED
Built for EVGA Precision XOC
EVGA ACX 3.0 Cooling
EVGA Double BIOS
HDMI 2.0b, DisplayPort 1.4 and Dual-Link DVI
Max Digital Resolution - 7680x4320
Microsoft DirectX 12 API
NVIDIA® Ansel
NVIDIA G-SYNC
NVIDIA GameStream
NVIDIA GPU Boost 3.0
NVIDIA SLI w/ HB Bridge Support
OpenGL 4.6 Support
PCI Express 3.0
Simultaneous Multi-Projection
VR Ready
Vulkan API
08G-P4-6286
EVGA GeForce GTX 1080 FTW GAMING ACX 3.0
Core
CUDA Cores: 2560
Base Clock: 1721 MHz
Boost Clock: 1860 MHz
Bus: PCIe 3.0
2-way SLI Ready
Memory
Memory Detail: 8192 MB GDDR5X
Memory Bit Width: 256 Bit
Memory Clock: 10000 MHz
Memory Speed: 0.18 ns
Memory Bandwidth: 320 GB/s
Key Features
10 Phase Power Design
Adjustable RGB LED
Built for EVGA Precision XOC
EVGA ACX 3.0 Cooling
EVGA Double BIOS
HDMI 2.0b, DisplayPort 1.4 and Dual-Link DVI
Max Digital Resolution - 7680x4320
Microsoft DirectX 12 API
NVIDIA® Ansel
NVIDIA G-SYNC
NVIDIA GameStream
NVIDIA GPU Boost 3.0
NVIDIA SLI w/ HB Bridge Support
OpenGL 4.6 Support
PCI Express 3.0
Simultaneous Multi-Projection
VR Ready
Vulkan API
08G-P4-6183
EVGA GeForce GTX 1080 SC GAMING ACX 3.0
Core
CUDA Cores: 2560
Base Clock: 1708 MHz
Boost Clock: 1847 MHz
Bus: PCIe 3.0
2-way SLI Ready
Memory
Memory Detail: 8192 MB GDDR5X
Memory Bit Width: 256 Bit
Memory Clock: 10010 MHz
Memory Speed: 0.2 ns
Memory Bandwidth: 320 GB/s
Key Features
Built for EVGA Precision XOC
EVGA ACX 3.0 Cooling
HDMI 2.0b, DisplayPort 1.4 and Dual-Link DVI
Max Digital Resolution - 7680x4320
Microsoft DirectX 12 API
NVIDIA® Ansel
NVIDIA G-SYNC
NVIDIA GameStream
NVIDIA GPU Boost 3.0
NVIDIA SLI w/ HB Bridge Support
OpenGL 4.6 Support
PCI Express 3.0
Simultaneous Multi-Projection
VR Ready
Vulkan API
08G-P4-6181
EVGA GeForce GTX 1080 ACX 3.0
Core
CUDA Cores: 2560
Base Clock: 1607 MHz
Boost Clock: 1733 MHz
Bus: PCIe 3.0
2-way SLI Ready
Memory
Memory Detail: 8192 MB GDDR5X
Memory Bit Width: 256 Bit
Memory Clock: 10010 MHz
Memory Speed: 0.2 ns
Memory Bandwidth: 320 GB/s
Key Features
Built for EVGA Precision XOC
HDMI 2.0b, DisplayPort 1.4 and Dual-Link DVI
Max Digital Resolution - 7680x4320
Microsoft DirectX 12 API
NVIDIA® Ansel
NVIDIA G-SYNC
NVIDIA GameStream
NVIDIA GPU Boost 3.0
NVIDIA SLI w/ HB Bridge Support
OpenGL 4.6 Support
PCI Express 3.0
Simultaneous Multi-Projection
VR Ready
Vulkan API
08G-P4-6180
EVGA GeForce GTX 1080 FOUNDERS EDITION
Core
CUDA Cores: 2560
Base Clock: 1607 MHz
Boost Clock: 1733 MHz
Bus: PCIe 3.0
2-way SLI Ready
Memory
Memory Detail: 8192 MB GDDR5X
Memory Bit Width: 256 Bit
Memory Clock: 10010 MHz
Memory Speed: 0.2 ns
Memory Bandwidth: 320 GB/s
Key Features
Built for EVGA Precision XOC
HDMI 2.0b, DisplayPort 1.4 and Dual-Link DVI
Max Digital Resolution - 7680x4320
Microsoft DirectX 12 API
NVIDIA® Ansel
NVIDIA G-SYNC
NVIDIA GameStream
NVIDIA GPU Boost 3.0
NVIDIA SLI w/ HB Bridge Support
OpenGL 4.6 Support
PCI Express 3.0
Simultaneous Multi-Projection
VR Ready
Vulkan API
EVGA GeForce GTX 1080 Comparison Chart
EVGA GRAPHICS CARD
PART NO.
BASE / BOOST
CLOCK
LED
BIOS
COOLER
POWER
TYPE
PERFORMANCE
BACKPLATE
EVGA GeForce GTX 1080 Hydro Copper
08G-P4-6299-KR
1721/1860
RGB
2
Waterblock
10 + 2
Best
Yes
EVGA GeForce GTX 1080 FTW Hybrid
08G-P4-6288-KR
1721/1860
RGB
2
Hybrid
10 + 2
Great
Yes
EVGA GeForce GTX 1080 Hybrid
08G-P4-6188-KR
1708/1847
YES (WHITE)
2
Hybrid
5 + 1
Great
Yes
EVGA GeForce GTX 1080 Classified ACX 3.0
08G-P4-6386-KR
1721/1860
RGB
2
ACX 3.0
14 + 3
Great
Yes
EVGA GeForce GTX 1080 FTW ACX 3.0
08G-P4-6286-KR
1721/1860
RGB
2
ACX 3.0
10 + 2
Great
Yes
EVGA GeForce GTX 1080 SC ACX 3.0
08G-P4-6183-KR
1708/1847
YES (WHITE)
1
ACX 3.0
5 + 1
Better
Yes
EVGA GeForce GTX 1080 ACX 3.0
08G-P4-6181-KR
1607/1733
YES (WHITE)
1
ACX 3.0
5 + 1
Good
Yes
EVGA GeForce GTX 1080 Founders Ed.
08G-P4-6180-KR
1607/1733
YES (GREEN)
1
Single Fan
5 + 1
Good
Yes