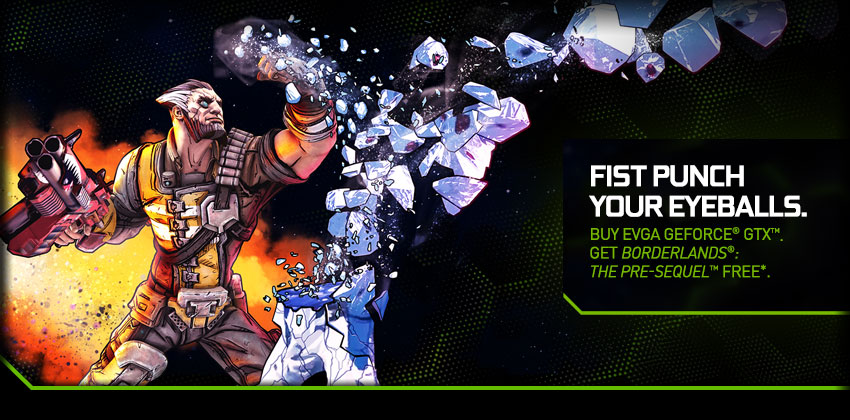 GET BORDERLANDS®: THE PRE-SEQUEL™ FREE WITH QUALIFYING GEFORCE GTX GRAPHICS CARDS*.
Experience the fist-punching visuals of Borderlands®: The Pre-Sequel™ with the space-age power and performance of GeForce GTX! NVIDIA technologies like PhysX®, Surround™, and G-SYNC™ let you shoot 'n' loot your way through Pandora's moon with incredibly realistic and immersive effects. Get Borderlands®: The Pre-Sequel™ FREE when you upgrade to a GeForce GTX 770, 780, 780 Ti, or TITAN Black.
For the first time ever, play as Claptrap anywhere by streaming Borderlands®: The Pre-Sequel™ to your NVIDIA SHIELD™ portable or SHIELD tablet using NVIDIA GameStream™ technology. You can even livestream and record every fist punch with GeForce ShadowPlay™.
Borderlands®: The Pre-Sequel™ on GeForce GTX. The Way It's Meant to be Played.
*Valid only while supplies last for the product models listed below and the product must be purchased from EVGA.com on or after August 12th, 2014.

Collect Your Code
Please Note: YOU MUST BE LOGGED IN WITH YOUR PRODUCT REGISTERED TO ENTER THIS PROMOTION.

MEMBER LOGIN
---
Instructions:
Purchase any graphics card from the qualifying list above on or after August 12th, 2014

from EVGA.com

Register your EVGA Graphics Card with us at EVGA.com
Upload your invoice to the EVGA card that qualifies for this promotion
Request your code from the form while logged into your EVGA.com account
Your purchase invoice will be reviewed once your request is received (Please allow 1-3 business days for processing)
Once approved your code will show on this promotion page under the "Collect your Code" section
Go to http://www.geforce.com/games-applications/pc-games/borderlands-the-presequel/bundle/redeem-code
Follow the instructions to claim your redemption code
Offer available for a limited time or while supplies last
If the bundle is not showing after successfully registering your EVGA product to your EVGA account, then it is possible that you did not purchase your product from the EVGA online store.
Please contact your participating place of purchase if you did not receive a code upon receiving your product.
Products received through the EVGA Step-Up® program are not eligible for this promotion.
If you believe this is an error, please contact us for assistance by email or by phone at 1-888-881-3842 Option 1.
Valid only for purchases on or after August 12th, 2014
Please visit the below link to see a list of other resellers that are participating in this promotion. (Please note that the code should be supplied directly from the reseller upon purchase or shortly thereafter. Please contact the reseller if further support is needed.)
http://www.geforce.com/games-applications/pc-games/borderlands-the-presequel/bundle