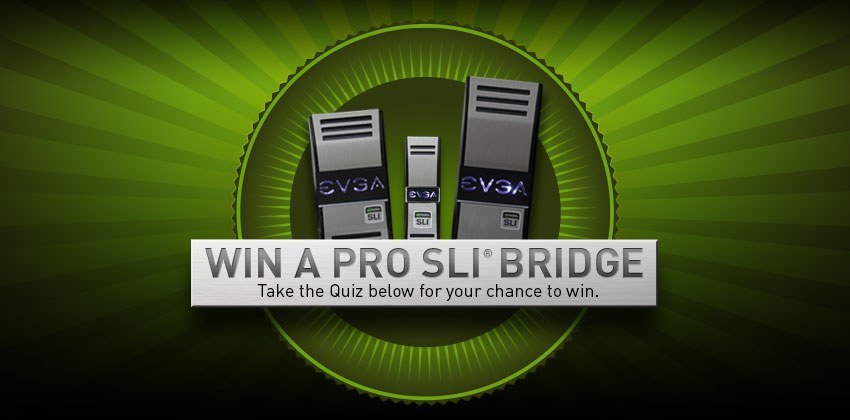 EVGA Pro SLI Bridge Giveaway
EVGA's Pro SLI Bridges are now available! Like the look of these? Want to win one for FREE?
Fill out the form below and we will select 5 random 2-way, 3-way and 4-way bridge winners! Learn more about the EVGA Pro SLI Bridges here: https://www.evga.com/articles/00766/
Winners will be announced by 9/6/13. All winners must email webmaster@evga.com by 9/20/13 to claim their prize.
Winners
1x EVGA Pro SLI Bridge (2-Way) -

Zenguy

1x EVGA Pro SLI Bridge (2-Way) -

robertbarbier

1x EVGA Pro SLI Bridge (2-Way) -

daasarnan

1x EVGA Pro SLI Bridge (2-Way) -

cmeyersi

1x EVGA Pro SLI Bridge (2-Way) -

jaciusceed

1x EVGA Pro SLI Bridge (3-Way/2-Way) -

nemartin1

1x EVGA Pro SLI Bridge (3-Way/2-Way) -

Trunks409

1x EVGA Pro SLI Bridge (3-Way/2-Way) -

6cyltuner

1x EVGA Pro SLI Bridge (3-Way/2-Way) -

jtw473

1x EVGA Pro SLI Bridge (3-Way/2-Way) -

born2cook2

1x EVGA Pro SLI Bridge (4-Way) -

coldtooth

1x EVGA Pro SLI Bridge (4-Way) -

sauce_box

1x EVGA Pro SLI Bridge (4-Way) -

bigdaddysimpkins

1x EVGA Pro SLI Bridge (4-Way) -

ExodiusTSD

1x EVGA Pro SLI Bridge (4-Way) -

ricardoc
THE GIVEAWAY IS CLOSED