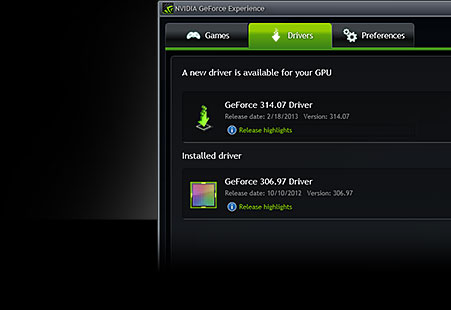 Keep Drivers Up To Date
The GeForce Experience application automatically notifies you of new driver releases from NVIDIA. With a single click, you'll be able to update the driver directly, without leaving your desktop.
Auto-Optimize Your Games
Want to know the best settings to play your games? GeForce Experience will figure it out for you. GeForce Experience connects you to NVIDIA's cloud datacenter to download optimal game settings tailored to your PC based on your CPU, GPU, and monitor. Optimal settings maximize image quality while maintaining great performance, so you get the best experience. A built-in interactive screenshot viewer helps you learn more about each setting and its benefits.


© 2013 NVIDIA Corporation. All Rights Reserved. NVIDIA, NVIDIA logo, GeForce GTX logo, GeForce, Kepler, SLI, TXAA, PhysX, and CUDA are registered trademarks and/or trademarks of NVIDIA Corporation in the United States and other countries. Other company and product names may be trademarks of the respective companies with which they are associated.

Article viewed: 503922 times since 3/27/2013