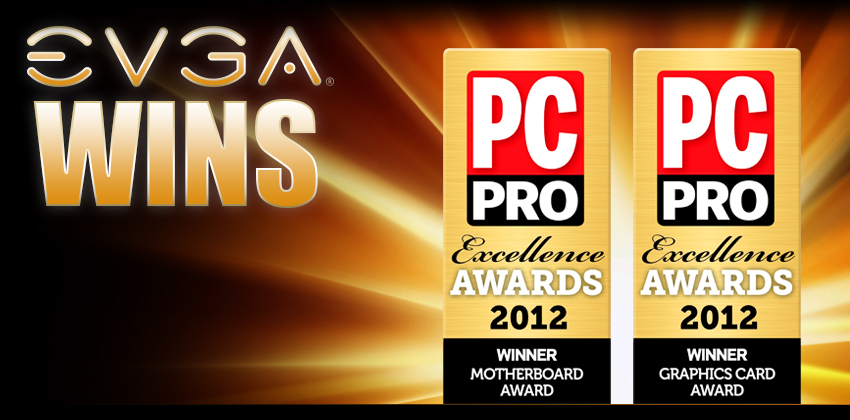 "EVGA won plenty of praise from readers for the duration of its warranties and the quality of its after-sales support."

"EVGA takes all the glory this year with its industry-leading scores for reliability (94%) and value for money (95%)."
EVGA Voted #1 for Graphics Cards and Motherboards in the PC Pro Excellence Awards 2012
EVGA has been crowned "the king of the components" at the PC Pro Excellence Awards 2012, sweeping up all the top accolades in the 'Graphics Cards' and 'Motherboards' categories for yet another successive year. Thank you to everyone that voted!
Read the full article, here: http://www.pcpro.co.uk/features/376954/pc-pro-excellence-awards-2012-the-full-results or in PC Pro, November 2012 (Issue 217).
How the awards are decided
"The PC Pro Excellence Awards are the culmination of months of feedback from our magazine and website readers. With 20 categories and at least five questions in each one, we compile a detailed picture of the UK's tech buying habits."

"We ask our readers to rate each product or service on a number of factors, such as performance, reliability or value for money. We convert these answers to numeric values to obtain percentage scores for each category, and derive an overall score. Only companies with a significant number of votes are included."

PC Pro Excellence Awards 2012

Article viewed: 63765 times since 9/14/2012