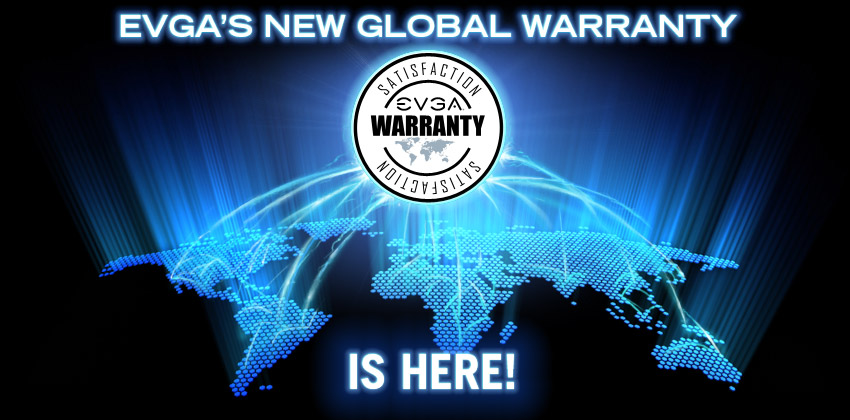 Introducing the New and Improved EVGA Global Warranty
This process is valid only for products shipped from EVGA on or after July 1st, 2011.
EVGA has introduced a Global Warranty to ensure that no matter which region you live in you have the support that you look for when purchasing an EVGA product. The warranty will no longer belong to the purchaser but instead to the product as we believe in the workmanship and quality of our products and we are here to stand behind them. Please read more below to see exactly what this means.
Check out the newly updated official EVGA Warranty terms!
Key Features:
Product warranty covers the product, not the user.
Step-Up and Extended Warranties will be available for all original owners registered with the new global RMA system within 30 days of the purchase.
If you move, you can send your product back to your local warranty center no matter what region you purchased it in.
A new Standard Cross-Shipping RMA service is available.
What does transferable warranty mean for me?
The warranty follows the product and not the person.
The warranty is available for a time period of no more than 3* years from the EVGA shipping date.
Long term warranties, purchased extended warranties and EAR plans do not transfer.
Registration of the product under another user's account is possible.
*This excludes –RX, –BR and -TR products.
Multiple registrations? This is madness!
A product can now be registered by the person in possession of the product.
EVGA Support Tickets can now be submitted by the current owner.
EVGA Software can now be downloaded by the current owner.
RMAs can now be submitted by any owner for a period up to 3 years from the EVGA shipping date.
What is the length of the warranty for a recertified "-RX" product?
A 1 year warranty is available on all recertified product from the date that the product shipped from EVGA or from the date of purchase if a receipt is available from a authorized EVGA reseller.
Recertified products sent in for warranty will be repaired and if necessary replaced.
Choose the Cross Shipment Method that best fits your needs.
Free Cross-Shipment Process

Collateral for the full retail purchase price of the product is required.
Return Shipping is paid by the customer.
Outbound shipping is available free via UPS Ground shipping, you can pay for upgraded shipping at the time of the RMA request.
A refund for the collateral will be processed within 7-10 business days once the product is received and checked into our warehouse.

EVGA Advanced RMA (EAR)

A plan can be purchased based on your shipping needs within the first 30 days of purchase.
A prepaid ground shipping label is included with all shipments to ensure that all of the shipping is covered.
Expedited shipping options are available including 2nd day, overnight, and Saturday Delivery options.
Credit card information is needed for this process, but we do not charge any collateral for the replacement.*
The plan is available for one use and can be purchased again on a replacement product within 10 days of receiving it.
* A small test charge is placed on the credit card, but this is simply a hold and will not be charged unless the product is not returned in the original factory condition.
Explanation of warranty periods
Limited Lifetime, Limited 10 Year and Limited 5 Year Warranties

The product must be registered within 30 days of the purchase date as shown on the receipt.
It is required that a receipt is provided from an EVGA authorized reseller for verification prior to warranty approval.
This warranty is available for customers located in North America and Canada.
This warranty is non-transferable, but if you do decide to sell this product then you will give that purchaser a 3 year warranty from the date of shipment from EVGA.
This Warranty does include the option for a Step-Up within 90 days of the original purchase date by the original owner.

Limited 3 Year Warranty

This warranty has no registration requirements.
This warranty is valid for 3 years from the shipment date from EVGA unless a receipt is available from an authorized reseller.
This warranty is transferable as the warranty belongs to the product.
This warranty has the option of an additional 2 years or 7 years extension within 30 days of purchase date by the original owner from an authorized reseller with proof of purchase. This extended warranty opens the options for a Step-Up within 90 days of the purchase date as shown on the receipt provided by the EVGA Authorized Reseller.