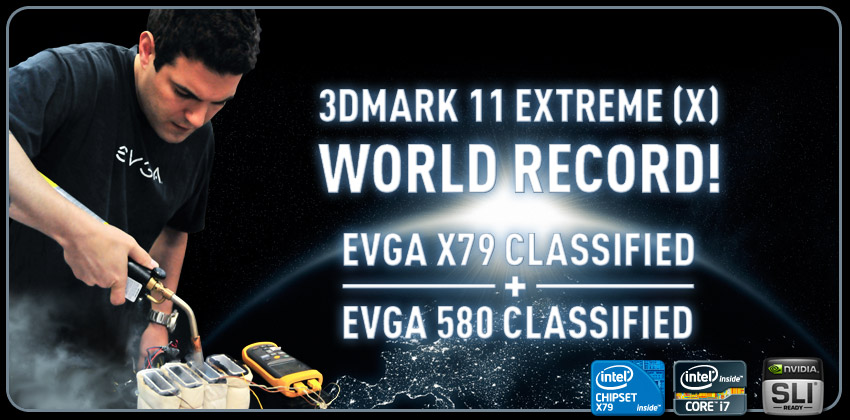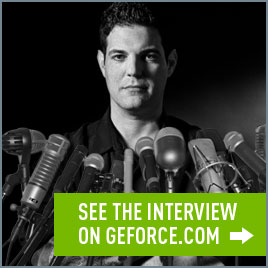 EVGA X79 Classified & EVGA GTX 580 Classified
Take the 3DMark 11 Extreme (X) World Record!
3DMark 11 is the latest version of the world's most popular PC benchmark. This new benchmarks has a few preset settings within the tool to let you customize the benchmark to match the horsepower of the machine; the 3DMark 11 Extreme (X) setting is a true test for enthusiast hardware with a 1080P resolution, 4x MSAA, 16x Anisotropic Filtering and visuals that are cranked up.
While just doing some warmup runs on the brand new EVGA X79 Classified motherboard and 4x EVGA GTX 580 Classified graphic cards, Vince "k|ngp|n" Lucido scored a brand new 3DMark 11 Extreme (X) World Record. He was able to snag a score of over X12,500 points with the cards running at 1.3GHz Core clock and over 2400MHz Memory Clock.
EVGA hardware continues to break new world records in the area of high performance computing; a true testament to the dedication that EVGA has to enthusiast PC hardware.
System Specs:
Intel i7 3960X @ 5238MHz
KPC F1 GEMINI 2.0
EVGA X79 CLASSIFIED
4 x Corsair DOMINATOR GTX7
4 x EVGA Classified GTX 580 Ultra 3GB
4 x KPC TEK9 SLIM 7.0
5 x EVGA SR-2 1200W PSUs
2 x EVGA EVBOT