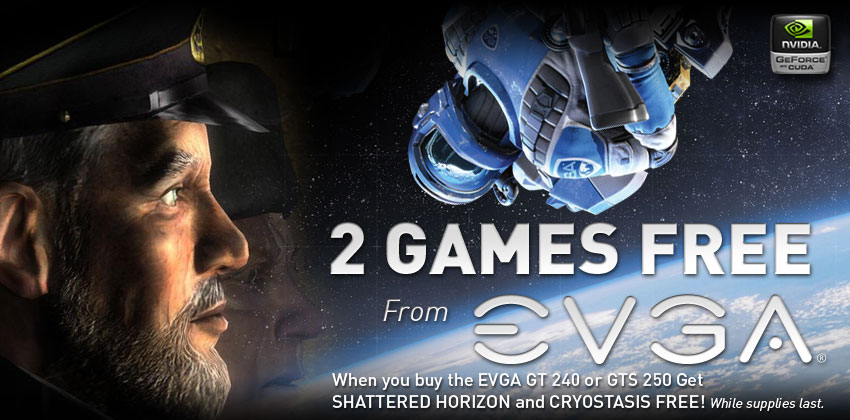 2 Games Free with GT 240 or GTS 250!
EVGA gives you the chance to experience Shattered Horizon and Cryostasis "The Way It's Meant to Be Played" with any eligible card purchased on or after April 21st*!
Shattered Horizon is a multiplayer shooter played in zero gravity. Join your friends in intense 32 player battles to control hollowed-out asteroids, huge fragments of Moon rock and the ruined remains of the International Space Station. Familiar and intuitive FPS controls let you take full advantage of these distinctive environments. Zero gravity offers you freedom of movement that cannot be found in any other game. Attacks can come from any direction so keep your eyes peeled for the telltale signs of enemy movement. Download instructions
Cryostasis appears to be something more than just a thrilling game. It is a kind of interactive crossbreed of a detective story and a horror novel. But unlike the regular book, the reader (in our case the player) here is able to contribute to the story and even affect its outcome. Due to the character's ability to penetrate the memory and take control over the bodies of the participants of dramatic events. Download instructions
See the latest in Firepower for Shattered Horizon
This promotion has run out of supplies.


© 2010 NVIDIA Corporation. NVIDIA, the NVIDIA logo, GeForce, and The way it's meant to be played are trademarks and/or registered trademarks of NVIDIA Corporation. © 2009 1C Company. Developed by Action Forms ltd. All other trademarks are the property of their respective owners. Published and distributed by 505 Games under license from 1C Company. Published and distributed in North America by Aspyr Media. © 2009 Futuremark® Corporation. Shattered Horizon™ and Futuremark® Games Studio trademarks and logos, Futuremark character names and distinctive likenesses, are the exclusive property of Futuremark Corporation.
* Select cards only, purchased on or after 4/21/10, US and Canada only, while supplies last.
Article viewed: 57972 times since 4/22/2010 12:01:00 AM