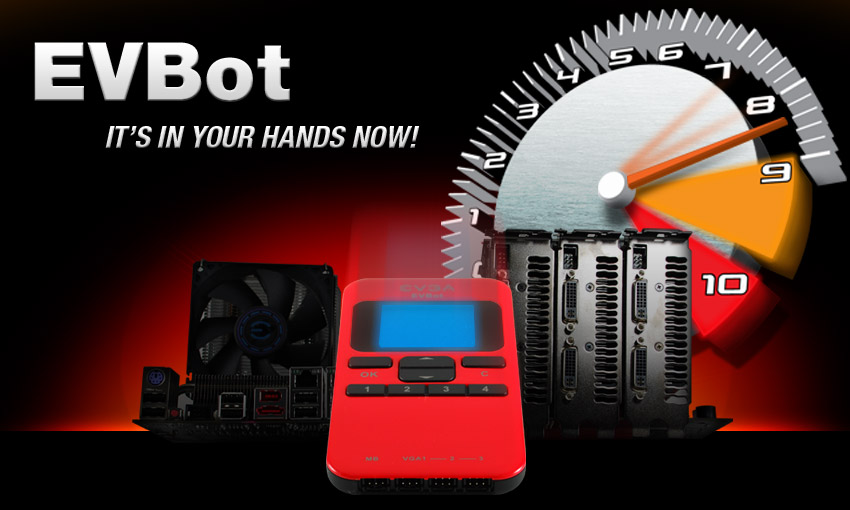 Your Friendly Neighborhood Overclocking Hero
The EVGA EVBot is a useful tool for tweakers and overclockers to maximize their system and have fun tweaking their EVGA products. With the ability to adjust on the fly voltages, clock frequencies and much more, the EVGA EVBot unleashes the full potential of your select EVGA motherboards or graphics cards! Optimistic Booster allows EVBot to take over and increase CPU frequency for a short amount of time. (ex. up 4MHz every 4 seconds, down 3MHz every 3 seconds) This allows you to obtain the highest performance possible for a benchmark run.
Simple and straight forward to use, and best of all, no drivers needed! Just plug and play.
Features:
On the fly voltage adjustment
On the fly clock frequency adjustment
No software required, no CPU overhead for tuning and overclocking
Opt Booster max's out your CPU for extreme benchmarks
Supports select EVGA motherboards and graphics cards
Connect up to 4 individual EVGA products
Supported EVGA Products:
Download the latest EVBot Firmware:

Important note: If you do not have a supported EVGA motherboard, and wish to flash your EVBot for graphics card use only, please visit this forum thread.
Motherboard Adjustments:
Voltages:

CPU VCore
CPU VTT
CPU PLL VCore
IOH PLL VCore
QPI PLL VCore
DIMM Voltage
IOH VCore
IOH/ICH I/O
ICH VCore

Clocks:

CPU Host Frequency
PCIE Frequency
CPU Clock Skew
CPU Amplitude

Hardware Monitor:

CPU Temp
VREG Temp
CPU VCore
CPU Frequency

Opt Booster - 10 Levels
EVGA EVBot
Part Number
100-EV-EB01-BR
Max Supported Units
1 motherboard + 3 VGA
Supported Products
List here
Dimensions
2.36in x 4.65in x 0.5in
Product Warranty
1 Year upon registration