Let the siege begin!
The weekend before Christmas (Saturday, December 19th and Sunday, December 20th, 12PM - 10PM Pacific) EVGA Gaming will be hosting the first free public event for the web based First Person Shooter game: Battlefield Heroes.
This is a FREE to play event for ANYONE interested in having a good time and taking this game to the next level. We will be providing an unlimited ventrilo for all participants to communicate for the first time over VOIP, giving you an opportunity to work together and chat with fellow teammates.
This is a participation event and random drawing, anyone can play and anyone can win! All you have to do is show up on either Saturday December 19th or Sunday December 20th and play a friendly match with the community in order to entered in a random drawing for some great prizes. Signup is easy and free for anyone interested. Battlefield Heroes is a great game that is also free and available for anyone to play at www.battlefieldheroes.com.
Come join us weekly for our Jeep and Plane battles!

Prizes: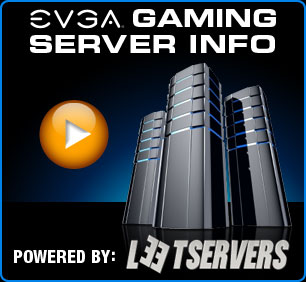 EVGA P55 FTW Motherboard - $299 -

Serpion

EVGA P55 FTW Motherboard - $299 -

lazerblade

EVGA GTX 275 CO-OP PhysX - $350 -

sirgruntsalot

EVGA GTX 275 CO-OP PhysX - $350 -

BarnyMiler

SuperTrak EX8650 8-port RAID 6 Controller - $549 -

Robjps

D-Link DGL-4500 Xtreme N Gaming Router - $240 -

Xinion

OCZ Reaper HPC 6GB PC3-15000 Triple Channel DDR3 memory - $240 -

ktzm8890

Crucial Ballistix PC3-12800 Triple Channel DDR3 memory - $190 -

caguerrero

OCZ PC3-12800 Triple Channel DDR3 memory - $140 -

xTemon

Patriot Viper PC3-14400 Dual Channel DDR3 memory - $130 -

fearmech

Cooler Master Hyper N 520 CPU Cooler - $50 -

FRAGizm

Patriot Xporter XT USB Flash Drive 16GB - $42 -

hillfinger

Patriot Xporter XT USB Flash Drive 8GB - $25 -

programmer8922
All winners must email webmaster@evga.com within 14 days of the prize announcement to claim a prize! Winner names are based on EVGA login, not game name. Prizes were announced one day early, but we are still giving until 1/6/10 to check in.
How to participate
Registered players would have to go to www.battlefieldheroes.com to download the free web based FPS game and create a Hero you can play with.
On the day of the event (Dec 19th-20th) players would have to download the VOIP program Ventrilo from www.ventrilo.com and enter the provided IP and Port for the EVGA Gaming ventrilo where all the matches will be arranged.
Once a player enters the Ventrilo, they will be automatically put in a "waiting" channel with all other players awaiting placement in the event. An event moderator will quickly place them in an appropriate channel for whatever server they will be gaming in and provide them with the bookmark server IP/password so they can enter the match.
Play and have fun! It's as simple as that. Players are only required to play for one match in order to be entered in the final draw for the prizes.
Once you are done, you'll then have the option to either leave the event or move to a "Play Again" channel where another event moderator will place you in as many matches as you wish to play before the event closes.
THE GAME IS CLOSED