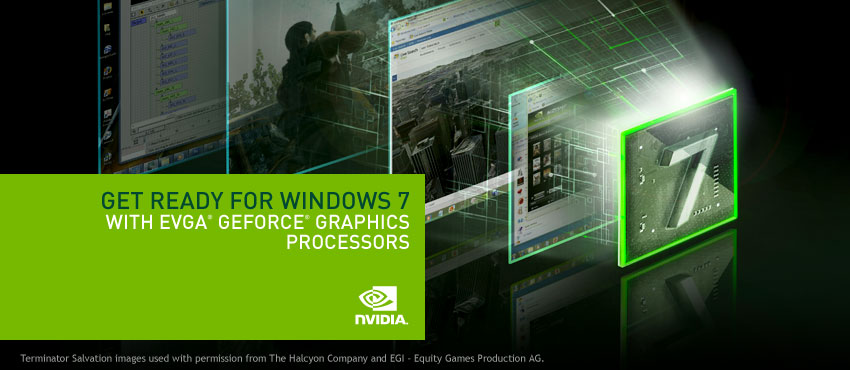 EVGA GeForce® graphics processors provide a Premium Experience for Windows 7
Windows 7 will mark a dramatic improvement in the way the Windows operating system takes advantage of the graphics processing unit (GPU) to provide a more compelling user experience. By taking advantage of the GPU for both graphics and computing, Windows 7 will not only make today's PCs more visual and more interactive but also ensure that they have the speed and responsiveness customers want.
EVGA GeForce® GPUs are world renowned for innovation, stability, and award-winning performance, and are the choice of reviewers, professionals, and consumers worldwide. As the inventor of the GPU and the leader in GPU computing, NVIDIA has worked closely with Microsoft to ensure that its customers will get a premium Windows 7 experience for the home user. If you use your PC to enhance photos, edit videos, watch movies, play games, or if you simply desire a fast and efficient desktop experience, EVGA GeForce® GPUs provide a superior experience.
Four New DirectX API's in Windows 7 take full advantage of GPU computing
DirectX Compute: The most significant addition to Windows 7 is the DirectX Compute API for GPU-accelerated compute applications. This API will enable great visual and interactive experiences such as new high-quality video and photo enhancements, simplified ways to interact with your devices, faster, more responsive PCs, and even new realistic gaming effects. One example is a cool new drag and drop feature built directly into Window 7. This feature allows quick and easy copy and conversion of media files from your PC directly to your portable media player. With GPU-acceleration built-in, you can perform this conversion up to 5X faster, so that you spend less time waiting and more time enjoying your movie. DirectX Compute runs on NVIDIA's 100Mu+ CUDA-enabled GPUs. For a truly Premium Experience for Windows 7 equip your PC with an EVGA GeForce® DirectX 10 GPU with built-in NVIDIA CUDA technology.
DirectX Video Acceleration –High Definition (DXVA-HD): Windows 7 expands the use of the GPU to accelerate video playback and offer a better overall experience for watching high-definition H.264/MPEG-4 video content. DXVA-HD uses the GPU to improve video decode, processing, and presentation. This new hardware-accelerated engine is particularly helpful when dealing with the interactive features of Blu-ray material including the compositing of Picture-in-Picture with fullscreen graphics, a task that is extremely taxing when performed on the CPU.
Direct2D: Aligned to the end-consumer desire for basic applications to be more visually compelling, Microsoft introduced a new 2D API to Windows 7. Direct2D uses the advanced processing power of the GPU to provide hardware acceleration for 2D geometry, bitmaps, and text. Using Direct2D, applications will be able to achieve higher visual quality and better responsiveness.
DirectWrite: Building on the capabilities of Direct2D, DirectWrite offers hardware accelerated fonts, complete with antialiasing for unrivaled visual quality. This API will translate to the best reading experiences ever on a PC.

Microsoft has also made significant changes to the 3D Aero Windows desktop in Windows 7. With the new Windows Display Driver Model (WDDM) v1.1 built for Windows 7, the Windows desktop is able to leverage the DirectX 10 API to provide a higher-performance experience. In addition, Windows 7 effectively takes advantage of the GPU to reduce by half the amount of memory consumed to draw desktop windows. The result is better windows responsiveness and more system memory available for other applications.