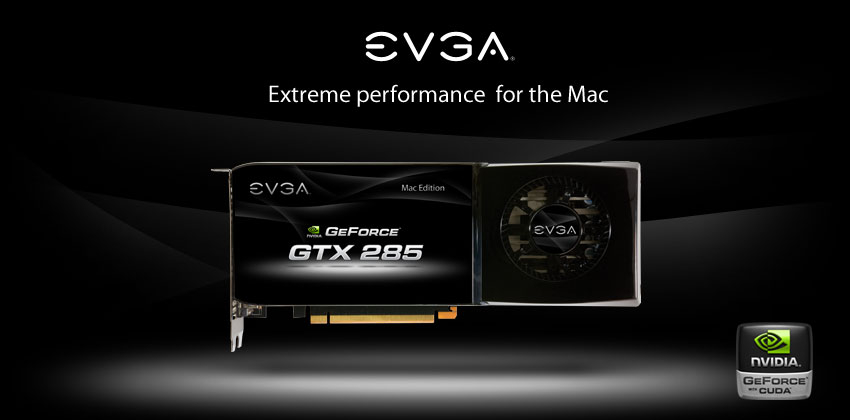 EVGA GTX 285 Mac Edition
EVGA is proud to announce the highest performing graphics card for the Mac today; the EVGA GTX 285 Mac Edition! With 1GB of DDR3 memory and 240 processing cores, your performance is maximized with graphics-intensive applications like 3D gaming, motion graphics, 3D modeling, rendering and animation. Take full advantage of the performance using NVIDIA CUDA and OpenGL applications. Upgrade your Mac Pro system with the EVGA GTX 285 Mac Edition today for extreme performance!
Features
PCI Express 2.0 - Designed for the new PCI Express 2.0 bus architecture offering the highest data transfer speeds for the most bandwidth hungry applications.
Two Dual-Link DVI ports - Able to drive the industry's largest and highest resolutions flat-panel displays up to 2560x1600 with HDCP.
1GB of onboard DDR3 Memory - View high-resolution images and textures with this massive amount of onboard memory.
OpenGL Optimization and Support - Provides top-notch compatibility and performance for OpenGL applications.
2nd Generation NVIDIA® Unified Architecture - Combines vertex, pixel, and geometry shaders for an overall more efficient architecture.
NVIDIA® Purevideo HD Technology - High-definition video decoder and post-processor delivers unprecedented picture clarity, smooth video playback, and accurate color for movies and video.
NVIDIA® CUDA™ Technology - Accelerates CUDA enabled applications using GPUs processing cores. Delivering more performance than traditional CPUs.



© 2008 NVIDIA Corporation. NVIDIA, the NVIDIA logo, GeForce, and The way it's meant to be played are trademarks and/or registered trademarks of NVIDIA Corporation. © 2009 Apple Inc. All other trademarks are the property of their respective owners.

Article Viewed: 142533 times since 6/8/2009