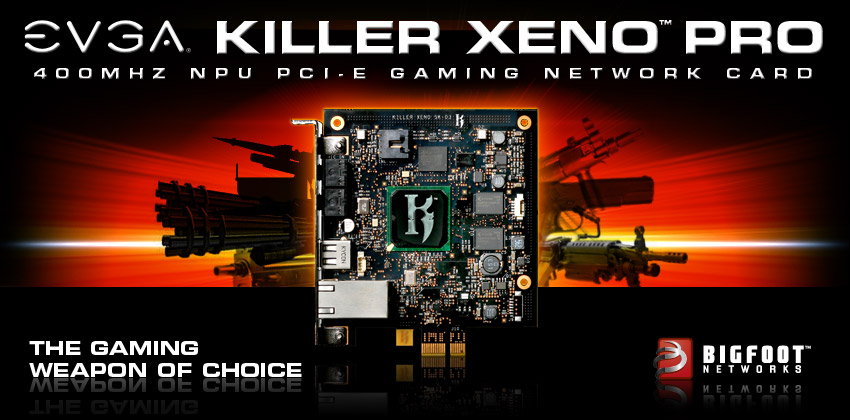 Game lag is history.

EVGA is proud to announce the latest addition to its award winning products: the EVGA Killer Xeno Pro. Designed to accelerate real-time internet gameplay, the EVGA Killer Xeno Pro fights game lag, smoothes game play and boosts frame rate during intense network gameplay scenarios. Also included is hardware-accelerated voice chat that ensures hiccup free communication. Gamer-grade network traffic prioritization and security tools further prove that this is not your grandmas networking card. Get the competitive edge today with the EVGA Killer Xeno Pro!
How does it work?
Bigfoot Networks™ technology is optimized for online gaming and real-time communications applications. The EVGA Killer Xeno Pro uses a 400MHz Network Processing Unit (NPU) to offload all networking operations. The NPU acts as a co-processor dedicated to running the networking portion of games and other applications. This NPU, along with Bigfoot Networks™ patented software algorithms, accelerates, prioritizes and shapes the packet stream that goes to and from the computer, thereby allowing EVGA Killer Xeno Pro to bypass the Windows Stack and allow the NPU to handle all the network functions. This results in the CPU being able to run at full speed, while checking for and receiving network data as fast as possible.
This Process:

Optimizes and speeds network operations
Prioritizes game network traffic to ensure game data is always injected into the game the instant it arrives.
Offloads packet processing for latency intensive applications, like VoIP, to provide clear and clean communications
Frees up the CPU to do more game logic and other computations.
As a result, gamers see less lag, better frame rates and smoother, more responsive gameplay during intense action. In fact, on average, gamers see from 10% to 20% increase in frame rate!

What performance increase should I expect?
The below data points were supplied by Jon Peddie Research, who is a well respected, 3rd party research firm. It is important to please note that the EVGA Killer Xeno card is not a graphics card, nor is it a CPU, and unfortunately there are no CPU or GPU like benchmarks that can immediately show the impact or performance results. With that being said, the places where you will see the most significant performance boosts are during intense network scenarios, for example, in a crowded city or raid in World of Warcraft, in a busy Team Fortress 2 server, downloading anything while gaming, etc. These are the places where you will see performance enhancements, both in framerate, and latency/ping.
The below results from Jon Peddie Research were done on two identical high-end PCs logged onto the same network and thru the same router in the same game, server and character, the machines were tested for thirty minutes, and average framerate and ping were calculated.
The following results are done with each machine under full network load (two downloads in the background, while gaming)
Here is the conclusion from Jon Peddie's Report:
"Killer Xeno Pro provides a clear performance benefit if the user encounters a heavy online gaming load, like multiple enemies or friends in the same area. If the user wants to download or upload files while gaming with no impact on performance, the Killer Xeno Pro excels at this task as well. Finally, if the user communicates with a voice chat program while gaming, Killer Technology and its Hardware Bandwidth Control provide a clear advantage to the gamer."
Common Misconceptions/questions:
Latency vs. Throughput:

Latency or Lag is a measurement of delay for a network packet or series of packets. Latency is a good measure of the real speed of your network connection, low numbers indicate less latency.
Throughput is a measure of your bandwidth - how much data can be delivered to its destination. For example; 10Mbps, 30Mbs, etc.
Latency does not measure throughput. "30Mps" does not guarantee any particular speed.
The Windows operating system is designed to maximize throughput. Consequently, it is not optimized to lower latency for online games. The EVGA Killer Xeno Pro is designed to optimize for latency! In other words, delivering game packets faster than regular NIC's.

Would a fast computer (fast CPU, memory, etc) benefit from this card?

Believe it or not, a faster computer can often benefit more from the Xeno Pro than slower ones! Reason being as you increase the speed of your CPU, Memory, etc, the network interface becomes more of a bottleneck on your machine.

Would the Killer Xeno Pro card benefit a dual or quad core machine?

Due to the fact that the Windows Network Stack is not multi-threaded, the Killer Xeno can especially benefit in these cases as well. The Windows Network Stack always operates on the first CPU core, not only that, all CPU cores must synchronize with this core for network data. In other words, when the game requires network data that has not arrived, all cores stop.

I don't play online games, will this card improve my PC's performance?

The EVGA Killer Xeno Pro is designed to accelerate real time internet gameplay, there may be a few scenarios outside of gaming that would benefit from this card, however, the goal of this product has always been to improve internet gameplay.

How can this card fix the internet?

EVGA nor Bigfoot cannot claim to fix the internet; however, client-side lag (lag in your PC) is still where a big portion of overall game lag resides. This is the problem area where the EVGA Killer Xeno Pro addresses.
Features
Smooth Gameplay During Fast Action - Bigfoot Networks Network Processing Unit (NPU) frees up vital CPU resources to boost frame rates and smooth out gameplay experiences during the even the most intense action.
Hardware-Accelerated Voice Chat - Hardware-accelerated voice chat is fully offloaded from the CPU, processed on Killer Xeno's dedicated audio chip and accelerated through Xeno's NPU. Killer Xeno is bundled with Mumble, a free and open-source, cross-platform voice application.
Optimized for Gaming - Killer Xeno is the only network card that delivers an ideal online experience, with 128MB of onboard RAM, a dedicated network processor, an audio processor for online voice chat and a PCI Express interface.
Faster Frame rates - Smart packet optimization sorts and accelerates time-sensitive Internet traffic, bypasses the Windows® Network Stack and transfers packets directly to and from games, improving game responsiveness and frame rates for that competitive edge.
Hardware Firewall - High-performance, hardware-based security that keeps intruders out and lets you live worry-free in the DMZ. (Driver version 5.0.2.0 or later)
Bandwidth Control - The Killer Xeno's Hardware Bandwidth Control technology serves as a Network "Traffic Cop" that smoothes the online experience across all Internet applications - VoIP, streaming video, downloads and web surfing - even while gaming.
Optimized for Applications - 128 MB of onboard RAM allows more Killer technology applications like voice chat and Bandwidth control to be run on the card simultaneously enabling better system performance.
Plug and Play - Delivers Plug-&-Play compatibility with all online games. The Killer Xeno works with all online games for improved performance right out of the box.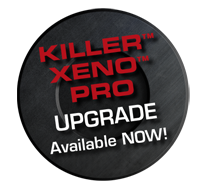 Upgrade now!
Killer Software Version 6.0 Upgrade with Killer Network Manager is now available!
Benefits:
Speed – Updated drivers and software make your online game traffic faster than ever with Killer™ Xeno™ Pro.
Intelligence – We've upgraded Xeno's Game Detect technology to identify, prioritize and accelerate your online game traffic faster and more efficiently.
Maximum Control – Bandwidth Control is better than ever with our new Visual Bandwidth Control™ software.
Visibility – All the performance information from Dashboard and a whole lot more in integrated, at-a-glance readouts – perfect for seeing the health of your online gaming PC.
EVGA Killer Xeno Pro
Part Number
128-P2-KN02-TR
Network Speed
10/100/1000Mbps (Gigabit)
NPU Clock Speed
400MHz Network Processing Unit
Memory Clock Speed
128MB 266MHz DDR2
Bus
PCI-E 1x (PCI-E 2.0 Compliant)
Ports
RJ-45 Ethernet, USB 2.0, 3.5mm audio input and output
Product Warranty
1+1 warranty upon registration