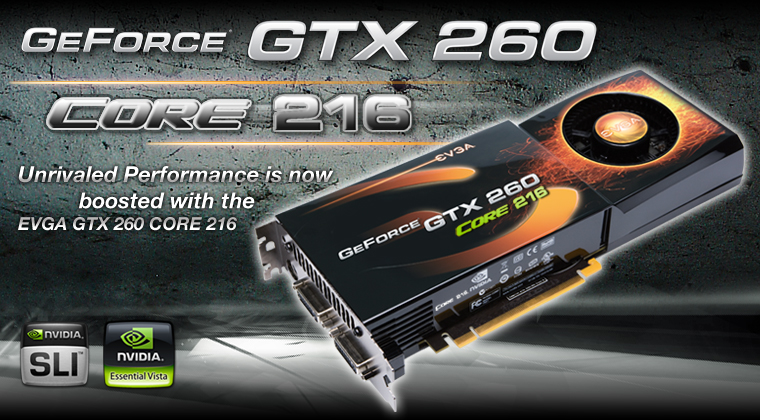 EVGA is proud to introduce the EVGA GTX 260 "Core 216." This card takes the award winning, 896MB-loaded, EVGA GTX 260 and increases the total Processing Cores to an incredible 216, compared to 192. This bump in performance keeps the card running perfectly smooth even with the most stressful applications, and with PhysX™ and CUDA™ support, you are properly equipped for the future. Crank up the eye candy and witness next generation visual computing!
Features:

On-board 896MB of DDR3 Memory - View high resolution images and textures with this massive amount of onboard memory. Up to 2560x1600 supported!

Dual DVI-I - Run up to two monitors in either expanded, cloned, or rotated modes for an enhanced viewing experienced.

2nd Generation Unified Shader Architecture - Second generation architecture delivers 50% more gaming performance over the first generation through 216 enhanced processor cores that provide incredible shading horsepower.
NVIDIA® PhysX™ - GeForce GPU support for NVIDIA PhysX technology, enabling a totally new class of physical gaming interaction for a more dynamic and realistic experience with GeForce.
Full DX10 Support™ - DirectX 10 GPU with full Shader Model 4.0 support delivers unparalleled levels of graphics realism and film quality effects for today's hottest games.
NVIDIA® CUDA Technology™ - CUDA technology unlocks the power of the GPU's processor cores to accelerate the most demanding system tasks such as video transcoding delivering up to 7x performance over traditional CPUs.
2nd Generation Purevideo™ HD - High-definition video decoder and post-processor delivers unprecedented picture clarity, smooth video and accurate color for movies and video.

Hybrid Power Technology - Dynamic power that changes depending on the GPU's status.

---
---
---

GeForce is a registered trademark of NVIDIA Corporation in the United States and other countries.

Article Viewed: times since