The Fastest SLI Platform under $250.00
EVGA is proud to announce our first designed motherboard to the family, the EVGA 750i SLI FTW, "designed for enthusiasts", "engineered for the win". EVGA has brought solid state capacitors with 6 phase power design to achieve the stability of extreme FSB and memory overclocking. EVGA brands the 750i SLI FTW "For the Win".
Hover to Zoom-in
EVGA Nforce 750i SLI FTW, performance and stability for the win:
Reach extreme overclocking speeds supporting 1600MHz FSB and beyond.
6 phase power design for the ultimate in stability and performance.
Solid state capacitors allowing better overclocking and stability.
Easy troubleshooting features with on-board CMOS Reset button.
Extreme DDR2 speeds of 1066MHz and beyond.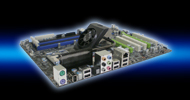 Features and Benefits:
NVIDIA SLI certified
Intel socket 775
45nm CPU ready (Yorkfield & Wolfdale)
6 Phase power design
PCI Express 2.0 support
4 Right-angled SATA-2 ports with support for RAID 0, 1, 0+1, 5, JBOD
On-board buttons for CMOS/Power/Reset
HD Audio - 7.1 Channel
Guru3D final thought
"Yeah the 750i SLI FTW went 'for the win' .. and it struck gold. It wins our 'best hardware award' it deserves nothing less."
Guru3D
Motherboards.org
"...the new 750i FTW series from EVGA takes on all challengers and offers superior overclocking at a fraction of the cost of others."
Doc Overclock
Xtreme Systems Enthusiast
"Well, its fast! Freaking fast! Its Well done, and its layout is excellent! Its Quad-Core & Dual Core Performance was very good, and Full SLI with 16x/16x is kick butt!"
mascaras
Xtreme Systems Enthusiast
"The EVGA nForce 750i SLI FTW offers great overclocking performance, which is as good as the 780i's, but at a fraction of the price. The board can do 500 MHz FSB with ease and it is hard to find CPU that can match the performance of the board."
Fr3ak
PCI Express 2.0:
When using this platform with an EVGA PCIe 2.0 graphics card; double the bandwidth is achieved. With up to 16GB/s of bandwidth and advanced power management features, PCIe 2.0 is the ultimate interface for enthusiasts. PCIe 2.0 is entirely backwards compatible, meaning a PCIe 2.0 card or motherboard will work with any PCIe device and visa versa.
nForce 750i SLI FTW
Part Number
123-YW-E175-A1
CPU Support
Intel Socket 775
Chipset
NVIDIA nForce 750i Chipset
Memory Support
DDR2 533/667/800/1066MHz
FSB Speed
Supports 1066/1333MHz+
SATA Header
4 - Right Angle Ports
SATA Type
300MB/sec
USB Ports
8
PCIE Slot
2 x PCIe x16, 1 x PCIe x1, 3 x PCI
Integrated LAN
1 x 10/100/1000
Product Warranty
Limited Lifetime warranty
upon registration
Article Viewed: 285146 times since 4/3/2008 10:03:27 AM