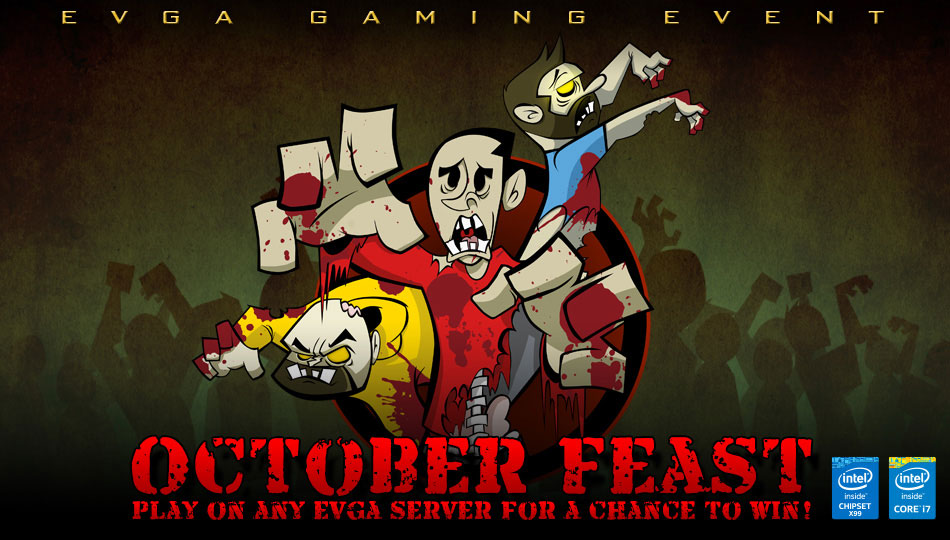 October Feast Gaming Event
October rolls around, and you know Halloween is just around the corner. Do you know what that means? Trick or treating with lots of candies! Most of us are probably too old for that now, so how about gaming? Our October Feast gaming event is here and you can win lots of treats. Only, they're in the form of great prizes like graphics cards, mice, keyboards, and more! Invite your friends to play with you by sharing this page on Facebook and Twitter to give them a shot at winning some of these prizes too.
There are quite a bit of games for you to choose from, like Left 4 Dead 1 or 2, and many others! All of this isn't only for fun and games, though. When you sign up for the October Feast Gaming Event and log into our servers between October 17th, 2014 and October 31st, 2014, you'll qualify for some really great prizes – all just for playing! Signing up is completely free and easy for anyone, regardless of where you live. We have lots of prizes to give away, so don't miss out on this awesome opportunity to play great games and win some quality products!
Qualifying for the event is very easy if you follow these simple steps. Sign up on this page with your either your Steam ID, BF3 soldier name, BF4 soldier name, or all three if you feel like it. After that, all you have to do is log in and play anytime during October 17th, 2014 4:00 PM Pacific to October 31st, 2014 11:59:59 Pacific. Be sure to check the official EVGA Gaming blog to see the full list of servers available and read some great articles from team EVGA! Please don't forget to keep enjoying our servers after the event ends!
This is a global promotion and all are welcome to participate.
Prize List
Prize Level 3

Play for at least TWO (2) hours or more on our game servers to qualify
Prize Level 2

Play for at least ONE (1) hour on our game servers to qualify
Prize Level 1

Play for any length of time on our game servers to qualify

All winners must email webmaster@evga.com by 11/21/14 to claim their prize. Be sure your EVGA profile is up to date with the correct mailing address.
Sign Up:
THE GAME IS CLOSED
Servers Provided By:

Please visit the official EVGA Gaming site right before the event starts to see the full list of servers and instructions on how to connect to an event server!