Experience true 4G G-Forces!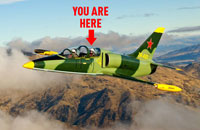 Three lucky people will have the chance to experience the thrill of a lifetime by riding in an L-39 "Albatros" jet with an aerobatic instructor! Winners will be able to experience speeds of over 400 knots (750km/h, 460mph) while doing maneuvers only fighter pilots experience. Looking out of the cockpit you will see the entire sky, not just a small portal you're used to in commercial flights.
During the 45 minute* flight, you will have the chance to take the stick under the instructor's supervision so you can turn and burn! This is the chance of a lifetime - sign up below!
Grand Prize Winners:
L-39 Jet Experience will happen on December 16th, 2010!

T-Shirt Winners:
Bunhead
dredb
gauravkumar
Moribund
sweetheartz
bmeredith
BillyAZ2001
tempco
afodem
dmn8r69
cald20
08havoc
marshmlol
Goldni
johnweythekylow
tnseals
ipaine
Eddie3202
sinned.
kaldon
mazzizo
kines-kalle
coprolite
crlploo
compuray45
Smudge1
rbpeake
gbonchack
roylfewkes
Axdrenalin
sjmcyyc1960
luni2nz
neehooya
crash525
bdailey0266
Trojan-Two
moses_373
innfocus
cleow
Gatsby
etherboy
Knuckles
Dnaught14
thatleoguy
Thumbs
seen46
sheexy
dingting
bcj234
Dude Man
bearden383
II NaZ II
yumkieyumkie
lesvander
Yams2007
busbina
HermitDash
jflack
Rick_Smith9289@msn.com
palakat
vante
ripper=OC=
ocxmaster
Kaelic
vroom
Doom69
amyv50219
set2trip
Spectos
digital demon
cicicicico
kufaw
buccs02
behram1993
vinhdiezel
psycho_duck@mchsi.com
valiane
vertico
mikemjr
desteny
Pauling
InCoNNu_BE
titox60
Dukodk
IL Dotore
#Semy#
madkiw
M V P
moltenlava
manslayerdbzgt@hotmail.
Emiras
leag63
lestatro
flamemc
Molouda
e30Birdy
krrjon
nurtic-vibe
Speedglas
RAZE-WASP
suprc4
steven4046
escobar4s
ZtarDuzt
LordLogs
mmiskovic
prdamrican
karudirth
hot74rod2003
sefire
fgiaccossa
Jayster94
aaza
Pablox92
Azraes
Flavio Delfino
markcu
Drjay33
mmckeen
btjmlprice
JuicedSC
Blendo
br2ron
baindha
Yrcrazypa
pclement
Merkaba777
bigbencg
vishinator
wiseguy73
dtstevenson2004
optimus67
Bean007
lobby
guildem
celestboy
ReXNeB
menina
dns777
Kapacity
copernic09
skiner21560
fidodido38
sekr70
maGz74
jiganhir
roflmao1
netbade
sold89
eagleofdeath13
gregdesign
zergonipal
apascal
D.Roi
pdelbart
oursgris
Svetun
vargaard
kirja.h
Deshi
-SiI-
rv_devil
samitnosti
Neogate
NCQQQ
Jeep 4x4
mysteryghuest
nlraley
TSh77
LEON_RU
masternickolay
Spotti
dimonmd
CrossFireX
me262
doberman2045
keats666
xmtgx
SanguisAngelus
micklex
gordo1466
JVisbal
avivet
destan
jason4832
skywalker1972
gixxer1
Khelor
Saramed
koiman
mysanctuary
Popejohn666
Ficksit
chochix
MrMudtit
TrevorSchultz
bluestu1974
edahodge
inder372
GrooveEddie
Argent0
tdf49
Spithaz
Kaies
nala12
pysco23
krl482
mystkwolf
guddav
GODuk
cossie257
singh1061
Reatork
curtow24
Skaapie
nicotorrescba
lord_of_chaos
vaisakh_tinku
Chaos001
epracer71
nedimbakic
rcbii8283
rhkcommander959
Steelcurtn
g.sahu
Corepowered
Lymaster
evilfraz
demonfurry
Lastwish
bruce4evga
NovaPhoenix
konkordium
SpicyWeasel
rnosal
whitecracker
lazerath
chuckbecky
gusbannick
JeT2686
n9jcv
bubba2much
zamani
shift_9800gt
SDeZalia
estima8tor
Khomitsar
GTR_R007
johnerz
Jtp311
T-Shirt Winners will have their prizes automatically shipped to them. Ensure your profile is updated with your current address.