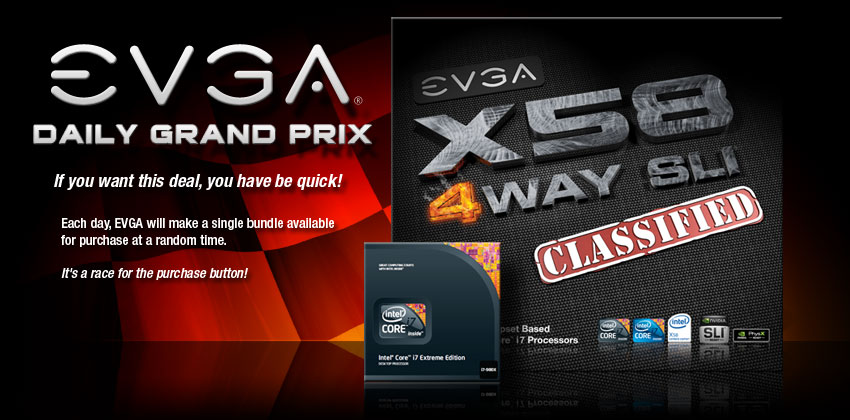 EVGA Daily Grand Prix!
EVGA has a limited number of Intel Core i7 980X processors available direct from our store! This amazing processor is bundled with an EVGA X58 Classified 4-way SLI motherboard, and available for $1,449.99. The Intel Core i7 980X features 6 processing cores capable of 2 threads each, which means 12 threads on a single CPU! This is the ultimate platform for any enthusiast, so don't miss out on this opportunity to own the world's best CPU and Motherboard combination! Learn more about the Intel Core i7 980X.
If you want this deal, you have be quick!
Each day, EVGA will make a single bundle available for purchase at a random time. It's a race for the buy button at that point. You could get the entire form filled out and click purchase one second behind someone and you will be too late! Once purchased, the bundle will be sold out until the next day. If you miss out on the deal, you can try again the next day for another chance to grab it! During the promotion, the bundle will be made available to purchase at a random time between 9:00AM-5:30PM PST, starting 3/23/10.
This special is available only in the United States and Canada.
The Daily Grand Prix is Closed