Introducing the EVGA GE Series
- April 5, 2023 —

The EVGA GE Series brings EVGA ECO Mode to hard-line power supplies for the first time. In addition to 80 PLUS Gold efficiency, GE power supplies have low ripple and noise, low power consumption, and tight voltage regulation for unwavering stability. The EVGA GE series allows you to enjoy your PC in peace and quiet.
Absolute Silence with EVGA ECO Mode
The GE Series is EVGA's first non-modular unit with EVGA ECO mode to ensure the power supply stays completely silent during low to medium loads. The 120mm fan does not spin until necessary, allowing for completely silent operation.
80 Plus Gold Rated Efficiency
Among EVGA non-modular power supplies, the GE Series is the most efficient power supply under load, has the least amount of ripple and noise, and better load regulation than its predecessors.
Ready-to-go with Hard-Line Design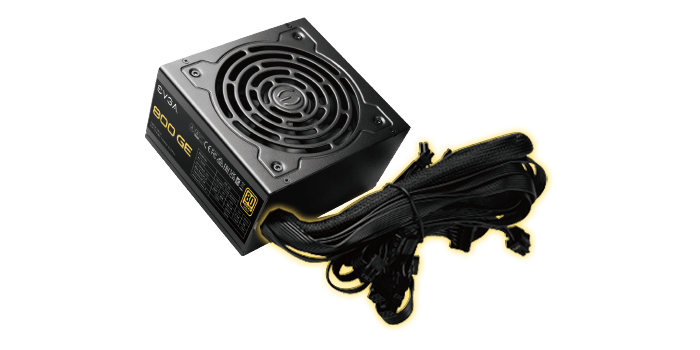 Designed to meet the needs of system builders and everyday gamers, the GE Series uses a Hard-Lined design with only the most commonly used and needed cables for ease of installation. Power that is ready to go right out of the box.
About EVGA

Based on the philosophy of intelligent innovation, market knowledge, and the real time operation, EVGA continues to identify the need in the market place and providing the solution to that need. By offering product differentiation and other customer focused programs, EVGA is a clear leader in all categories: etail, retail, distribution, and system builders. With headquarters in Brea, CA, EVGA's global coverage includes EVGA GmbH in Munich, EVGA LATAM in Miami, and EVGA Hong Kong. For further information online about EVGA, visit https://www.evga.com.
For further information, contact:
Joe Darwin

Download This Press Release In Adobe Acrobat PDF Format