Face Your Demons - Get 4 Games With Select EVGA GeForce RTX 30 Series
- July 12, 2022 —

FACE YOUR DEMONS
Take on deadly supernatural forces in Ghostwire: Tokyo, a demonic invasion in DOOM Eternal, and the dark lord of Hell in DOOM Eternal: The Ancient Gods enhanced with the AI-accelerated performance of NVIDIA DLSS and stunning ray tracing, powered by NVIDIA GeForce RTX 30 Series.
*For a limited time, get Ghostwire: Tokyo, DOOM Eternal, DOOM Eternal: The Ancient Gods Part One & Part Two with the purchase of a qualifying EVGA GeForce RTX 3090 Ti, 3090, 3080 Ti, 3080 GPU. One code per person. Terms and conditions apply.
LEVEL UP YOUR GAMING WITH EVGA GEFORCE RTX 30 SERIES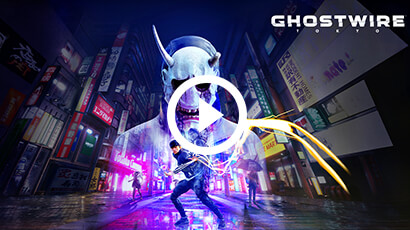 FACE YOUR DEMONS
Explore Tango's beautifully haunted vision of Tokyo with the highest quality visuals and ray tracing. Save the city from evil spirits with the AI-enhanced power of NVIDIA DLSS, delivering up to 2X faster performance.
DOOM ETERNAL YEAR ONE PASS
You denied the gods and awoke an ancient evil. Now rally the scattered Sentinel armies, lay siege to the last bastion of Hell, break through the fortress walls, and face the Dark Lord himself. Your war against Hell ends in DOOM Eternal: The Ancient Gods - Part One & Part Two.
About EVGA

Based on the philosophy of intelligent innovation, market knowledge, and the real time operation, EVGA continues to identify the need in the market place and providing the solution to that need. By offering product differentiation and other customer focused programs, EVGA is a clear leader in all categories: etail, retail, distribution, and system builders. With headquarters in Brea, CA, EVGA's global coverage includes EVGA GmbH in Munich, EVGA LATAM in Miami, and EVGA Hong Kong. For further information online about EVGA, visit https://www.evga.com.
For further information, contact:
Joe Darwin

Download This Press Release In Adobe Acrobat PDF Format