Introducing the EVGA X570 FTW WIFI
- November 9, 2021 —


The EVGA X570 FTW WIFI is a motherboard built upon the AMD X570 chipset to provide everything you need while giving you the performance you demand. Designed and engineered from scratch with a 15-phase digital VRM design, this is one sleek-looking motherboard jam-packed with the latest features and EVGA GUI BIOS. Paired with an AMD Ryzen™ 5000 Series processor, this board is PCIe Gen4-ready with a data transfer rate of up to 16 GT/s to support the latest graphics cards and M.2 NVMe SSDs, scorching-fast 4600MHz+(OC) memory, HDMI/DisplayPort outputs, lots of USB and SATA 6Gb/s ports, and RGB/ARGB options. The EVGA X570 FTW WIFI gives you the freedom to choose your EVGA motherboard without sacrifice or compromise.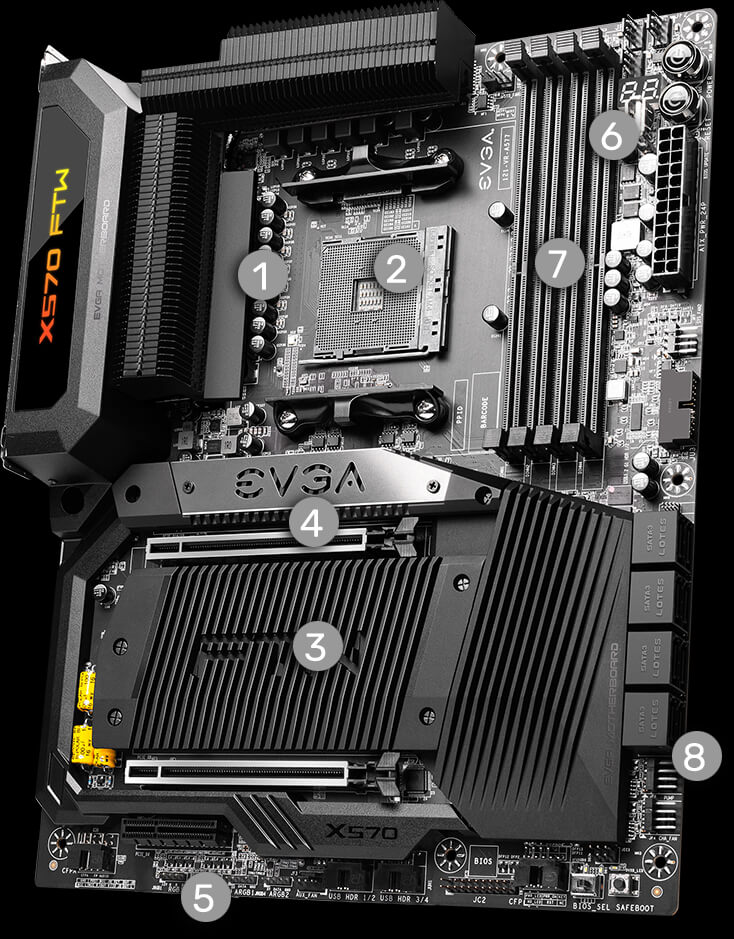 1. 15-Phase Digital VRM
2. AM4 CPU Socket
3. PCIe Gen 4.0 M.2 Key-M Slots
4. PCIe 4.0 x16 (x16/x8, x8)
5. 2x ARGB / 2x RGB Headers
6. USB BIOS Update Port
7. 4x DDR4 DIMMs
8. Pump Header
Extraordinary Performance by Ryzen™ Processors
About EVGA

Based on the philosophy of intelligent innovation, market knowledge, and the real time operation, EVGA continues to identify the need in the market place and providing the solution to that need. By offering product differentiation and other customer focused programs, EVGA is a clear leader in all categories: etail, retail, distribution, and system builders. With headquarters in Brea, CA, EVGA's global coverage includes EVGA GmbH in Munich, EVGA LATAM in Miami, and EVGA Hong Kong. For further information online about EVGA, visit https://www.evga.com.
For further information, contact:
Joe Darwin

Download This Press Release In Adobe Acrobat PDF Format